'Vijeya-Kuweni' in DVD format
View(s):

The DVD and the screenplay of well-known playwright Sugath Samarakone's cinematic creation 'Vijeya-Kuweni' was released last week.
The screenplay which was released as a book contains more than 180 stills from the film which was produced by Gayan Ranadheera for Rupun Films.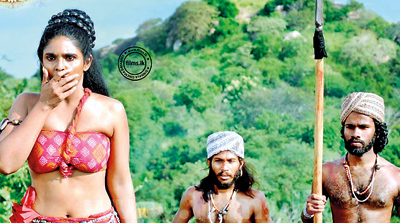 The film starred Dulani Anuradha, Roger Senevirathna, Anura Darmasiriwardena, Buddhasa Withanarachchi, Clitus Mendis, Rinsly Weerarathna, Rohitha Perera, Rupun Ranadeera, Sandun Wijesiri, Sanjaya Samarakoon, Sarath Dikkumbura and Saroshi Abewardena.
The film was shot in Anuradhapura, Rajanganaya, Gampaha and Pilkuththuva.
Samarakoon well-known for his controversy ridden plays like 'Uthure Rahula Himi' and 'Commando Diyasena' in 1980s returned to cinema with 'Vijeya-Kuweni' which was made based on the story of the 'Mahawamsa.