Christmas reads
View(s):

Looking for the perfect book to curl up with this Christmas? Here's what we recommend:

Hogfather by Terry Pratchett (Discworld #20)

There's a great deal to love about Terry Pratchett and a lot of it is on display in Hogfather, a fan favourite from the Discworld canon. The book introduces Susan. She's brave, utterly practical and not someone to tangle with.  Not least because of who she knows. When it becomes evident that the Hogfather needs saving, our heroine is on the case. In Pratchett›s incredibly clever, irreverent hands this is the perfect story for the holidays.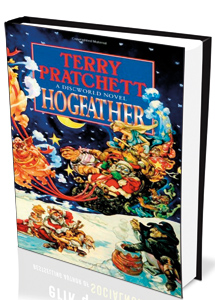 From the book: She'd become a governess. It was one of the few jobs a known lady could do. And she'd taken to it well. She'd sworn that if she did indeed ever find herself dancing on rooftops with chimney sweeps she'd beat herself to death with her own umbrella.'
Hercule Poirot's Christmas by Agatha Christie (Hercule Poirot #20) 
When the truly horrible Mr. Simeon Lee has his throat cut on Christmas Eve, everyone in his home has a motive. There are his children, whom he's threatened openly to disinherit, and the possibility of his illegitimate children, who never had cause to love their father. Into the mix steps Poirot, our very favourite moustachioed detective.
In a case filled with red herrings, Poirot will get to the truth and uncover the murderer. For you and I, it's a chance to get re-acquainted with one of the greatest mystery writers of all time. Though she's been gone close to forty years, Dame Christie remains incomparable.
From the book: "It is the quietest and meekest people who are often capable of the most sudden and unexpected violences for the reason that when their control does snap, it goes entirely."
The Nutcracker by E.T.A. Hoffmann, Maurice Sendak (Illustrator), Ralph Manheim
Maurice Sendak, the beloved creator of 'Where the Wild Things Are,' chose to illustrate this extraordinary book by E.T.A. Hoffmann. The original, with the longer title of 'The Nutcracker and the Mouse King' told the story of young Marie Stahlbaum's favorite Christmas toy, the Nutcracker. When he comes to life, the Nutcracker is forced to fight the evil Mouse King in battle. Finally victorious, he whisks Marie away to a magical kingdom of the dolls.
Published in 1816, the Nutcracker has fascinated and inspired artists, composers, and audiences for almost two hundred years and is best known as one of the most famous ballet productions of all time. In Sendak's hands it is all the more exquisite, a perfect Christmas read and one you'll return to throughout the year.
From the book: 'Once upon a time, on the magical night before Christmas, the snow fell gently against the windows of the Stahlbaum house.'