Presidential cameraman snapped stealing camera at Dubai airport
View(s):

It is the high respect in which President Mahinda Rajapaksa is held in Dubai that saved the day. A photographer of his media team, returning in the official entourage from visits to South Africa and Kenya, was caught red handed allegedly stealing a CCTV (video) camera worth more than Rs 300,000 (or around US$ 2325) from a duty free shop at the Dubai International Airport. He is said to have tried to conceal it in his bag and was detected walking out.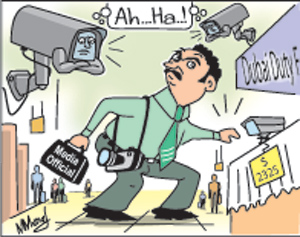 The act was seen by shop staff and recorded by surveillance cameras at the airport. Dubai is one of the well-known destinations for duty-free shopping. Authorities who arrested the photographer had learnt later that he was part of President Rajapaksa's entourage returning from a State visit to Kenya where the President attended that country's 50th year of independence. This was after he attended South African icon Nelson Mandela's funeral. "We have the highest respect for President Rajapaksa. We are, therefore, releasing you. Otherwise, you would have ended up in jail," one airport security official told the photographer.
After returning to Colombo, the photographer was relieved of his duties.  It may be recalled that after President Rajapaksa visited Belarus in August this year, there was a complaint to the External Affairs Ministry in Colombo through diplomatic channels. A hotel where the entourage stayed in Minsk, the Belarus capital, had complained that a local media director had taken back with him, reportedly to Colombo, a bed cover from his room.
The man was severely admonished.
Veddah goes to Parliament, but no axe
Among the several hundred people who took the opportunity to visit Parliament last week was a Veddah community member who came clad in his traditional garb, the tucked up sarong, bare chested and carrying an axe.  Security personnel at the main entrance of Parliament allowed him to go through but asked him to leave the axe behind.
He agreed and left it there. He made his way into the public gallery and watched proceedings for a while and left. Since it was decided to allow free access to Parliament about a week ago, several hundred people have taken the opportunity to visit and see their lawmakers at work.
Confiscated timber, sand for temples 
Timber and sand confiscated by different state agencies for violations of the law are to be distributed to places of religious worship, mostly temples, the Government has decided. Any timber that would remain, it has been decided, should be released to the State Timber Corporation. The rates for these are to be determined by the District Pricing Committees.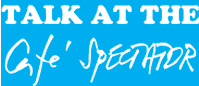 Any sand remaining after distribution is to be released to the Department of Buildings, the State Engineering Corporation, the Central Engineering Consultancy Bureau and the State Development and Construction Corporation. The prices are also to be determined by the same pricing committees.
Police officer falls 'eZ' prey to bogus DIG
His job at Police Emergency (Phone No: 119) was to attend to public woes but the man fell victim to a costly hoax. A caller who rang the number identified himself as a Deputy Inspector General of Police (DIG). He said he had met with an accident and needed urgent help.
The young police officer was ever willing to oblige. Even before the impostor DIG could complete his sentence, he hurried to say "Sir, I will immediately inform the Traffic Police to take action." That was not a problem, said the "DIG" adding that "I have sorted that out."
However, he had a more important request. He wanted Rs. 35,000 urgently and urged the police officer to obtain "eZ" cash payment. The system operated by a mobile phone operator enables a person to deposit money at designated centres and collect it at another similar location by producing a pin number.
The obliging police officer rushed to a communications centre, spoke to the owner promising to make the payment of Rs. 35,000 later and obtained a pin number. He hurriedly forwarded that to the "DIG".
Though the DIG thanked him and promised to ring back in half an hour with the money in hand, there was no response. The owner of the communications centre pressured the police officer to pay back the money or face a complaint. There was a hat collection by friends and the money was paid up. He kept ringing the mobile phone number of the DIG. There was no answer.
Now the police officer has sought the assistance of his own department to resolve the issue.
Sajin's fury over waiting in common queue for visa
Sajin de Vass Gunawardena, the monitoring MP for the Ministry of External Affairs, was an unhappy man this week. He was at the Union Place offices of VFS, a private firm to which Australia and Britain have outsourced the completion of procedures to qualify for a visa. His biometric details (finger prints) were obtained after a wait together with other applicants.
Naturally he was quite angry. An otherwise powerful man at home, to be treated so shabbily was not what he expected. On his way out, onlookers heard him thundering on his mobile phone to someone; "We will also do the same thing to you".
He had gone to the VFS office with an official from the Protocol Division of the External Affairs Ministry. Perhaps he was furious that his case was not fast tracked, nor exempted from the biometrics procedures. One of the onlookers cracked that it is good for VIPs to know what the 'Yakkos' go through as a routine.
Nonis axes Neville in London battle 
Internecine wars within some Sri Lanka diplomatic missions appear to be more intense than the ones they are assigned to fight.
The latest is from the Court of St James in Old Blighty. High Commissioner Chris Nonis has reportedly axed his Deputy, Neville de Silva.
Dr. Nonis succeeded former Justice Nihal Jayasinghe as the head of Sri Lanka's High Commission.
Mr. de Silva has been living in London for more than ten years before joining the diplomatic service. He served as London Correspondent of the Sunday Times too. After 3 1/2 years at our Bangkok embassy where he was deputy chief of mission, he was posted to London in July 2012 — apparently at Dr. Nonis's own request, the story goes.
Mr. de Silva's contract expires in July next year. If removed, he will join career diplomats P.M.Amza (now ambassador in Brussels)', M. Pathmanathan (now Director-General of Economic Affairs) and M.R.Lenagala (now acting Director-General UN & Multilateral Affairs) who have left No. 13 Hyde Park Gardens, London for pastures new.
Nawaloka mansion goes Tintagel way
Two staffers of the Presidential Secretariat were speaking in whispers at the opening of what is being described as a restaurant serving authentic Sri Lankan cuisine. One said to the other, "See, what happens these days. A noble house of a leading Sinhala businessman has now been turned into a hotel." He was referring to the Alexandra Place residence of Deshamanya H.K. Dharmadasa better known as Nawaloka Mudalali. His son Upali has converted it into a multi-cuisine Sri Lankan restaurant.
The other official was prompt with a retort. "What is that? A place where two Prime Ministers have lived has also been now turned into a hotel." He was referring to Tintagel, the residence of S.W.R.D. Bandaranaike and his wife Sirimavo, both former Prime Ministers.
Minister's Rs. 2.4 million water bill drowned
The National Water Supply and Drainage Board has decided to write off a Rs. 2.4millon water bill, defaulted by a Cabinet minister representing the hill country.  The NWSDB directors have made the decision. The enormous water bill was for the Minister's private house in the Nuwara Eliya district.
A UPFA sources said yesterday the minister, who has thousands of followers in the hill country, could easily have paid up if he wanted to. They lamented that if a consumer defaults a water bill of just a few hundred rupees, his supply will be disconnected. "It is watered down treatment for the privileged," one of them said.
Minister in ethanol fraud
The name of a controversial Cabinet minister has surfaced during investigations into the Customs detection of two container loads of ethanol recently. UPFA sources declined to give details but said the matter was being "seriously viewed" in the light of his past conduct.
Last week, the Customs imposed a fine of Rs. 15 million on the importer of the two container loads after they found that the item had been under-valued.
Tough laws for Law College exams
New rules have been introduced to prevent improprieties in examinations at the Law College. Instructions have gone out that all answer papers should be corrected in the examination hall premises immediately after the answer scripts have been handed over and the students have left the premises. No member of the staff is to be allowed to carry answer scripts to their homes for marking, a judicial source said yesterday. This comes after a major scam recently involving the Law College principal and his son.
Visa deals with Pakistan and Seychelles
Sri Lanka has signed agreements with Pakistan and the Seychelles to exempt from visas Sri Lankans who hold both diplomatic and official passports.  Government officials say a similar agreement with Belarus is to be signed, the result of a visit there by President Mahinda Rajapaksa in August this year.
Colour politics at  Parliamentary cricket
Amidst the Budget debate that ended on Friday, Government and Opposition parliamentarians played a cricket match for the Speaker's trophy last Sunday.
The team comprising ministers was given dark blue sportswear (T-shirts and pants) whilst the MPs' team were given light blue ones.
The UNP Parliamentarians refused to wear the blue sports kits, because blue is the official colour of the Sri Lanka Freedom Party (SLFP).
Organisers ran around in a quandary. They found some white sportswear for sale at the National Youth Council and handed them over to the MPs' team. Their captain Ravi Karunanayake (UNP – Colombo District) was the happiest.
Not only because of the white sportswear but also because his team won the match.
Shavendra denies entry into politics
When Major General Shavendra Silva, currently Sri Lanka's Deputy Permanent Representative to the United Nations, was vacationing in the country early this month, he was regularly asked about widespread rumours he was planning to run for political office at the upcoming provincial elections.
Vehemently denying any such plans, he blurted out to one of his friends: "Ämmo, you know what happened to the last General who ran for election? I am not running for any office." But there is still an upcoming election for another General, he said jokingly. Asked who? He shot back: "UN Secretary-General".