Presidential poll likely in 2014 despite multitude of crises
By Our Political Editor
View(s):
President seriously concerned about budget defeats in local councils; law to be amended
TNA-Northern Governor heading for showdown over budget; Rajapaksa, Sampanthan seek reconciliation
EPDP going all out to colour wash Kamalendran scandal but causes more embarrassment to Govt
President Mahinda Rajapaksa on Wednesday held out the prospect of a Presidential or Parliamentary election in the coming year.
"Eka Janadipathi methivarnayak venna puluvang. Baagey velavaata eka maha methivaranayak wennath puluvang (It could be a Presidential election. It could also be a parliamentary election)," he told the Executive Committee of the Sri Lanka Freedom Party (SLFP) at a meeting at 'Temple Trees'. Ministers, deputies, parliamentarians and local authority members are among those who form the SLFP Executive Committee. There was a gathering of nearly a thousand to whom Rajapaksa spoke.
He also announced that elections to both the Western and Southern Provincial Councils would also be held early next year. The dissolution of these Councils, UPFA sources said yesterday, would be by mid-January. It is most likely that Rajapaksa will sign the proclamations before he undertakes official visits to Palestine and Israel. His tour begins on January 6.
Rajapaksa told the Executive Committee that from the grassroots level to the party hierarchy, all should be prepared for the upcoming elections. The main subject of discussion at the event was the defeat of budgets of local authorities controlled by the UPFA. So much so, Rajapaksa was compelled to chair a session of the Cabinet of ministers last Monday though it was Unduwap Full Moon Poya. It was only hours earlier that he had returned from a visit to South Africa to attend the funeral of Nelson Mandela and later to Kenya to take part in that nation's 50th independence jubilee celebrations.
Ministers also endorsed a memorandum dated December 6 from Investment Promotion Minister Lakshman Yapa Abeywardena. It embodied three different draft Gazette notifications to allow Waterfront Properties (Pvt.) Ltd., Lake Leisure Holdings (Pvt.) Ltd and Queensbury Leisure Limited to establish integrated resorts. They were granted a ten-year tax holiday. The first two establishments were in the news since they proposed to establish casinos in the resorts. Though no specific mention was made of them, the draft Gazette notifications circulated to ministers clearly make provision. Identifying these projects as ones which come under the Strategic Development Act, the projects to establish Super Luxury Tourist Resort facility, the notification says, "includes high end shopping malls and high quality residencies and office spaces/service spaces with associated facilities". A high ranking UPFA source who did not wish to be identified said under "associated facilities" not only casinos but anything else that is connected could be established in these resorts.
Though Rajapaksa had to sit through a session where nearly a hundred memoranda had to be examined, including a third of them annual reports of state bodies, he was most concerned about the budget defeats in local authorities. He said though he did not wish to interfere, if this situation was not checked it could become worse in the coming year. He said the party must tackle this issue urgently. Minister Dullas Allahapperuma said this was happening due to three different reasons – (1) the dictatorial attitude of some chairmen of local bodies. They had not even summoned a meeting of the Government group members; (2) vice chairmen were obtaining the backing of some members and staging their own coups for different reasons; and (3) the party's organisers at the district level themselves were involved in moves to oust the chairmen by defeating budgets repeatedly.
Amendment to legislation
Minister Nimal Siripala de Silva noted the need for amending legislation. He said that at present a National Committee was studying the boundaries of wards of different local authorities and related issues. He said other amendments to the law could be effected after this exercise was over. The mandate of the National Committee is to make recommendations to the Minister for the division of each local authority area into wards, and to determine the boundaries of each ward and assign a name and a number. In making its recommendation for the division of a local authority area into wards, it is required to take into consideration; (a) the ratio of the ethnic composition of the local authority concerned, and the need to ensure equal representation for each ethnic group in that local authority area; (b) the geographical area of the local authority and its physical features; (c) the population of the local authority area and the density of such population. The Committee's terms of office which was due to expire on November 20 this year has been extended by two months.
Minister Dinesh Gunawardena expressed the view that the matter was not an issue since only a few local authorities had been affected. Rajapaksa disagreed and cautioned that it could escalate next year. He said this situation should not be allowed to happen again. Some ministers were soon to observe the tone of urgency in Rajapaksa's assertion to prevent any controversial political developments that would be disadvantageous to the UPFA. At the ministerial meeting Rajapaksa also sought the opinion of Justice Minister Rauff Hakeem over a court ruling. A private company had won a law suit with compensation for damages and interest on the sum involved over the seizure of lands given to it. This was after the property was vested back in the Land Reform Commission (LRC). By that time, the private company had been converted to a public one. Rajapaksa asked Hakeem how to deal with such a situation. Hakeem suggested that the LRC file an appeal. It was pointed out that the same judge who had delivered the original order had upheld his own decision when he sat in a higher court.
At Wednesday's SLFP Executive Committee meeting, Rajapaksa announced that legislation would be introduced to repeal a law which the UPFA Government enacted last year on local authorities. The announcement was received with loud applause. This legislation would be in the form of an amendment to the local authorities' law. The new law will mean that heads of Municipal Councils, Urban Councils and Pradeshiya Sabhas will remain in office if the same budget in their bodies is defeated twice. In nine local bodies – Medawachchiya PS, Rajanganaya PS, Alawwa PS, Mirigama PS, Matara PS, Embilitpitya PS, Imbulpe PS, Peliyagoda UC and Kesbewa UC – the budgets were defeated twice. The budgets have been once defeated in the Homagama PS, Ududumbara PS, Hanguranketha PS, Jaela PS, Dompe PS, Bope-Poddala PS, Bentota PS and the Wattegama UC. In the Wattala Urban Council the budget was defeated on the first occasion but was passed in the second.
Leader of the House and senior SLFP politician Minister Nimal Siripala de Silva told the Sunday Times, "The Executive Committee discussed the issue of defeats of the budget of certain local councils held by the UPFA. They decided to call on all members of the UPFA not to defeat budgets on personal grounds. If a council budget is defeated it is also the responsibility of the Deputy Chairman as well. Accordingly, the Executive Committee decided to call for the explanation of the Council members who contributed to defeat the budgets and to cancel their membership if they are found guilty. A full inquiry will be held. A decision was also taken not to appoint any of the members who defeated a budget to the vacant positions of Chairmen. It will also not be compulsory that we appoint a deputy as the Chairman."
Yet, some of those who voted against the budget were defiant and declared they would face the consequences.
The UPFA is not the only political front to face budget defeats in local authorities. In the main opposition United National Party (UNP) controlled Seethawaka Pradeshiya Sabha, too, the budget was defeated on the first occasion and passed during the second time. The Tamil National Alliance (TNA) also faced budget defeats twice in the Valvettiturai Urban Council and the Karaitivu Pradeshiya Sabha.
TNA-Governor clash
Minister and SLFP General Secretary Maithripala Sirisena, who delivered a welcome speech at the Executive Committee meeting, said local authority members who had voted to defeat the budget would be expelled. In the case of such moves being initiated by a political head of the local authority, he said, one from among those who voted would be picked. Deputy Minister Faiszer Musthapa made a veiled attack on the Sri Lanka Muslim Congress (SLMC), a partner of the UPFA. He said the UPFA Government would have to be careful about Muslim groups which were working against its interest, particularly in the Central Province. Whilst doing so, he said, this party was making preparations to contest upcoming elections on its own. Arun Tambimuthu, SLFP organiser for Batticaloa, criticised the Tamil National Alliance (TNA) for demanding the removal of the Northern Province Governor, retired Major General G.A. Chandrasiri. He said, "it was good for them to support retired General Fonseka as presidential candidate. What is wrong in having a retired Major General as Governor?"
Frictions between the TNA and Governor Chandrasiri continue to mount. Last Tuesday, Rajapaksa telephoned to wish Democratic National Front leader Mano Ganeshan, on his 54th birthday. The latter was to refer to the on-going tussle and tell Rajapaksa that there were fears that the NPC Chief Minister C.V. Wigneswaran would hand in his resignation. The President was to dismiss the idea of a resignation and assert that "these issues can be resolved." He said he would go into the matter. Just days later, Chandrasiri wrote to Wigneswaran seeking a meeting to discuss a number of issues. No appointment has been granted until yesterday.
Nevertheless, with Governor Chandrasiri poised to reject the NPC budget; at least some of its provisions, on grounds of constitutionality, frictions are bound to escalate. It was only on Friday that Wigneswaran forwarded the budget, approved by the NPC days earlier, for endorsement by the Governor. Chandrasiri has already made public statements that the move to set up new departments in the Northern Province was unconstitutional. The remarks were hotly contested by TNA MP, M.A. Sumanthiran who declared that the Governor was unaware of the constitutional provisions since he was no expert in this field. The TNA has summoned a meeting at the Town Council auditorium in Vavuniya on Tuesday to discuss a number of developments and the course of action it should take. TNA leader Rajavarothayam Sampanthan played down the event saying it was not aimed at the Northern Province Governor. He said the TNA provincial councillors of the North and East together with other alliance cadres have not met so far. "There are other issues. One is the restoration of the Iranamadu irrigation tank in Kilinochchi with foreign help. We have to take up some matters relating to it with the Government. Before that we will have to discuss them," he told the Sunday Times.
Sampanthan also responded to President Rajapaksa's call on Friday for the TNA to work in harmony with the government. This call was made when the President wound up the budget debate in Parliament. "Our co-operation has always been available. I have written to him and have repeatedly told him this," Sampanthan said.
He added, "What we are asking is a meaningful solution to our problems within the framework of a united, undivided Sri Lanka. It is not fair for the Government to simply talk. It must come up with some proposals."
UPFA sources said yesterday that Rajapaksa would hold a meeting with Sampanthan and Chief Minister Wigneswaran next week to discuss outstanding issues.
Although President Rajapaksa has kept his party members – and the whole country — guessing over which election, a presidential or parliamentary, would come first, most ministers believe it would be the former. As previously pointed out, MPs in the current parliament would have to complete five years to be entitled to their pension payments. They were elected in April 2010 and would have to serve until 2015 to qualify. Moreover, ministers point out that if parliamentary elections are held first, depriving them of a pension, there would also be the added disadvantage of at least some of them, who will be picked to re-contest, not doing their best at the presidential election. On the other hand, the conduct of a presidential poll may require a Supreme Court interpretation on when the present incumbent's turn begins, whether it is from the date of election on November 19, 2010 or the swearing in on November 26, 2010.
The UNP appears not unmindful of these realities. For weeks now, it has been gearing its party machinery at the grassroots level. Yesterday, the party had its annual convention at Siri Kotha. UNP leader Ranil Wickremesinghe was to appeal for unity and urge the party organisations to be prepared. Details of the sessions appear elsewhere in this newspaper. The UNP is also alive to reports of a possible move to restore the civic rights of former General, Sarath Fonseka, now leader of the Democratic Party. The idea, they believe, is to enable him to contest a presidential poll, a move that would divide opposition votes. This is in the backdrop of the Democratic Party's reported unwillingness currently to back a common opposition candidate.
Sunday Times in parliament
UNP's Communications Director and former Foreign Affairs Minister, Mangala Samaraweera was to cite a report in the Sunday Times when he spoke on the budget debate in Parliament on Tuesday. He said the newspaper had revealed how a Democratic Unionist Party Member of Parliament in the British House of Commons was paid around Sterling Pounds 3,412 to attend the Commonwealth Business Forum. The payment, the report said, had been made by the Sri Lanka High Commission in London to Ian Paisely jnr. Samaraweera said, "In days gone by we have heard that some people, in the absence of grieving kith and kin, used to hire women to cry at their funerals. Likewise, the Government, in the absence of friends in the international community, has resorted to buying friends to sing their praises in their respective countries."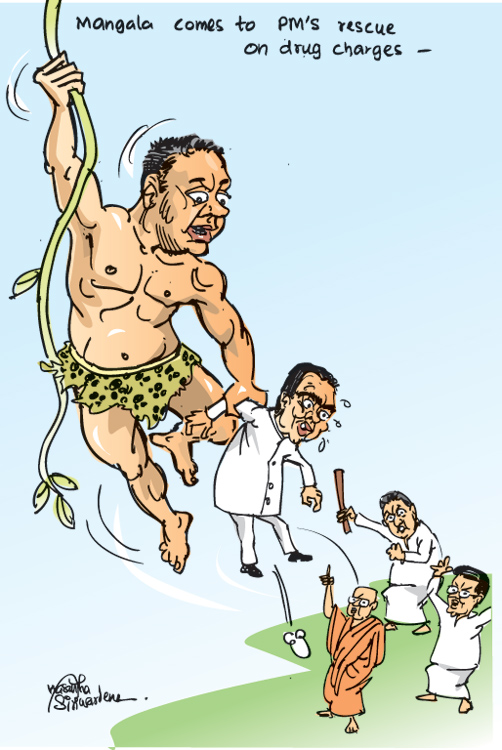 A response to the accusation came from External Affairs Minister G.L. Peiris. He said, "The Government did not pay or sponsor British MPs in the manner Samaraweera tried to portray." He said the visit was sponsored by International Alert for which one of the main sources of income was the British Government. A delegation of Sri Lankan parliamentarians has visited Britain. "We, too, as an act of reciprocity invited, a group of British MPs and sponsored their visit," he added. He claimed that Sri Lanka has won "a lot of international acclaim in that manner."
The Sunday Times is able to reveal today that from time to time, at least in the past two years, British MPs have been paid money and issued travel tickets to visit Sri Lanka. MPs in the House of Commons are required by statute to declare such funds and donations received and give reasons. Here is one more of such a set declarations obtained by the Sunday Times where a Conservative MP has visited a number of times. Further investigations revealed that payments have been approved by Sri Lanka High Commissioner (in UK) Chris Nonis after instructions from a powerful personality in Colombo dealing with external matters.
James Wharton: Conservative Party MP for Stockton South.
Date of visit: March 3 to 10 2012
Purpose of visit: "Fact finding and dialogue building delegation with second generation Sri Lankan diaspora from the UK to look at post-conflict reconciliation and economic development."
Name of donor: Government of Sri Lanka
Address of donor: Sri Lanka High Commission, 13 Hyde Park Gardens, London W2 2LU
Amount of donation (or estimate of probable value): Sterling Pounds 3200 (including flights, accommodation and internal transport).
Date of visit: July 29 to August 6 2012.
Purpose of visit: "Delegation to Sri Lanka to see progress made with post war reconstruction and reconciliation. This involved meetings with Government Ministers and Opposition MPs and the British High Commission, and visits to reconstruction works in Jaffna, Kilinochchi and Trincomalee.
Name of donor: Sri Lanka High Commission
Address of donor: 13 Hyde Park Gardens, London W2 2LU
Amount of donation (or estimate of the probable value): Sterling Pounds 3,200.
Destination of visit: Sri Lanka.
Wharton also undertook another trip to Sri Lanka paid for by International Alert. Besides these three visits, the Sunday Times has learnt that he has made at least three more, funded by the Government of Sri Lanka. Here are the details of the trip arranged and paid for by the International Alert. He has given the same reasons as he did for the visits paid for by the Government of Sri Lanka:
Date of visit: January 2 to 7 2012.
Purpose of visit: "Visiting post conflict areas to see development and investment work, meeting with Government and Opposition groups to discuss political situation and work on national reconciliation."
Name of donor: International Alert.
Together with Ian Paisely whose case was reported last week, the Government has spent Sterling Pounds 9600 (or over two million rupees) for the visits of just two MPs. Though he said he was to speak at the Business Forum, Samaraweera told Parliament that Ian Paisely had not done so. "Four visits in nine months: why does the 28-year-old MP for Stockton, James Wharton care so much about Sri Lanka?" Samaraweera asked. He, however, did not disclose the amounts Wharton had received. He named seven British MPs "who enjoyed this lavish all-expenses-paid trips coordinated by what he termed "the handler and the provider," but again did not disclose the amounts involved except to say it would be over Sterling Pounds 100,000.
Letter from an elders' home
Amidst these developments, Kandasamy Vanathi of Joseph Lane, 3rd Mile Post, Uppuveli, has written to the Sunday Times about the references in the political commentary of December 8 on the murder of Daniel Rexian, Chairman of the Pradeshiya Sabha of the island of Delft. A stalwart of the Eelam People's Democratic Party (EPDP) and leader of the opposition of the Northern Provincial Council, Kandasamy Kamalendran and Rexian's wife Anita are now in remand custody over the murder. Ahead of the arrival of Vanathi's letter, Nelson Edirisinghe, spokesperson for the EPDP, rang the Sunday Times to ascertain whether it has arrived. Though she is from Trincomalee, the letter was faxed from Colombo.
Vanathi was traced to an Elder's Home in Uppuveli, Trincomalee, where she is living with her children. She told the Sunday Times that her younger brother K. Gajendran who works as coordinating secretary to Minister Douglas Devananda, leader of the EPDP, telephoned her. Gajendran had said there was a reference to their father and to write the letter. Vanathi says in her letter in Tamil, (translated into English as follows), "in that article it mentions that my brother was a trained guerrilla fighter. It also says my father was tapping toddy to raise funds for the party. It says that Kamalendran was the son of the toddy tapper. Therefore due to this my family has been affected mentally and it has caused a serious family problem…….". The letter adds: "Also there was nobody in our family by the name Shoba. We are seven brothers and sisters – four females and three males. My brother Kamalendran joined the EPDP only in 1990. Thereafter we did not know anything about his activities."
There is little doubt that the EPDP was making an effort to cover up the acute embarrassment caused by the Sunday Times exposure. Highly placed intelligence sources have confirmed that Kamalendran was indeed a trained EPRLF (Eelam People's Revolutionary Front) guerrilla cadre. They said Kamalendran had been a member of the EPRLF long before 1990. A photograph of him brandishing a pistol and wearing camouflage was published in these columns and that is revealing too. However, Vanathi's assertion that her father is not a toddy tapper is correct though he was involved in the production and marketing of toddy.
Shortly after the military defeat of Tiger guerrillas, a journalist from the Arab Channel of Al Jazeera television was in Jaffna and interviewed Kandasamy Kamalendran. Several Tamil websites published the Q & A. One of them was a pro-EPDP (thainadu.com) website run by a former Tamil journalist Dharmakulasingham Dharmendra. He is the son of a former Sri Lankan diplomat who has served in overseas missions and in the Ministry of Foreign Affairs in Colombo. Here are relevant extracts which clearly exposes Vanathi's albeit the EPDP's smokescreen.
Can you explain why your family members have been branded as traitors by the Libertion Tigers of Tamil Eelam (LTTE)?
Since 1989 our family members underwent severe hardship. We were chased away from our home. We moved to Nayanamarakkadu, Atchuveli and Trincomalee areas. We were hiding with relatives. When LTTE guns went silent, we returned home but we could not live peacefully. Not only were my family but there are others in the EPRLF who were branded as traitors.
You were 15 years old then. How were you treated by the LTTE?
All EPRLF members were handcuffed. The scars are visible even today. We were treated like cattle.
Can you explain how you were chased out from your village?
We were ordered to leave the country. We gave our money and gold to LTTE smugglers. We were intercepted by the Navy in the seas off Mannar. The LTTE smugglers claimed we were civilians fleeing to India. The boat was towed to Karainagar Naval Base. We were freed.
What was your experience in Colombo?
There were three refugee camps run by the EPDP. One was at Vivekananda School in Kotahena. Douglas Devananda was informed that we were in the camp. We went to Trincomalee and thereafter to Colombo.
What is your first experience when you met Devananda?
I remember he used to visit us every ten days in the camp. He called over with food and sweets for the children. He spoke to the people politely. I thought one day I should be under him. From then onwards I was in contact with him.
There was a close relationship with your family and the EPRLF. Can you explain?
My father was a founder member of the EPRLF. He was known as Kannan. My mother also joined. She was known as Kalvayal Akka.
Can you remember some major incidents during your younger days?
You may have heard of the attack on the Navy Base in Karainagar. Devananda was directly involved. The first EPDP cadre was killed here. She was Devananda's sister, Shoba. Later, one of our sisters was also named as Shoba. Several injured cadres were treated in our house. During this period, my leader's two brothers Prem and Raghavan who were leaving our home were abducted and shot dead by the LTTE. Later, the IPKF found their skeletal remains.
It appears that the LTTE sympathised with your father. Is that correct?
He was released on conditions. There was a time when the LTTE banned the EPRLF. At this time my father was in charge of three toddy taverns which were managed by the EPRLF.
One of the LTTE conditions was to run a toddy tavern. My father agreed to this. This period the IPKF was present. When my father was working in the tavern, the LTTE would come home to collect the daily income. One day Thamil Selvan who was then "Dinesh," called over for the day's collection. My father was not in.
My mother handed over the collection. He returned Rs 1,000. My mother questioned him but he did not respond. The next day, two LTTE cadres named Papa and Guna came to my house and told my father to report to the Manuduvil LTTE camp immediately. My father anticipated danger. He left home with my mother on a motorcycle and reached Chavakachcheri. He surrendered to the IPKF on the roadside. From then onwards the LTTE treated the family members harshly. My father escaped to Colombo and took refuge with Devananda.
More embarrassment to the UPFA
Despite EPDP's attempt to create a diversion by asking one sister of Kamalendran, living in an elder's home to write a letter which was faxed to the Sunday Times from Colombo, the efforts failed to obliterate the truth. Needless to say that resorting to such tactics, the EPDP only heaps more and more embarrassment on the UPFA Government.
This is at a time when the Rajapaksa administration is mustering all resources to face the UN Human Rights Council sessions in Geneva. At home, after the next nine days, it would be a year of elections. The UPFA would have to rein in not only the EPDP but also its errant local councillors who have become petty warlords in their turf, and restore its credibility. Even if the UPFA may be the winner at the polls, the erosion can become costly to it.