Skype complaints: Minister on overdrive, passengers apply brakes
By Joshua Surendraraj
View(s):
A proposal by Private Transport Services Minister C.B Rathnayake to introduce a system where bus commuters would be able to lodge complaints via Skype, appears to have hit a road block before getting off the ground. A cross section of commuters interviewed by the Sunday Times felt the proposal had limiting factors such as the non-availability of the facility to many and that a hotline 1955 already existed to make complaints.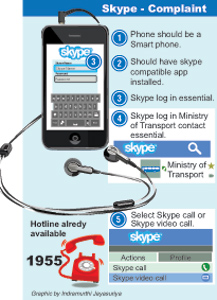 A National Transport Commission (NTC) official commenting on the hotline system said when they received a call from a commuter an officer would take down details of the bus and the caller that are entered into the Public Complaint Document.
The official said the NTC received over 100 complaints on average a day.
Manusha Jayathilaka (24) employed in the private sector said, "This system would be of no use to the common passenger, for most of them don't have internet facilities. My mother travels by bus but she does not use Skype."
"Why can't the minister instead provide more buses so that the people can travel in comfort? This would be far more practical," she said. Dilan Ariyadasa (27) from Biyagama said, "To use Skype via mobiles you need an Android phone, and most people do not have such phones, therefore I don't think this is practical."
Another passenger Prasan Dissanayake (46) from Mattegoda voiced the same problems.  Malkanthi Rodrigo (54) from Kiribathgoda said calling the hotline would be far more effective because only a few use Skype facilities.
Hassan Siddique (54) from Mattegoda said, "The older generation would certainly not make use of this new form of submitting complaints, if at all it would be the younger generation who would know how to properly use this. Overall I can't see many people taking the trouble to use Skype," he added 
Melanie Candappa (31), who travels to Wattala from her workplace in Colonbo held a differing view, "Most people use Skype therefore I feel this form of submitting complaints would be useful. However having said that I would also like to point out that a person who undergoes some hardship in the bus would not go to the extent of using Skype at that very moment to submit a complaint."
Minister Ratnayaka however believes the facility would be useful adding that commuters could also send e mail complaints.
The project would be implemented within 20 days the minister said adding that a GPS system would also be setup to monitor the speed of buses.
Responding to commuter complaints the NTC has circulated what is termed as a list comprising passenger rights.
They include: The right to buy a ticket at the start of one's journey; the right to obtain a ticket depicting the location of boarding and dismounting, the ticket fare and date, the number of the bus, the right to receive a courteous service by well mannered and smartly and decently clad bus conductors and drivers; the right to travel in a bus that uses only a radio in terms of audio/visual devices, and if using a radio should use it to a maximum permitted volume of 80 decibels only.