Mixed welcome for CHOGM
View(s):

Sri Lankans are divided in their view on whether the Commonwealth Leaders Summit (CHOGM) next week will bring the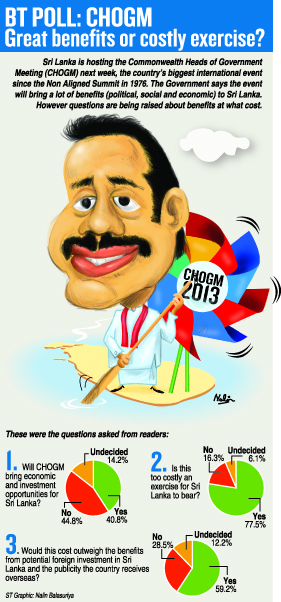 necessary economic and investment benefits to the country, a Business Times (BT) poll this week shows.
Respondents which included distinguished, retired civil servants, corporate heads, professionals, students and intellectuals, were however united in the position that the cost of hosting the event was too much for a country like Sri Lanka.
Asked whether CHOGM will bring economic and investment opportunities for Sri Lanka, 44.8 per cent of the respondents said 'No', 44.8 per cent said 'Yes' while 14 per cent were 'Undecided'. To the question whether this is a costly exercise for Sri Lanka, 77.5 per cent of the respondents said 'Yes'.
On whether this cost outweighs the benefits from potential foreign investment and the publicity the country receives overseas, 59.2 per cent said 'Yes'.
In the comments that were received, one respondent said that countries taking part in the event are already aware of Sri Lanka and the business opportunities
Another respondent noted that this money could have been spent on priority projects that would generate employment and better economic returns. "Serious investors look for the best locations around the world, and do not wait for a country to put on a show to discover its potential," he added.