Tanya to premiere two new compositions at St. Martin-in-the-Fields
View(s):

In the few years since she was discovered "quite by accident," Tanya Ekanayaka has proven it is possible to gracefully storm the international stage. From New York to London and to our little island, her star as a concert pianist is steadily rising. Tanya's next solo recital will be a free lunch-time concert (1 p.m.-2 p.m.) on October 25, at St. Martin-in-the-Fields in London as part of the 'Pianists of the World' series, where she will premiere two of her new compositions.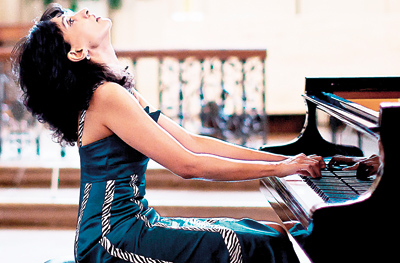 "She is really unique," says Premini Amerasinghe, a close friend who heard Tanya's first 'Pianists of the World' series recital in 2010. "She is full of promise, and professional … She just sort of exudes confidence!"
Most of Tanya's recent recitals, including at the Kennedy Center in New York, have seen packed audiences and won her numerous standing ovations. Apart from being a uniquely gifted performer, she is also a musicologist, linguist and instructor at the University of Edinburgh. In this combined commitment to music and language, she takes a deep delight in understanding the language of the music she plays, bringing fresh nuance to familiar pieces.
The known compositions in the concert programme for October 25 will include Haydn's Sonata in D major Hob. XVI: 37, Chopin's Ballade No. 1 in G minor Op.23, Debussy's L'Isle Joyeuse, as well as Beethoven's Bagatelle in A minor WoO 59, the famous "Für Elise". The original compositions she will premiere at this recital are "Vannam (Gajaga, Hanuma, Mayura) & You" and "In Lotus: Olu Pipila With Moment."
As has "strangely" been the case in the recent past for Tanya, both these pieces (which she calls the "spontaneous" products of an intimate and personal musical "evolution") "incorporate musical motifs inspired by the other works" in the programme. Her previous performances of original compositions have earned her great praise across the globe. For us exposed to Sri Lankan folk music, they bring a thrilling fusion of heart-warming familiar tunes built into a solid backing of the western classical tradition.
The 'Pianists of the World' series is one of the oldest-running at the famed venue, and Tanya Ekanayaka is the first Sri Lankan to play in this series.
comments powered by

Disqus