People and events
View(s):

Anuradhapura Clinical Society annual sessions

The third annual clinical sessions of the Anuradhapura Clinical Society will be held from October 23-25 at the Palm Garden Hotel, Anuradhapura. The event is organised jointly with the Sri Lanka Medical Association (SLMA) Foundation clinical sessions.

Minister of Health Maithripala Sirisena will be the chief guest at the sessions which will provide an opportunity for Rajarata clinicians to update themselves of the latest medical advances.

The Anuradhapura Clinical Society was established in 2000.

'Mysteries of Bird Migration'

The Field Ornithology Group of Sri Lanka (FOGSL) will present a public lecture titled "Mysteries of Bird Migration" by Prof. Devaka Weerakoon on October 26 from 9.30 a.m. – 11.30 a.m.

The lecture is the second in the series Migrant Watch 2013/14 and will be held at the NBLT lecture hall, Department of Zoology, University of Colombo. For more details contactmigrantwatch.srilanka@gmail.com or call 011- 2501332. Entrance is free.

Public lecture: Peace and cross cultural understanding

A public lecture on 'Importance of Peace Studies and Cross Cultural Understanding' will be delivered by Justice C.G. Weeramantry on Thursday, October 24, at 5.30 p.m. at the Auditorium of the Organisation of Professional Associations of Sri Lanka, Prof. Stanley Wijesundera Mawatha, Colombo 7.

Justice Weeramantry is the former Vice-President of the International Court of Justice (1997-2000) and a Judge of the Supreme Court of Sri Lanka (1967-1972). He has received the UNESCO Prize for Peace Education 2006, the Right Livelihood (Alternative Nobel) Award 2007 and the Life-Time Achievement Award 2008 by Nuclear Age Peace Foundation. The lecture is organised by the British Scholars Association of Sri Lanka. All are welcome.

 'Peterite Teachers' Day

The 87–92 Batch of the Old Boys' Union of St. Peter's College, Colombo 4, organised the Annual Teachers' Day Outing on October 12 for the 13th consecutive year.

Done with a difference, the day began at the Ratmalana Air Force Base with the staff being taken on an aerial tour of Colombo and Kalutara, followed by a guided tour of the Air Force Museum after a sumptuous breakfast at the Air Force Restaurant. 
The next venue was the Vinrich Lake Resort, Bolgoda, with an enjoyable day filled with fun, games and surprises.

The activities were concluded with Rector Rev. Fr. Travis Gabriel thanking the 87–92 Batch of the OBU for this gesture of gratitude to their teachers. He appreciated the efforts of OBU President Dr. Nicholas Jayasekera; 87-92 Batch President Lindsay Melder and Project Chairman Shamal Perera in making the day a memorable one.

The staff coordinators were Teachers' Guild Secretary Sujeewa Perera and Vice President Canisius Ranasinghe.

Pera University Alumni Association seminar 

The Alumni Association of the University of Peradeniya, Colombo Chapter has organised a seminar on 'Toxic natural elements and their possible implications on chronic kidney disease of unknown origin in Sri Lanka'. The lecture will be delivered by Dr. Kamini Wanigasuriya, Faculty of Medical Sciences, University of Sri Jayewardenapura and Prof. Chandare Dharmawardena, University of Montreal and NRC, Canada. The lecture will be on October 24 at 5 p.m. at the Metereological Department auditorium, Bauddhaloka Mawatha, Colombo 7.

Prof. S. Sotheeswaran, Dean, College of Chemical Sciences, Institute of Chemistry will chair the seminar.

Launch of Campaign for pain relief

In the article titled 'Give Rs. 5 a day to relieve their pain', by Ramya Chamalie Jirasinghe published on page 3 of the Plus on October 13 it was stated that the campaign for pain relief was launched at the Maharagama Cancer Hospital on October 12 – it was in fact launched at the Suvisudharma Temple, Wellawatta, on October 1.

Recognised and awarded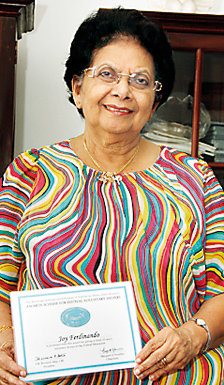 Veteran classical music teacher Joy Ferdinando, founder of the International Institute of Music, Speech and Drama  was recently honoured when the British and International Federation of Festivals UK in which the Sri Lanka Festival of Music Dance & Speech is a member, recognised and awarded her for more than 10 years of Honorary service.
Order your Christmas cards from the Ceylon School for the Deaf and Blind 
The Resource Development Committee of the Ceylon School for the Deaf and Blind will once again be selling Christmas cards to raise funds for visually and hearing impaired children at the School for the Deaf and Blind, Ratmalana.  The school which has served for over a century continues to provide education and vocational training, to make these children self-sufficient in life.
The cards priced at Rs. 25 each are all works of art by the children themselves and the funds generated from the sale will be channelled to meet the rapidly rising operational costs of the school. The committee requests those wishing to buy these cards to please place their orders early to facilitate printing with the company name and logo, if necessary.
Orders may be placed by visiting: www.csdeafblindgreetingcards.com
 SLFUW AGM
The Annual General Meeting of the Sri Lanka Federation of University Women will be held on Saturday, October 26 at the SLFUW head quarters, 96/25, Kitulwatte Road, Colombo 8 at 9 a.m, followed by lunch.
The SLFUW founded in 1941 is dedicated to empowering women in Sri Lanka and its members are professionals at all levels belonging to different ethnic and religious groups. All women graduates who are keen to join the SLFUW should contact –011-2682961 or 0777895339.
Bilingual talk on the growth of Buddhism in India 
A Public Talk by Dr. Ananda W.P. Guruge on 'The Role of Sri Lanka in promoting the growth of Buddhism in India in the new millennium' will be delivered in a bilingual format ( Sinhala and English) on Sunday October 27 at 2.30 p.m. at the "Sri Sambuddhathwa Jayanthi Mandiraya" at Sambuddha Jayanthi Mawatha (former Havelock Road) Colombo 5.
The talk is being sponsored by the newly formed Indo – Sri Lanka Buddhist Network in association with SUCCESS Sri Lanka, German Dharmaduta Society, Buddhist Cultural Centre and the International Buddhist Centre, Wellawatte, Colombo 6. 
Dr. Ananda Guruge, is an internationally reputed Buddhist Scholar and Dean Emeritus of Academic Affairs and former Director of the International Academy of Buddhism, University of the West, Los Angeles, California, USA. He is a former Senior Special Adviser to the Director- General, UNESCO.
Dr. Guruge also serves as the Chairman of the World Buddhist University Council and Hony. Senior Vice – President of the World Fellowship of Buddhists, based in Bangkok. He is a former Ambassador of Sri Lanka to USA, France and UNESCO. He was a member of the Ceylon Civil Service from 1952 – 1967.
A prolific writer, Dr. Guruge is the author of more than 50 books.
'S & T Group' present translated books to Sri Lankan astronomer
'S & T Group', well-known for publishing space, science and astronomy books, have done Sinhala translations of most of world renowned Science Fiction writer Sir Arthur C. Clerke's books.
Owner of 'S & T Group', Samira S. Ratnayake and Thathsarani Bulathsinhala presented a selection of books to well-known Sri Lankan astronomer and science writer Anura C. Perera at the 'International Book Fair' held at BMICH recently. Dayawansa Jayakody, a well-known publisher was also present.
comments powered by

Disqus