Letters on a meditative journey
View(s):

There is something very conversational about Freed Freedom; Miriam de Saram, the author (of sorts) on one end writes with intelligence, vivid imagery and a great deal of respect. On the other end, a meditation master of the Mitirigala Nissarana Vanaya responds with great care, simplicity and understanding. A collection of this correspondence between a meditation master and his disciple, the book, launched last week is a captivating account of a journey towards spiritual enlightenment.

It helps that this disciple was someone as celebrated as Miriam de Saram. A Deraniyagala before marriage (sister to scholar Dr. Paul Peiris Deraniyagala and the artist Justin Deraniyagala), Miriam grew up in an Anglican Christian family, yet studied Hindu and Buddhist schools of thought. At the end of the publication you'll find a recollection of her life and times by a former US Ambassador to Sri Lanka Peter Burleigh; she was "unconventional, controversial, independent minded, erratic, talented and tough minded," he writes.

Unconventionality was perhaps her trademark. Miriam was the first Ceylonese woman to study, master and publicly perform both Kandyan and South Indian dancing (even appearing as an exotic dancer in Alexander Korda's film 'The Drum' in 1937). She was also very controversially the first woman to don the head gear of a Kandyan dancer. Despite her family's initial disapproval, she wed lawyer Robert de Saram, and the couple welcomed to the world Rohan, Skanda, Druvi and Niloo. She passed away in 1999. 

Skanda is married to Sharadha De Saram, who was instrumental in editing the book along with Neville Fernando. "My mother-in-law was an incredible woman," Sharadha remembers. "You could sit down with her and have the most fascinating conversations." Miriam's talent for storytelling transpires strongly in her book-for example when she writes of her experiences during meditation one almost feels like an audience to the inner recesses of her mind.

"…I was talking to three others when my entire body became electrified," she writes at one point. "Then I did not wish to talk but withdrew into myself. Gradually the thrilling ceased and again I had attained the same calmness I had experienced during the earlier meditation."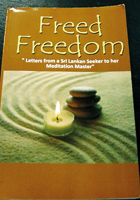 Miriam's meditational experience begins almost abruptly in the text. Being a compilation of correspondence, the only story in the book is the one Miriam tells. For the reader this may be a little jarring as without warning you're thrust into an otherworldly account of meditation. When the letters were first collected by the monks at Mitirigala during the 80's and made into a volume, Sharadha herself admits to finding them a little baffling.
A copy of the collection was then passed on to Neville Fernando at his request. In his introduction to the book he writes that "though it was in our possession for the last 25 years it was only after progressing in my own meditation practices that I was able to appreciate the value and depth of the writings and its applications to meditators in daily life."
In the book Miriam writes frequently of outer body experiences, and questions her instructor about various unusual experiences and their cause. The letters are revealing-the writer does not hesitate to describe in vivid detail feelings of utter bliss and nothingness, and of her gradual detachment from the material. The letters also pose a frequent question-is it not a defeat of the purpose itself to become attached to the state of nothingness that meditation brings her? Occasionally, the process unnerves her. "I saw a more perfect level of peace just beyond-but to reach it I had to give up breathing….An element of fear (of death I think) seemed to rise up."
Her master responds with patience and great understanding. "Don't worry over death. It is unnatural; unavoidable…If we can use this feeble life to attain 'Deathless', what do we expect out of this existence? One really has to give up everything in order to achieve the perfect peace because there, it is nothing but beautiful- everlasting, all enveloping peace."
When Neville contacted Sharadha about publishing the letters, she was keen but wondered if it would be of interest to many people. But then as she remembered her mother-in-law's journey during her later years with meditation as her guide, she realised that the letters might help others. "She was always a soul looking for answers," she remembers. "Maybe having four children and devoting her entire life to them meant losing the essence of who she was for a while." 
Miriam herself mentions frequently in her letters that she was going through difficult times. The question is, do you need to be going through a challenging time to find meditation effective? "Or can you be happy and still look for something more than that?" she wonders.
For Sharadha, an Anglican herself, the book holds no religious context. It is simply a collection of letters between a woman she knew, loved and respected immensely and her instructor who guided her to spiritual enlightenment. "She was always ahead of her time. Here she was driving up and down to Mitirigala in her rickety old Beetle, in pursuit of what she was seeking. She had never declared herself a feminist, but she was doing everything a liberated woman would do. When I finally read this book I thought, wow, what a woman."
Freed Freedom was published by the Buddhist Cultural Center.
comments powered by

Disqus