A magical musical journey
Book facts | Love Duet and other curious stories about music, selected by Christopher Ondaatje
View(s):
Christopher Ondaatje is a man of many talents who has had a charmed career and life. He was born in Sri Lanka, educated in England and built a successful career in finance and publishing in Canada. In the early '90's he sold all his business interests and returned to writing where he has broken new ground as a respected book reviewer and a writer of thought-provoking books dealing with significant biographical histories and geographical events.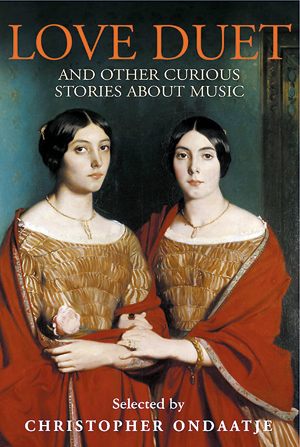 Since 1985 Ondaatje has devoted his time to travelling, writing and administering the Ondaatje Foundation. He is a life patron of the National Portrait Gallery where the Ondaatje Wing is named after him. The Ondaatje Theatre at the Royal Geographical Society; and the Ondaatje Prize at both The Royal Society of Literature and The Royal Society of Portrait Painters are other major benefactions. Recently he was awarded the Gold Medal of The Royal Canadian Geographical Society. He was made a Commander of The British Empire (CBE) in June 2000, and awarded a knighthood in the Queen's honours list, June 2003.
However, Christopher Ondaatje's recent book is a complete departure from his other endeavours. Love Duet is a diverse collection of stories, articles, opinions and interviews which is a literary revelation with music as its theme. In addition to writing the title story "Love Duet", which is clearly inspired by his affiliation with the prodigiously gifted Albek Duo from Switzerland, he has selected some of the best pieces from the last two centuries by authors ranging from Somerset Maugham to H.H. Munro (Saki); from Roald Dahl to Nadine Gardiner, and from Tolstoy to Chekhov. He has also included some of the most emotional musical literature from Proust, E.M. Forster and Thomas Mann. There are violent expressions of startling sensitivity and disclosure; there is great variation, but somehow, ingenuously, everything draws together revealing precision and perception.
There is also an extraordinary article by the renowned Sri Lankan born cellist Rohan de Saram "Trio" on the curious relationship between Johannes Brahms, Robert Schumann and his wife Clara. Food for thought!
The late Glenn Gould has penned a seldom read but perceptive observation of the composer Richard Strauss, and his own final interview is far-reaching and wildly opinionated. Robert Schumann's very first article on his discovery of Chopin has been translated from its original German probably for the first time, revealing Schumann's talent as an entertaining reviewer.
The kaleidoscope of brilliant musical literature conjures up an almost forgotten world of musical discovery. It explains how over ten centuries ago Pope Gregory initiated the idea of writing down music.
Then how Guido of Arezzo, a monk, invented the music notations do, re, mi, fa, so, la and ti and wrote them down on a staff. Also how an Italian composer Claudio Monteverdi added musical accompaniments to madrigals – and thus invented opera. The Baroque Era emerged in the 1600s and composers like Bach, Vivaldi and Handel composed many of the works still played today. Then the Romantic Era emerged and saw the birth of emotional and poetic structure when Chopin, Liszt, Brahms and Strauss made their name.
Vienna was the centre of classical music and composers like Dvorak, Tchaikovsky and Rachmaninoff created music, sometimes from folk music, which lasted well into the 20th century. New composers emerged like Debussy, Stravinsky and Prokofiev and somehow Ondaatje has magically put it all together into a collection of writing that is sometimes surprising, often enchanting, and always entertaining. It must have been a joyful voyage of discovery for the author and we are lucky to be taken along on this magical musical journey.
-Michael Berry (Publisher, Rare Books and Berry)
comments powered by

Disqus