Something fishy in this huge sand deal
View(s):

The Ministry of Fisheries and Aquatic Resources recently awarded a contract to dredge the fishery harbour in Panadura. The project came under the Ceylon Fishery Harbours Corporation (CFHC). Following an agreement with the CFHC, the company began dredging operations.

Minister Rajitha Senaratne says the dredged sand is of no use to the construction industry because of the high salinity content. He also says that the sand piled along the coast is getting washed away into the sea. He has also complained to his colleagues of another problem — the CFHC is finding it difficult to pay the company contracted for the dredging operations.
To overcome the situation, he has come up with an interesting solution. He has sought approval from the Government to allow the dredging company to sell the sand to the Maldives and recover funds due to it. He has said that the firm in question has already received orders to export 50,000 cubes of dredged sand.

It is to be exported from time to time on a shipment-by-shipment basis at the rate of US$ 18.5 (around Rs 2,442) per cube. Minister Senaratne wants the company in question to be exempted from the Cess Tax.

He has, however, not explained how much is owed to the private company from the CFHC nor given details of how it will receive the funds. One CFHC source said yesterday the deal, which lacked transparency, would entail the firm receiving the funds direct since it had put through the export deal.

One construction industry source, however, said that the sand could easily have been used to cover newly tarred surfaces with so much of road improvement work going on. The source claimed, "if the Government accepts the principle that a firm given a contract can do business outside the country to recover monies due, it would only set a precedent for others to follow." 

But who cares!! The more the merrier!!

Maga gets massive project

Maga Engineering (Private) Limited, a leading Colombo Engineering firm, has won a multi-million rupee contract to resurface and improve the road surface from the Kelanitissa Power Station to the Kanatte Cemetery roundabout. The move is to ensure easy passage from areas in south Colombo to the newly built Katunayake Airport expressway. The distance involved is 4.8 kilometres.

More salt needed for Jaffna's desalination project

The Government has abandoned a proposal to establish a Sea Water Desalination Water Treatment Plant for Karainagar inJaffna. The recommendation for such a project was made by Water Supply and Drainage Minister Dinesh Gunawardena.
Instead, it has now been decided that work relating to the Jaffna-Kilinochchi water supply project should be proceeded with. This project involves tapping water from the Iranamadu irrigation tank.

It has also been decided that the Water Supply and Drainage Board should conduct a study on the desalination of sea water to be used for drinking purposes. It has been asked to forward its report to the Minister within three months. Among matters to be considered are environmental factors and financial viability.

President takes strong stand on cement

It is not only public relations that are winning him plaudits. President Rajapaksa has also won the sobriquet of being a hard task master, at least from his ministerial colleagues. On a visit to Jaffna recently, Rajapaksa had many engagements. He commissioned the electricity supply to Jaffna through the national grid by declaring open the power station in Chunnakam.
He also took part in the UPFA's campaign for the September 21 Northern Provincial Council elections.

The stay in the northern capital meant having to drive back and forth for engagements from the place of residence – the Sri Lanka Army's picturesque Thal Sevana resort overlooking the Palk Strait at Kankesanthurai.

On one occasion, when being driven to the resort through the streets of Jaffna, President Rajapaksa saw large stocks of cement stacked outside shops or being loaded into lorries and hand carts. He was told that the cement was being sold at lower prices than in Colombo.

Returning to the capital, he directed Co-operatives and Internal Trade Minister Johnston Fernando, to ask his officials to conduct a full check to ascertain whether technical specifications of the cement were in keeping with accepted standards. He has been told to report to the ministers after a full study is conducted.

Minister misses flight on Rajapaksa names

Janatha Vimukthi Peramuna (JVP) Parliamentarian Anura Kumara Dissanayake raised an unusual query from the Government in Parliament last week. He wanted to know how many state institutions or establishments had been named after President Mahinda Rajapaksa.

The reply was tabled in Parliament by Minister Dinesh Gunawardena, who is also the Chief Government Whip.
Among those he named were: Magam Ruhunapura Mahinda Rajapaksa Harbour, Nelum Pokuna Mahinda Rajapaksa Performing Arts Theatre, Suriyawewa Mahinda Rajapaksa International Cricket Stadium, Mahinda Rajapaksa Vidyalayas – Homagama and Rassandeniya and Mahinda Rajapaksa College, Matara.

However the name that was conspicuous by its absence on the list was the Mattala Mahinda Rajapaksa International Airport (MRIA).

 Two TNA councillors play Tiger games

Ananthi Shasheetharan, the wife of the one-time the LTTE's Trincomalee Political Wing leader who went by the nom de guerre Elilan angered Northern Provincial Council Chief Minister C.V. Wigneswaran and others this week.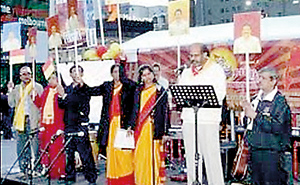 The wife of the guerrilla leader who went missing turned up for the swearing in ceremony for Tamil National Alliance (TNA) Northern Provincial Councillors in a saree, one that was worn by female guerrilla cadres and supporters on Maveerar (or Great Heroes) Day. The LTTE marked this day on November 27 every year when it held ground in Jaffna.
Another TNA councillor, M.K. Sivajilingam, took his oaths at Mullivaikkal before Dr. Mayilerum Perumal. His first name literally translated into English means "hair raising." The story is hair-raising indeed. Dr. Perumal is a relative of slain LTTE leader, Velupillai Prabhakaran. He was the personal physician for the guerrilla leader's mother Parvathi until she died. 
Mullivaikkal is where the near two and half decades of separatist war ended with security forces militarily defeating Tiger guerrillas.
Two other TNA councillors took their oaths before Chief Minister Wigneswaran at his Colombo residence. When one of them was being sworn in, Mr. Wigneswaran in a suit remained seated in the chair in his law chambers whilst the councillor was standing reading out the oath. 
This was a marked contrast to President Mahinda Rajapaksa who stood whilst Mr. Wigneswaran was being sworn in.
MIA in slanging match with NFL
Maya Arulpragasam, the Sri Lankan-British rapper known by her stage name MIA, is fighting a $1.5 million law suit brought by the National Football League in the United States for an obscene gesture she made during the halftime of the Super Bowl game last year.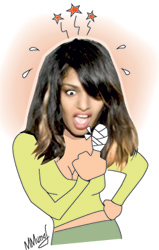 While performing on stage with the legendary singer Madonna, MIA showed her middle finger, which in decent American jargon means: "Screw you." She made this offensive gesture before millions of American football fans who were watching the game live and on television. MIA, who is known for her raunchy language both on and off stage, is also accused of mouthing the words "I don't give a s–t" during her performance.
She has retaliated against the NFL in harsher language, much of it unprintable. The printable comments read: "They are scapegoating me into figuring out the goal posts on what is offensive in America. Like, is my finger offensive? Or is the underage black girl with her legs wide open more offensive to the family audience," she said, referring to one of the other performers on stage with her that night.
"It's a massive display of a powerful corporation dick-shaking. They want me on my knees and say sorry so that they can slap me on my wrist." A onetime time vocal supporter of the LTTE, MIA once performed at New York's famous Central Park with a Tiger cut-out on stage.
In lighter vein at Wigneswaran show
There were some light moments when President Mahinda Rajapaksa swore in Northern Provincial Council Chief Minister C.V. Wigneswaran for a string of portfolios he will hold.
It was at a ceremony at the Presidential Secretariat on Thursday morning. At one point, Minister Nimal Siripala de Silva was in conversation with Mr. Wigneswaran. When President Rajapaksa saw this, he asked his Minister, "Nimal, what are you telling him?" He replied that the Chief Minister was with him at Law College. Added Wigneswaran: "I was more senior to him there."
Rajapaksa asked the Chief Minister, "How long does it take for you to come to Colombo from Jaffna." He replied that it was at least five hours. "Very soon you can drive to Minuwangoda and take the Kandy-Jaffna expressway," said Mr. Rajapaksa.
The President said he appreciated Mr. Wigneswaran calling for the bio data of TNA provincial councillors before picking the board of ministers. TNA Parliamentarian M.A. Sumanthiran who accompanied the Chief Minister pointed out, "yet, some did not forward their bio data."
Mr. Rajapaksa asked Sumanthiran "So you have decided to oppose the Commonwealth summit." Mr. Sumanthiran smiled. A senior staffer who overheard the conversation asked, "Is that a forewarning that Indian Premier Manmohan Singh has changed his mind about attending CHOGM?" The next few days will have the answer.
Chief Minister Wigneswaran was asked by another staffer at the Presidential Secretariat "Sinhala katha karanna danney kohomada? (How do you know to speak Sinhala?)"
He answered "Mama Sinhala igana gaththey nehe. Mama danney ahinda gaththa Sinhala vitharai. (I did not learn Sinhala. I know the Sinhala that I picked up.)"
comments powered by

Disqus