Amid CHOGM rush, Lanka blows hot for coal
By Our Political Editor
View(s):
BOI recommends huge investments in foreign coal companies to ensure supplies, but some ministers raise questions

State institutions rushing in the rain to complete summit projects; doubts remain as to how many leaders will come

Hakeem, Bathiuddin clash openly at President's tea party; UNP's crisis talks makes slow progress
It was a 'home' and 'home' encounter between partners of the United People's Freedom Alliance (UPFA) with President Mahinda Rajapaksa being forced to play the role of the 'neutral umpire'. It all began after he swore in UPFA councillors for the Northern Provincial Council (NPC) at a ceremony on Thursday evening at 'Temple Trees'. 
Seated on the same side of the table for the tea party, next to each other with President Rajapaksa were Industry and Commerce Minister Rishad Bathiuddin, Justice Minister Rauff Hakeem. Bathiuddin's brother Rizkhan has been elected on the UPFA ticket for Mannar District. Two members of the Sri Lanka Muslim Congress (SLMC), Ameed Mohamed Niyaz (Puttalam District) and Jawarsha Mohamed (Kurunegala District) took their oaths among others. Their party leader Hakeem who had just returned to Colombo after a trip to the United States was also on hand.
A reported clash between two rival Muslim factions in Anuradhapura became the subject of conversation. At the table were other invitees and cabinet ministers too. Rajapaksa noted that a television station had reported that 'anthavadis' or extremists had attacked a group of Muslims. He said that the suggestion was that Sinhala extremists backed by the Government were responsible for the attack though in fact it was an internecine clash. "Now, you all will delete the reference to a factional clash and say Anduwey anthawadis (Government extremists) were attacking Muslims," said Rajapaksa without pointing fingers at either Bathiuddin or Hakeem. Yet, where this 'political ballistic missile' was being directed was clear. Rajapaksa has been particularly worried about a publication that has been distributed to visitors to a West Asian country alleging attacks and harassment of Muslims in Sri Lanka.
The exact details of how the clash occurred in Anuradhapura are still not clear. One Sinhala newspaper account said that, "A tense situation prevailed at prayers to mark the Haj festival in Anuradhpura on Wednesday. This was after a faction of the Tawheed sect objected to a group of female devotees who turned up for prayers at the grounds located within Zahira College premises. Police were called to defuse the tension. Members of the Thawheed group had torn curtains and fenced the area preventing the female devotees from entering.
"They had organised prayers at the Zahira College grounds and wanted the devotees to call over for prayers. The secretary of the Jumma Mosque in the area also helped the Police to defuse the tension, but an argument broke out with members of the Thawheed group. As a result of the dispute, the female devotees could not pray in the mosque." Members of the Tawheed sect, small in number, are viewed as being more radical in the pursuit of precision in Islam compared to the conventional followers who form a vast majority. 
However, the television station in question had its own version – that a Sinhala extremist group had attacked Muslims on Haj festival day.
Bathiuddin was the first to respond to Rajapaksa's remarks. He replied "Nehe Nehe" or no, no Sir. That drew an angry retort from the President. "Mama dannawa ney vena deyval. Ehema thamai prachara arang yanney," (I know what is going on. That is how propaganda is carried out)," he said. That was to see Bathiuddin drop a bombshell against his arch-rival Hakeem. "He contests elections separately. He goes abroad frequently. If he is with us, we must have a policy," exhorted Bathiuddin in what seemed an attempt to deflect accusations against him. Minister Bathiuddin was a key player in the Sri Lanka Muslim Congress (SLMC) and crossed over in 2004 when President Chandrika Bandaranaike Kumaratunga held office.
He told Rajapaksa pointing his head at Hakeem, "Sir, meyagen likithawa illaganna anduweng yan nethai kiyala (Sir, get a letter from him saying they will not leave the Government)."
Hakeem turned red and was infuriated. "I am not resorting to any treachery," he shouted loud. He said Bathiuddin was trying to "corner" him in the presence of other people. 
"I am not cornering you," shouted back Bathiuddin.
Hakeem rose from his chair and walked towards Rajapaksa. He placed his hand on Rajapaksa's shoulder and exclaimed "Sir Kattiya inna velavey mawa kong karanna hadanawa. Sir ekka ona deyak saakachcha karala apita puluwang visandaganna. Meyath ekka mata vedak nehe (Sir, when people are present, he is trying to corner me. With you Sir, we can discuss anything and resolve it. I have nothing to do with him." 
Rajapaksa pacified Hakeem. He said, "Rishad ithing deshapalana katha keranawa. Mang oyawa kong keruwe nehe ney. Baya venna epa (Rishad is talking politics. I have not cornered you, have I. Do not fear)."
An enraged Hakeem said he would meet the President later and made his exit. Among the ministers present were Maithripala Sirisena (also General Secretary of the Sri Lanka Freedom Party), Susil Premajayantha, (also General Secretary of the UPFA) and Nimal Siripala de Silva (also Leader of the House).
This is not the first time Bathiuddin has expressed his outrage in public. During talks to resolve issues arising out of the attack on a mosque in Grandpass, he urged Police Chief N.K. Illangakoon to resign since he had not been able to take measures to prevent it. Illangakoon was to point out politely that he had been appointed by the President and would hence not heed the Minister's gratuitous advice to quit office. Later, Bathiuddin was given a severe reprimand by President Rajapaksa over the issue. On the other hand, the SLMC decision to go it alone at the PC polls in September has irked the UPFA leadership considerably. That it should come amidst accusations at the UPFA Government over attacks on Muslims, an issue widely publicised in some Islamic states, has further aggravated the situation. Though some in the high command of the SLMC feel they should quit the UPFA, Hakeem is strongly of the view that such a move would be counter-productive. He has argued that it would only sever the link and leverage the SLMC had to raise issues and resolve them.
In view of the swearing-in of northern provincial council members of the UPFA on Thursday morning, the weekly meeting of ministers was scheduled for the same morning at the Presidential Secretariat. Ahead of that session at the Presidential Secretariat, President Rajapaksa swore in Northern Province Chief Minister C.V. Wigneswaran for a string of ministerial portfolios he has chosen to hold. They are: Finance and Planning, Law and Order, Lands, Road Development, Electricity, Housing and Construction, Water Supply, Cooperative Development, Social Services and Rehabilitation, Women's Affairs, Industries and Enterprise Promotion, Tourism, Local Government and Provincial Administration, Food Supply and Distribution. Accompanying Chief Minister Wigneswaran for the event was TNA parliamentarian M.A. Sumanthiran.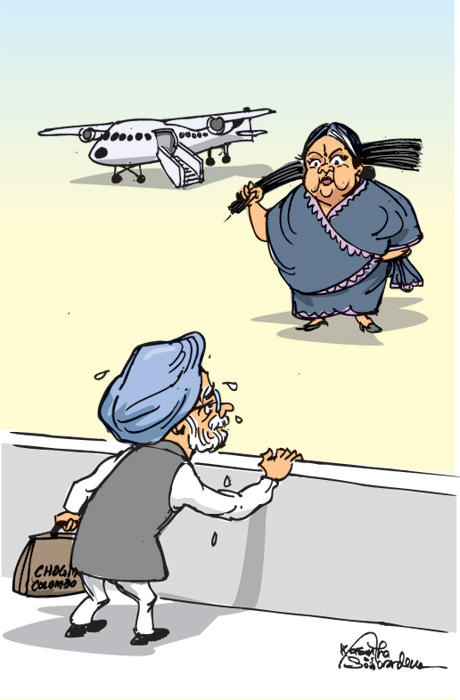 Later, the ministers met for their weekly session, with just three weeks to go for the Commonwealth Heads of Government Meeting (CHOGM). In some world capitals pressure is building up at the summit being held in Colombo. The Tamil Diaspora lobbies in Britain are throwing everything they have to pressurise their local MPs to stop their Prime Minister attending. The Canadian lobby is claiming one-upmanship on this score. The Foreign Affairs Committee of the House of Commons in Britain released its report for 2013/2014 this month. It is chaired by Conservative parliamentarian Richard Ottoway.
Dealing with the CHOGM, this is what the FAC said: "The Prime Minister and the Foreign Secretary announced in May that they would attend the Commonwealth Heads of Government Meeting in Sri Lanka in November 2013, despite persistent evidence of human rights abuses in the country. In 2009 the FCO (Foreign and Commonwealth Office) objected to a proposal that Sri Lanka might host the 2011 CHOGM on human rights grounds but not a proposal that it might do so in 2013. Nor did it insist that Sri Lanka's right to host in 2013 should be conditional on improvements in human rights. That approach now appears timid. The UK could and should have taken a more principled stand in 2009, and should have taken a more robust stand after the 2011 CHOGM in the light of the continuing serious human rights abuses in Sri Lanka."
The Committee has also dealt with the issue of asylum seekers to Britain. It says, "We recommend that the FCO, in its response to this report, state whether it still holds the view that there is no substantiated evidence of torture or maltreatment of people who have been returned by UK immigration authorities to Sri Lanka. It is a matter of concern to us that the UK Border Agency's assessment of risk to Sri Lankans on being returned from the UK to Sri Lanka, which will have been partly based upon information provided by FCO staff in Sri Lanka, was found by the courts to be flawed and in need of revision. The FCO should examine whether it could have enabled the UK Border Agency itself, rather than the courts, to have reached the conclusion that a change to the guidance on risk was required. We also observe that the FCO's Strategy on the Prevention of Torture makes no mention of the UK's obligations under Article 3 of the UN Convention Against Torture and how the FCO should play its part in ensuring that these are met. We recommend that the FCO amend its Torture Prevention Strategy accordingly."
A campaign against CHOGM is also being planned by anti-Sri Lankan groups in Tamil Nadu in the days ahead of the event. This is whilst there is stepped up pressure on Indian Prime Minister Manmohan Singh not to attend. Already an office bearer of a so called Tamil National Liberation Movement (TNLM) has gone on hunger strike since October 1 urging Premier Singh not to travel to Colombo. Singh responded to Dravida Munnetra Kazhakam (DMK) leader, Muthuvel Karunanidhi who informed him of the fast. He said in a letter dated October 14: "I wish to inform you that a decision on the issue of my participation in the CHOGM will be taken only after considering all relevant factors, including the sentiments of your party and the Tamil people." He urged Karunanidhi to use his good office to ensure the fast is called off. Such is India's politics.
As is clear from Premier Singh's letter, a decision of his participation at CHOGM is still to be taken. However, there was heightened speculation both in Indian and international media that Premier Singh may not attend the event. Yet, Sri Lankan officials maintain they are hopeful of his participation at least in a limited way. Nevertheless, adding to the confusion were reports that the Tamil National Alliance (TNA) would boycott . However, the move was denied by the TNA. Their parliamentarian M.A. Sumanthiran said yesterday, "I have never called for a boycott of the CHOGM. After the oaths taking ceremony, some journalists asked me about the TNA's position on CHOGM. What I explained was that it is up to the respective countries to decide to boycott or not to boycott the CHOGM. However, Sri Lanka cannot ignore positions taken by the Commonwealth countries including the concerns about the human rights situation in the country."
The development comes at a time when UPFA leaders were discussing the possibility of roping in NP Chief Minister Wigneswaran for a presentation or speech at an appropriate event at CHOGM. The idea is to convey the UPFA's success story in conducting elections in the north and thus setting the stage for reconciliation.
The main opposition United National Party (UNP) also fired a shot across the bow of the UPFA when it threatened to boycott CHOGM. It came at a news conference where leader Ranil Wickremesinghe and General Secretary Tissa Attanayake took part. It was in the backdrop of moves to arrest and detain Mangala Samaraweera, the UNP's head of communications and former Foreign Minister in the Rajapaksa Government. When Samaraweerra, with a sili sili or cellophane bag with toothbrush and toothpaste inside was produced before courts in Matara last Monday, sittings were adjourned for the afternoon. When it resumed, the Magistrate granted him bail but directed that he presents himself every last Sunday of the month at the office of the Superintendent of Police, Matara. Since he was not remanded, UNP sources said, the party, ridden with internecine rivalry, would still take part in the summit.
In a bid to resolve a string of issues that have arisen after the September 21 provincial polls, UNP leader Wickremesinghe is continuing his dialogue with the two party seniors, Sajith Premadasa and Karu Jayasuriya. As exclusively reported in the front page of the Sunday Times last week, Wickremesinghe called Premadasa last Sunday and asked him to meet with erstwhile Deputy Leader Karu Jayasuriya, to settle the years long internal disputes in the party. Premadasa had shown some initial reluctance to do so but agreed to meet on Tuesday at the party leader's office, after Wickremesinghe had told him, "come on men, we will have to decide this one way or the other". 
That Tuesday morning, Premadasa had met members of the Eksath Bhikshu Peramuna, the Buddhist monks' wing of the party and got them to provide a written document containing some nine points to settle the leadership crisis. Premadasa brought that list and came for the meeting with Wickremesinghe and Jayasuriya.
There was no finality reached at these talks. The list contained a transfer of management from the party leader to others. Wickremesinghe was agreeable to this in principle, but not to all the matters. He said that there were other party monks who held different views, and that eventually, whatever is decided will have to go for approval of the Working Committee. His argument was that the party leader's powers flowed from the Working Committee and any devolution of those powers would have to be agreed to by that same Working Committee.
No date was fixed for the next round of talks among the triumvirate. Wickremesinghe went to Singapore the next day for some pre-arranged meetings. When he returned to Colombo on Friday he told the Sunday Times he had spoken to the Maha Sangha (Buddhist Clergy) who are keen on reaching a resolution of issues. Thereafter, he had met Premadasa and Jayasuriya for a discussion. "The dialogue will continue. Whatever conclusions we reach, they would have to be finally approved by the Working Committee," he said. He added that even a name for the proposed body, speculated to be a Leadership Council, would be determined by the Working Committee, the main policy making body of the party. Other UNP sources said Wickremesinghe would continue to retain 'political leadership,' and remain both as party leader and the Leader of the Opposition, while passing the 'management' matters to this Council. That Council will look after the organisational aspects of the party.
Notwithstanding the CHOGM and other issues, ministers are busy deliberating on many key issues that will have a significant impact on the country's economy. In the backdrop of UPFA Government moves to grant "strategic enterprise" status to two ventures, heightening widespread speculation that more casinos were being established, a proposal for greater reliance on coal imports for future power generation is now engaging their attention. Two Gazette Notifications granting approval to an Australian and Sri Lankan company separately will be tabled in Parliament on Thursday, according to Investment Promotion Minister Lakshman Yapa Abeywardena. Sections of the Government believe such a move could have a devastating effect on electricity tariffs if coal imports are not executed properly and visible price increases of coal are not taken into account. That apart, the process to procure future coal requirements have sparked a controversy with the minister responsible for investment in Sri Lanka, Lakshman Yapa Abeywardena recommending that the Government makes investments in Australia. By a happy co-incidence, the casino investor is also an Australian, James Packer, son of Kerry Packer, the man who turned cricket upside down with the concept of limited over cricket, and cricket becoming a fully professional career and the cricketers donning their pyjama uniforms (coloured clothing). 
After his talks with Minister Abeywardena, Packer who returned to Australia has told the media in his country that he planned to set up a hotel complex and casino in Colombo.
In August, ministers directed the Chairman of the Board of Investment to explore the possibility of arranging "an uninterrupted supply of coal with required quality at a competitive price from the world market." The report, presented to his colleagues by Minister Abeywardena, makes some far-reaching recommendations. It not only wants the Government to enter into "long term" purchase agreements with mining companies but also (a) invest in coal mines at the stage of developing or at operational level (b) invest in publicly listed coal producing companies.
The coal requirements for the Chinese built Lakvijaya Power Project (Norochcholai) plant, which is not functioning to its fuller capacity and is subjected to constant failures, are estimated by the Board of Investment as between 600,000 and 700,000 metric tonnes a year. The BOI has estimated that the Indian-backed Sampur Coal Fired power project, when it is commissioned in 2015 would require 1.5 million metric tonnes a year. Thus, it says the annual coal requirement from 2017 would be 3.75 million metric tonnes a year.
The BOI report, prepared by a five-member team headed by its Chairman Dr. Lakshman Jayaweera points out: "In future, Sri Lanka has to predominantly depend on thermal coal for energy requirement. We are of the view that, it is not a desirable situation long term and it is imperative that Sri Lanka build up a long term relationship with global coal producers considering the national importance of sustainable energy supply in the country."
The report notes that the BOI "has identified potential coal producing companies listed in the Australian Stock Exchange as well as companies that are not listed (including exploration companies, companies with near producing stage and already producing and their market capitalisation) with a view to explore the possibility of entering into potential supply agreements." The report adds that the BOI has contacted more than 20 potential coal producing companies in Indonesia, China and mainly in Australia. Of them, around five companies have already responded positively. These companies, the report says, include Orpheus Energy Ltd, Australia, Shanxi Coking Coal Group, China and Yancoal, Australia, all of whom have agreed to supply coal on a long term basis to Sri Lanka. Trial parcels in the range of 20,000 to 80,000 metric tonnes are immediately available at current prices, the report notes. Interesting enough, even before a ministerial decision is made on a long term agreement, suppliers have been identified to rush stocks. Four Australian mining companies have been listed as ventures where Sri Lanka can purchase 15 per cent control in each.
To justify investment in coal assets, the BOI report says "…many countries in the world such as China, Japan, India and Korea have taken futuristic approach by purchasing coal assets overseas in order to ensure sustainable energy cost at affordable levels in these countries. In this regard we have made inquiries from various thermal coal producers especially in Australia and Indonesia in order to explore the possibility of capitalizing on coal assets. Currently coal assets are significantly under-priced due to the risk of global warming and climate change and other issues such as Asian demand. Therefore, it is a great opportunity that Sri Lanka could make use of capitalizing on those assets at reduced value when there is an oversupply globally. This situation will remain for a short period and the advantage of investing on coal assets at this juncture will be that the value of assets will be increased with the future price increase."
Among the highlights of recommendations made in the BOI report are:
=In order to establish a long term supply situation, it is recommended to source a broad supplier base especially, directly with coal producers and encourage them to take part in bidding process in any future tender process. It appears that current tender document is primarily designed to cater to trading companies although not intentional. Therefore, it is also recommended the above document is reviewed with a view to broaden and to capitalise on today's depressed coal market.
= The future supply of coal should not be limited to a single supplier, but should be made available for two or three suppliers with lowest price.
=As a long term strategy, if a decision is taken to acquire coal company assets predominantly in Australia (public or private), it would be appropriate to appoint a committee headed by the Finance Ministry to evaluate such assets to be acquired.
A highlight of Minister Abeywardena's recommendation is to "discuss with main players of the international coal industry, especially in the Asian region to enable the Committee to make the most suitable set of recommendations." He also wants the Government to "summon relevant experts/institutions as and when it is necessary in making final recommendation…"
Some ministers were critical of the BOI's recommendations though they do not want to be identified. One said, "One of the sole objectives of the BOI is to promote foreign investment in Sri Lanka. Here is an instance where it is promoting investment in another country. If that principle is applied, Sri Lanka should also go looking around the world to invest in oil producing ventures. That would be to ensure oil imports would be at affordable prices and supply ensured."
Worries for the Government over CHOGM are manifold. UPFA leaders are aware that at least two African heads of government are waiting to see whether Indian Premier Singh would take part before they decide to travel to Colombo. Locally, the facelift for the City of Colombo is facing a setback due to rains and slow work. Arguments have begun between the Colombo Municipality and contractors over deadlines, with contractors complaining that designs and plans keep changing. The state drive route to the Water's Edge (in Battaramulla) which Commonwealth leaders will use as their resort remains to be completed. This is particularly the stretch involving Horton Place and the Vihara Maha Devi Park area. Fears have arisen that half done jobs will be paved over just to survive for the summit period.
On the economic front, officials are busy with the outlines for the budget that will follow CHOGM. Amidst all these, the recommendations of state agencies that are working at cross purposes would only add to the confusion. No doubt, the long term effect of such a move would be on Sri Lankans. Before long, they would have to face more price increases – and taxes.
comments powered by

Disqus