Appreciations
View(s):

How his love for the country changed my life | Derek Samarasingha

Derek Samarasingha made an outstanding contribution to our country as a pioneer Sri Lankan tea planter, shareholding director of John Keells Ltd., a leading estate management company and later as the CEO/Managing Director of two privatised plantation companies. Those Sri Lankans who worked with him gained from him invaluable knowledge and experience.
I am not a planter but as an engineer connected with the plantation industry, I first got to know Derek in 1963. I would like to relate my little story to give a reflection of Derek's strong personality and his sense of justice.

In 1963, as a young bachelor engineer, I was transferred to Brown & Company Ltd.'s Badulla branch from the head office in Colombo. My predecessor, Ivan Girling, branch manager and mechanical engineer from Britain, was leaving after a long spell and I had to take over from him as the mechanical engineer. At the time almost all the senior tea planters attached to the estate management agency companies in the Badulla District were British nationals and several of them were generally reputed to be the most anti-native types in Sri Lanka. There were only two senior local planters in the area — Derek Samarasingha, Manager of Keenakelle Estate and Alec Halangoda, Manager of Oodoowera Estate.

Before I arrived in Badulla, the Badulla District tea planters had organised a farewell party for Mr. and Mrs. Girling at the Uva Club. Some of the British planters together with Mr. and Mrs. Girling and Derek had been enjoying their drinks and chatting at the Club's bar counter. One of them asked Girling who was to succeed him at Browns. He had said that a "Mervyn Wijesinghe", a Ruston & Hornsby trained engineer would arrive shortly.

One of the British planters is said to have remarked" Oh! A local! Browns will never be the same again". This remark had stirred Derek's feelings for our country and he had banged the bar counter with his fist and questioned "Why do you say that?" Unfortunately, in the process a glass filled with liquor on the counter was also shaken, resulting in the liquor rising like a fountain and ending on Mrs. Girling. The rest of the British Planters in the Club had gathered round resulting in a heated argument. Derek had been outnumbered by the foreign planters but senior lawyer Jack Kothelawela who was the president of the Uva Club at the time helped settle the matter amicably. (This story was related to me by a Sri Lankan who happened to be in the club on that day).

Immediately thereafter, I assumed duties as the mechanical engineer at Browns' Badulla branch. After about two weeks, I received a telephone call from Keenekelle Estate that the factory's Ruston & Hornsby prime mover diesel engine had broken down and requesting the service of a mechanic to repair it urgently. I personally went to the estate with a mechanic and rectified a minor fuel injection problem within about half an hour and returned to my office. This was the first time I met Derek. 

About a week later I received a letter from head office Chief Engineer Peter Birmingham, congratulating me for the good work I was doing in Badulla and encouraging me to keep it up. I was taken by surprise at the contents of this letter as I felt that I had done nothing to justify any outstanding good work. I then found out that Derek had written a letter to the chief engineer praising me and saying something to the effect that "Your new Engineer in Badulla is doing an excellent job and we are now getting some good service from Browns". It then occurred to me that Derek was trying to boost the local engineers in those anti-native planter days. This letter no doubt helped me in my subsequent career at Browns and I am eternally grateful and will never forget Derek.

On a subsequent date, Derek and Vivina together with Alec Halangoda, Manager Oodoowera Estate invited me to dinner at Oodoowera Bungalow. Many years later, from 1992 to 2002, I worked as Director Engineering with Derek Samarasinha as my boss and CEO/Managing Director of Pussellawa Plantations Ltd. and Maturata Plantations Ltd. I continued to have the highest regard for him.

Mervyn Wijesinghe

A gentleman 'cop' of the grand old guard | Ernest E. B. Perera

With the death of Ernest Perera, we lost yet another 'Gentleman Cop' of the Old Guard. He belonged to a clan of officers who formed the nucleus of the Police Service in the bygone era. He joined the Police Service as a Probationary A.S.P. in 1957 and served in Colombo, Gampaha and Matara. In 1981 on his promotion to the rank of DIG he came to Police Headquarters.
Though my service at Police Headquarters began in 1958, when I came on transfer as a civilian officer from another Department, I did not have the opportunity to meet him until 1981. Besides my service under him as his personal steno when he was I.G. Police, I worked under him when he was Snr. DIG Ranges and Snr. DIG Admin as well.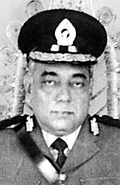 In all I served him for 11 years. During this period what struck me were his simplicity, understanding, regard and respect for others. I found him to be a gentleman of the highest order. He was humane, kind and caring, a popular figure who was loved by all ranks. He was always calm and collected. I have never seen him losing his temper. Even at the worst of times, he did not display any despair or disappointment. He epitomized the Man in Kipling's 'If' !
In office, his telephone conversations were brief. Though he was thorough, his conferences were brief. He never left a file unattended at the end of the day. He had told me that he did not believe in carrying office burdens home and vice versa. He did not raise his head when he was attending to his files.
The indication that he had finished was his lighting a cigarette. He never smoked while working. His report writing too was a lesson in brevity. He had an abiding sympathy for the lower ranks. He was lavish in granting rewards/ special increments/promotions whenever such recognition was deserving. These no doubt contributed to the contentment in the Service. The insurgency of 1989-90 period however, was a testing period for the whole Service. 
The insurgents' call for desertions and the mayhem caused made the weak to waver. It was in this backdrop that he visited selected police stations, especially in the south, to give them the moral courage that was necessary at that time. Ultimately, he was able to successfully face the challenge posed by the insurgents. For this he had a set of dedicated, loyal and brave senior officers posted in key and sensitive areas.
Ernest Perera had to serve three Presidents during his tenure, each different from the other not only in character but in various other respects. He did not encounter any problems with them. Similarly, he had to interact with leading politicians like Lalith Athulathmudali and Gamini Dissanayake who were senior Cabinet Ministers and a belligerent Defence Minister like Gen. Ranjan Wijeratne. 
Moreover, during his period as I.G. he had to work with Defence Secretaries of the calibre of Gen. Ranatunga and Gen. Attygalle. Perhaps, the personal traits which were inborn in Mr. Perera would have come to the fore in dealing with such men.
At the end of his period as Inspector-General of Police, he was appointed as High Commissioner for Sri Lanka in Malaysia. Unfortunately dirty politics intervened to deprive him of completing the full term.
His beloved wife Mrs. Enid Perera, who did yeoman service to the Police Seva Vanitha Unit as its chairperson, predeceased him. After her loss Mr. Perera felt the usual loneliness but was able to resume his normal life with the assistance of his three loving daughters, their spouses and the grandchildren who cared for him.
Death came to Mr. Perera at the ripe old age of 81. He had lived a full life; served the country as the Head of the Police Service. His was a worthy life.
Goodbye Sir.
May your soul Rest in Peace.
Lionel Fernando
He served the Church and the needy | A.G. Horsington
It is my sad privilege to write a tribute to my brother-in-law Arulanantham George Horsington who passed away at the age of 76, on August 4 this year at Bandarawela. George, as he was popularly known, was born in 1937 to Cephas and Nellie Ebenezer Arulanantham, as the sixth of their seven children — three boys and four girls.
Two brothers and three sisters predeceased him leaving the seventh, my wife Christine, as the sole survivor. George had his education at Matale and Kandy and entered the estate service as a clerk, like his father, and worked on several estates including Kirimittia Estate, Meniddiwela, Nayapane Estate, Pussellawa and Harangalla Estate. He was promoted to the post of assistant manager at the J.E.D.B. Regional Office in Nuwara Eliya.
Upon privatisation of estates in 1992, he retired from service, and settled down in Bandarawela town where he lived until his death. 
In his retirement, he was fully engaged in God's work attending and conducting prayer meetings at the homes of the sick and needy. He was a live wire at Bandarawela's Church of the Ascension where he held positions — as Secretary, Treasurer and Auditor for a number of years. He was also a member of the Gideons.
He had five children, all boys — Paul, Tim, Joe, Silas and Benjo — and they all chose their own careers.  A couple of days before his death, he travelled back to Bandarawela from Colombo where he and his wife Hepzy were looking after their grandchild Kayshia who is just one year old as both Benjo and his wife Princy were employed.
George will be sadly missed by his wife Hepzy who has been his devoted and inseparable partner for 49 years, his children and daughters-in-law Priyanka, Chandrika, Doris and Princy and his grandchildren particularly Kayshia with whom George and Hepzy spent the past six months. 
The funeral service was attended by a large gathering and conducted by a number of priests headed by the Bishop of Colombo which was an honour in recognition of his long and loyal services to the Church. Around 35 children, including his many grandchildren, sang a special hymn.
Well dear George, as stated in 2 Timothy chapter 4 verse 7 you have fought a good fight, you have finished the race and have kept the faith.
We are sure Lord Jesus has taken you into his safe arms to perform several duties in His Kingdom, as you did in this world.
David Williams
comments powered by

Disqus