Designer clothes, designer shoes … what next? Why not designer eggs!
By Quintus Perera
View(s):
Thanks to the research scientists of the ITI (industrial Research Institute), Sri Lanka has its own designer eggs.
This new breed of eggs branded as 'Arogya Omega 3+ DHA Eggs' would be soon available in Sri Lanka and marketed for the first time in this country.
Cleared for consumption for consumers who earlier considered bad for health including cholesterol sufferers, has been perfected after some modifications applied to the feed of egg-laying chickens.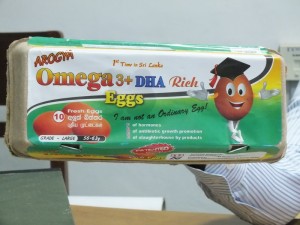 The research on eggs by the ITI was initially launched by Dr (Ms.) Yasmina Sultanbawa under a larger project with funds from the Norwegian Government in collaboration with the Norwegian Research Institute (Nofima), but she subsequently left the country. The vacuum then was filled by ITI Research Scientist Samantha K. Medage.
Other members of the research group on eggs included Lab Technologist Sriyani Rajapakse; Technical Officer D. Medis and Technical Assistant, Indunil Ranasinghe.
Mr. Medage told the Business Times (BT) that it is the accepted view that bad fatty acids are in the egg yolk and not in egg white and explained that most of the animal origin fat contains lot of poly-unsaturated fatty acid and some of them are not good for our health.
Yet, he said that there are more important fatty acids in the poly-unsaturated group of fatty acids and indeed some of them are essential for the human body such as Eicosapenaenoic Acid (EPA) and Decpsahexaenoic Acid (DHA) but most of them cannot synthesize in the human body. "Therefore, they have to be included in our diet. They are rich in fish and in some plants, but in eggs." Mr Medage said.
He noted that the egg developed by ITI/Nofima is healthier and contains increased levels of essential Omega 3 fatty acids, mainly DHA determined at approximately 114mg of Omega 3 per egg or about 2 per cent of the total fat and this falls within the range of other designer eggs.
Further explaining the issue he said that Omega-6 to Omega-3 ratio in a normal egg is around 15-20:1. This ratio has successfully being enhanced to 5:1, a three to fourfold improvement, which has added benefits. He said their eggs with the enhanced ratio that now produced are well within the ratios recommended by international nutritional scientists.
The most important part is that there is no addition of any chemicals in this process of enhancement to the egg. He said that the enhancement is caused by natural feeding process and it would not cause any harm to the hen nor is there any physical disorders, etc.
There is also no change in the appearance in the egg.
ITI followed its normal practice, when a new invention is created, to launch an analytical survey to ascertain the suitability to market the product which is then patented with a private sector entity.
This entity – Arogya Farm Pvt Ltd runs a poultry farm in Welikanda, Manampitiya producing 30,000 eggs per day with the modified poultry feed.
comments powered by

Disqus