Workshops on preventing child injuries
View(s):

The Family Health Bureau organised two consultative workshops on September 4 and 5 to integrate Child Injury Prevention in Maternal & Child Health (MCH) Networks with the participation of national level experts and WHO officials. This was in addition to the national consultation meeting on the same topic organised jointly with the Non-Communicable Disease Unit of the Ministry of Health on September 3.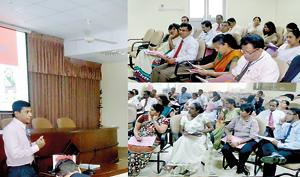 Dr. Deepthi Perera, Director (Maternal & Child Health) described the MCH network in Sri Lanka. Dr. Kapila Jayaratne, Consultant Community Physician, presented an overview of child injuries in Sri Lanka. Data showed that around 600 children under 16 years die each year due to injury-related causes. This is 10 % of total deaths of the same age group. Aspiration, transport accidents, drowning, poisoning and animal bites are leading causes. Apart from this, every year 206,000 children under 16 are admitted to hospitals due to injuries. This is one fifth of all admissions of the same age group.
A majority (54 %) of cases are due to external injuries which includes motor traffic causes. Every year nearly 18000 children are reported to suffer fractures or dislocations. Other major causes of hospital admissions are animal bites, poisoning, asphyxiation and burns. The approximate lower margin of the cost of hospital care amounts to Rs. 900 million per year.
Dr David Meddings from the Department of Violence and Injury Prevention and Disability (VIP) of the World Health Organisation, the international resource person spoke of available evidence-based interventions in child injury prevention.
Many experts from different fields; maternal and child health, school health, non-communicable disease prevention, peripheral health sector, hospital administrators, surgeons, poison centre, health education, police, life saving, academia, child abuse and funding agencies participated at the workshops and worked out strategies to prevent child injuries in Sri Lankan contexts.
Further strengthening of domiciliary MCH networks with the aim of child injury prevention including promotion of the safe home concept, parent awareness, safe schools, multi-stakeholder activities, improved hospital care and injury surveillance mechanisms were some of the recommendations formulated.
comments powered by

Disqus