She did what many would not have dared to do
By Vinusha Paulraj
Author and former UN aid worker, Anoja Wijeyesekera speaks of her cordial relationship with the Taliban at the launch of her book, "Facing the Taliban"
View(s):
"My orientation to the job was being asked to write my last will," said author and former UN aid worker, Anoja Wijeyesekera speaking of her posting in Afghanistan.  Her book, "Facing The Taliban" is a detailed account of her experiences in war-torn Afghanistan during the rule of the Taliban. Her posting as the head of the UNICEF sub-office in Jalalabad meant she headed an all-male workforce, given that the Taliban banned women from working.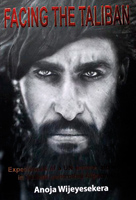 The launch of this book took place on September 6, at the Lakshman Kadirgamar Institute for International Relations and Strategic Studies. Former permanent representative to the UN in Geneva, Sarala Fernando introduced the author. 
Anoja's experiences of four years in Afghanistan leading up to the bombing of the Twin Towers in America, and her evacuation from Jalalabad to Kabul in 2010 are recollected with a sense of humour and depth. Former Sri Lankan Ambassador to Iraq Dr. John Goonaratne in his review of the book at the launch noted, "the Taliban themselves come across as living persons," in Anoja's writing. He also noted that no complicated jargon was used.
The author also showed the audience photographs of the Taliban enjoying a picnic with the staff of the UNICEF office and spoke of her initial shock when she heard "The Taliban wants to join us." 
Never judging a book by its cover seems a fit analogy in a literal sense, as the cover of Anoja's book features a weather-worn, cold eyed face with eyes that could easily belong to a merciless mercenary, however her account of the Taliban and their ways proves to be one of deep understanding and appreciation of their culture. The fundamental principle by which Anoja carried out her day-to-day dealings with the state, who were the Taliban at the time was "Give respect, get respect" and it is clearly embodied in her autobiography. She went on to show the audience a picture of her all-male security staff giving her a bouquet of freshly picked flowers on International Women's Day, clearly illustrating the level of respect she earned from her peers, subordinates and even the Taliban.
The strict rules and pseudo- religious reign is made light of in certain instances in the book, however her appreciation for the people of the country was evident when she mentioned that she was moved to tears even while being evacuated from her posting to the place that did not even allow her family members to visit her for security reasons. 
"The people of Afghanistan are war-weary and want peace," she said, determined to expose the plight of the victims of war.
Publisher Vijitha Yapa commented, "Those with points of view, sit on the point but miss the view" but went on to say that Anoja was the exception, as she had both experience in working among and alongside the people of Afghanistan, Taliban and civilians alike.
'Facing the Taliban', a Vijitha Yapa publication is priced at Rs. 1,000
comments powered by

Disqus