Letters to the Editor
View(s):

Facebook: Beware of virtual world's predators and other dangers

The inventors of Facebook might have developed the popular social networking site with the intention of bringing people closer but it is quickly becoming a social nightmare and actually driving people apart.

The Internet is truly a marvellous tool but if used improperly the repercussions of it can be disastrous. The same can be said for Facebook. The site fulfils the human need to maintain social relationships as humans are not by nature solitary creatures. They like companionship and having close intimate affiliations. Facebook satisfies this basic human interest or need and this is why the site is so popular.

However, it appears that the site is doing much more than keeping you connected to long lost friends or distant relatives. It's quickly becoming a social nuisance and even a nightmare especially when it comes to teens and young adults. Facebook has made the dating game simple and lightning fast. Boys and girls can log into the net and find a suitable companion within a matter of seconds and as no physical contact is required the sense of shyness and even the fear of security are absent.

Teenagers converse online through chatting, present their interests, beliefs and other personal data by way of a profile that they create. In some cases this profile may be a total fabrication. A 60-year-old married man can easily pass himself off as a 16-year-old school child searching for a companion.

Facebook has truly become a haven for social predators who can seamlessly conceal themselves and easily lure unsuspecting victims in to their grasp. It's also used as a form of manipulation using photos and videos posted online sometimes to even blackmail the victim. There are certain things that you learn from physically interacting with another human being that you can never gain by browsing someone's profile. The art of reading someone's intentions by observing their body language cannot be done online.

My advice to the youth is always trust what you physically see and feel.  Do not be lured into magical worlds posted in people's profiles. If in doubt always seek wise counsel of elders (preferably elders who are not addicted to Facebook themselves). If you seek companionship always put your faith in tried and trusted methods that have stood the test of time.

Take part in family get-togethers, go for movies and outings and physically meet and converse with other human beings and get to know them at a personal level. Get to know their interests and views personally rather than through the internet. That is the only sure fire way to build wholesome long lasting relationships.

Jayanka De Silva, Moratuwa  

Flag folly on Pillay's mast

Navaneetham Pillay is reported to have seen red and taken offence when she saw a Buddhist flag flying at Independence Square. So incensed was she to see the standard of a world religion flying in that symbolic square of Lanka's sovereign status, that she even deemed it fit to complain to no less a personage than the President himself.

Ms Pillay's unwarranted objection is based on a profound ignorance of the hallowed Constitution of Sri Lanka – as sacred to Sri Lankans as the American Bill of Rights is to the Americans or the Magna Carta is to the British.

Article 9 of the Lankan Constitution declares that the State shall give the foremost place to Buddhism and "accordingly it shall be the duty of the State to protect and foster the Buddhist Sasana" of which the Buddhist Flag is the visual standard.

"Foster' means to encourage, promote, develop; and thus, under the Constitution, flying the Buddhist Flag at Independence Square, may well be a matter of legal duty for the Government of Lanka in the discharge of its constitutional burden of positively fostering, promoting and encouraging the Buddhist Sasana.

By making pedantic objections to the presence of a Buddhist flag at the Independence Square, is this South African born, American domiciled and now fleeting international citizen armed with a fiat to condemn nations not toeing the superpower line, demanding of the Lankan Government to transgress the 35- year-old Lankan Constitution itself?

Does her seven-day cursory fact finding mission to inquire and report on the ground situation in the aftermath of the 30-year terrorist war also empower her to contemptuously decry the execution of the people's will as enshrined in the constitution of this sovereign state by the elected government? Did this 72-year-old UN diplomat get her international brief in a twist when she ventured arrogantly to condemn the Government for discharging its duty in a terrain it was ultra vires for her to tread? Or was she just being silly-headed, school-girlishly flustered after a 'toy boy' cabinet minister proposed to her in public and flipped?

DONMANU, Via email

Road rules: A big joke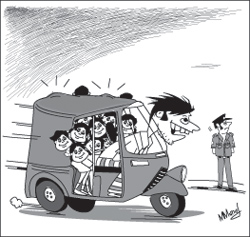 How many hours are spent sitting around tables to make road rules and laws that are not implemented?
*Three-wheel drivers outside Colombo seldom adhere to any of the new rules. 
*Number of passengers in a tuk tuk: Nobody counts or stops them.
*Crash helmets that ruin your hair when worn: The driver is happy to pay the small fine.
*Cycles that should have reflectors, front light and white painted mudguard: Never will this happen. I have had near heart attacks when they speed past you in a dark lane with no thought to the pedestrian.
*Seat belts in cars and children in the front seat not wearing a belt: Usually the driver is seen smoking, eating or on their mobile phone with no regard to other road users.
*Three people on a motorbike: That is a big joke when there are more and none wears a helmet.
These rules are a total waste of time if they are not implemented. Many motorists know the police ignore many of the abuses of rules. Higher fines should be imposed and more points on the licence or the licence itself taken away from them for a period of time. But then again who really cares? 
Disgruntled road user, Negombo
comments powered by

Disqus