I have to disagree with something that ate me
View(s):

You are what you eat. This discomforting thought strikes me in the solar plexus every time I put on a few surplus pounds. That dollop of butter, cream or mayonnaise; that second helping of gravy-laden meat; that extra heap of sugar in the old char. All these tell in the end – the rear end, that is, and the sidebars or love-handles!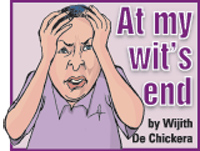 This interesting fact was first noticed by the French gastronome, le Duc de la Rochefoucauld. Pausing to catch his breath between the entrée and the mains, he observed Gallic-ly (or garlic-ally): "Mais oui, mon ami, one is what one eats, n'est-ce pas!" Of course, if true, being something of a gourmand who was partial to escargot, that would make le Duc de la Rochefoucauld a nicely cooked snail, non? But you see the point, don't you, mes amis? Connoisseurs may become the gourmet meals they consume; the rest of us are processed into junk food, quick takeaways, and leftovers from last week.
It got me thinking, though, this bot mot from our bon vivant.
If physical food affects the corporeal body so, what effect must soul food have on the psyche? Am I what I feed my spirit, as well as my stomach? Are you – in your affections, emotions, imaginations – the sum of what you feed your eyes, your ears, your other organs of sense, your brain? 
In the mirror, on some mornings, the familiar face I shave reveals the deep dark truth about the real me whom no one else sees in the later, brighter gaze of daylight normalcy. Before I scrape off the stubble, lather and lotion the wrinkles, and shower and sluice and scrub the detritus of the nightmare me away, I see in my pupils the cold pale colourlessness of awakening from my own subconscious. Then, I know. My name is not Legion. It is Dorian Gray.
What is yours? Do you know where the real you resides? Can you tell us what your true you is made of?
Now don't be alarmed, dears. This is not creepy pseudo-science à la Stephen King, or corny New Ageism courtesy the qi, yin/yang, yoga, or inner self tribe. I simply apply the truth about this magnificent physique you see, to the mind you don't! Carbohydrates and calories show their colours in the contours of your body. Character itself reveals the shape of your mind… and what you have been nourishing and nurturing – or rubbishing and ruining it – with.
An interesting verbal equation puts it a bit like this: "Feed a thought, and grow a way of thinking; feed a way of thinking, and grow a pattern of behaviour; feed a pattern of behaviour, and grow a temperament; feed a temperament, and grow a personality; feed a personality, and grow a character; feed a character, and grow a lifestyle; feed a lifestyle, and grow a lifelong process of becoming; feed a lifelong process of becoming, and grow an ineluctable destiny." And destiny, my dears, is something you can't grow out of in eternity. In the long run we are not only dead, we are what we have fed our minds – our bodies will simply feed the worms.
I sense I have cheered you up enormously this bright and beautiful Sunday with my brilliant way of reminding us that when the game of life is over, we all go into a box that goes into a hole in the ground. (See, I'm doing it again.) But for those of us who believe that there is, in fact, a life after death – whatever form and shape and nature and reality you believe that life will take – there is great merit in minding what we feed our mind… more than what we feed our body. As a great half-wit once said: "Soul food is a matter of the mind – if you don't mind, it doesn't matter."
We live in an age where everyone (with the possible exception of the un-lean and yet lovely Nigella Lawson: bless her soufflés, bakes, and crumbles!) is bothered quite a bit and more about what they feed their body. Diet this; lite that; fat- and cholesterol- and sugar-free lies, tasteless lies, and utterly cooked up recipes. But who cares that we're pretty much mindless about what we feed our minds, souls, hearts, spirits? Mindless television here; soulless papers and porn and propaganda there; heartless gossip and grist for the rumour mill everywhere. No wonder the flesh is willing, but the spirit weak.
You are what you eat, dears; and what you see, hear, touch, taste, and smell. An old word of spiritual wisdom put it so: "Do not be conformed to the world. Be transformed by the renewing of your mind." Take this attic salt with a pinch of suspicion's spice, if you will… but take a look around you at the state of you, your world, and everything in it – and you will realize that GIGO (garbage in, garbage out) is the state of play. Let's mind what we feed our brains and our beings – because it's a matter of eternal destiny.
comments powered by

Disqus