Appreciations
View(s):

A legend of the Army and true son of Mother Lanka

General J. E. D. Perera

The Commander of the Army, all officers and other ranks express their immense grief with intense feeling and profound sorrow on the demise of General Deshamanya J. E. D. Perera, VSV, D Litt (Honoris Causa) FCMI (UK) FIMgt (SL) ndc psc, the former Commander of the Army, on August 11, 2013 in Colombo.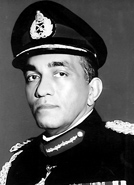 Joseph Everard Denis Perera was born in Colombo on October 10, 1930. He was educated at St. Peter's College, where he excelled in academics whilst proving himself to be an outstanding sportsman, particularly in the fields of athletics, rugby and tennis.
Having been enlisted to the first batch of Officer Cadets in the Ceylon Army on October 10, 1949, General Perera underwent his initial military training at the prestigious Royal Military Academy, Sandhurst in Britain. On successful completion of training on August 2, 1951, he was commissioned as a Second Lieutenant and was posted to the Ceylon Engineers thus becoming the first ever officer trained at Sandhurst to join the Ceylon Engineers.
Due to the dedication, competence and commitment displayed even as a young officer, he was promoted to the ranks of Lieutenant on February 2, 1953, Captain on February 2, 1956 and Major on October 1, 1960. His outstanding performance warranted him to be considered for senior ranks and he was promoted to the rank of Lieutenant Colonel on October 1, 1969, Colonel on January 31, 1973, Brigadier on August 5, 1977, Major General on October 14, 1977 and Lieutenant General on September 14, 1981.
Some of the distinguished appointments held by him were:
*A Troop and Squadron Commander of the Ceylon Engineers
*Staff Captain (A), Army Headquarters
*Officer Commanding Ceylon School of Military Engineering
*Defence Attaché to the High Commission of Ceylon in the United Kingdom
*2nd in Command, 1st Field Engineer Regiment
*Commandant, Army Training Centre
*Commander, Southern Command
*Commander, Northern Command
*Director Plans, Army Headquarters
*Director Operations and Training, Army Headquarters
*Chief Coordinator for all foreign delegations during the Non Aligned Nations Summit in 1976
*Chief of Staff of the Army
Due to his outstanding leadership, highly professional attitude towards the call of duty and his unblemished conduct, he was appointed as the Commander of the Sri Lanka Army on October 14, 1977.
During his tenure as the Commander of the Army, he was instrumental in regularising and streamlining the much needed procedures for a smooth functioning of a Force. He conceptualised and designed the unique gallantry awards and awards for distinguished service for the armed forces of Sri Lanka. During his tenure of duty he formulated the dress codes and ceremonial procedures for the Army.
He initiated many infrastructure development projects essentially required in military training. The pinnacle of his vision towards training was the establishment of the Sri Lanka Military Academy and General Sir John Kotelawala Defence Academy (KDA). General Perera envisioned KDA as an essential institute for fostering a spirit of comradeship among tri-service officers while providing them tertiary education. The idea was the facilitation of joint operations during their service in the armed forces. The depth of his vision is exemplified by the fact that the "togetherness" among tri-service officers greatly contributed to the success of military operations years later. General Perera served as the Chancellor of KDU from November 9, 1995 to December 30, 2010.
Due emphasis was also given by him towards operational commitments by restructuring the organisation of the Army, raising the first ever squadron of commandos and the Women's Corps. Further, due to his long term vision for the Army he was instrumental in obtaining land for certain regiments and training establishments such as Saliyapura and Ambepussa.
It is noteworthy that General Perera was born exactly 19 years before the Ceylon Army was formed and he was enlisted on his 19th birthday in 1949 with the first intake of officers, at the inauguration of the Army in independent Ceylon.
General Perera followed several courses of studies in Britain and India. His graduation from the Royal School of Military Engineering, Chatham (UK), Army Staff College Camberley (UK) and National Defence College, New Delhi, India are a few amongst many qualifications he has obtained. He is also a recipient of the degree of Doctor of Letters (Honoris Causa) from General Sir John Kotelawala Defence University.
In recognition of his dedication, efficiency and loyalty, many medals were awarded to him during his tenure of service, and he was the first recipient of the Vishista Seva Vibhushanaya medal in Sri Lanka. Among the other medals are:
*Republic of Sri Lanka Armed Services Medal 1972
*Sri Lanka Army 10th Anniversary Medal 1959
*Sri Lanka Army 25th Anniversary Medal 1974
*Ceylon Armed Forces Inauguration Medal
*President's Inauguration Medal 1978
*Sri Lanka Armed Services Long Service Medal 1979
*Volunteer Force 100th Anniversary Medal
In addition to these medals, General Perera has also been awarded the 'Order of National Security Merit' from the Republic of Korea in recognition of his outstanding and meritorious service for promoting mutual relations in various fields of common interest between the two countries.
During his military career he contributed immensely to the betterment of the Army and won the admiration of his superiors as well as his subordinates. He was a source of encouragement and inspiration to Officers and other ranks alike. He also initiated a number of unique welfare measures for the benefit of Officers and other ranks. He was always held in high esteem by his peers and colleagues for his absolute integrity and forthrightness. After completing 32 years of yeoman service, he retired as the Commander of the Army on October 14, 1981.
On retirement from the Army, General Perera was appointed High Commissioner of Sri Lanka in Australia with accreditation to New Zealand, Papua New Guinea and the Islands of Fiji. Subsequently, his expertise was obtained by the Government of Sri Lanka by appointing him as the Head of the Defence Review Committee. He also led the committee that produced a book on the history of the Army launched during the 50th anniversary celebration. He was the founder president of the Association of Retired Flag Rank Officers.
In honour of his commitment and dedicated service to the nation, former President Chandrika Bandaranaike Kumaratunga bestowed on him the title of Deshamanya in 2000. On October 1, 2007, he was promoted to the rank of General by President Mahinda Rajapaksa.
The last rites of General Perera with full military honours was held on August 14 at the General Cemetery, Borella. We share with the family members of the late General their hour of grief. Though you have departed, your name and exceptional services will be remembered. You will remain a legend in the Army and your contributions would be cherished by all in the Armed Forces of Sri Lanka. Above all, you would remain a true son of Mother Lanka.
General J. E. D. Perera, being a proud and distinguished officer and gentleman, even at his final conscious moment, would have thought deeply about his country and the institution that he served so honourably, the Sri Lanka Army.
May he rest in peace!
Major General N.A.J.C. Dias, Adjutant General
Once an Acting Head of State
M.A. Bakeer Markar
'Sinhala' Bakeer – how does one best describe this enigma? That is what Bakeer Markar was — an enigma. A Muslim described as a Sinhalese and beloved by them. Born on May 12, 1917 in Beruwela, he was educated at Zahira College, Maradana. His legal career began when he entered Sri Lanka Law College in 1940 but this was unfortunately interrupted during World War II when he was compelled to take up duties in the Civil Defence Services.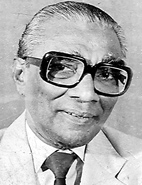 When he returned to law, he had a lucrative practice and went on to become president of the Kalutara District Bar Association. He was founder president of the All Ceylon Union Muslim League Youth Fronts and was also awarded the vice presidency of the All Ceylon Muslim League. Subsequently, he became chairman of the Beruwela Maradana Mosque Jamaath and discharged all these duties with equal aplomb.
His political career was initiated at grassroots level in a humble manner at Beruwela, his birth place, which is also where the first Arab settlers found abode, centuries ago. Deshamanya M.A. Bakeer Markar can trace his ancestry back to Sheik Jamaluddeen-Al Maghdoomi, who was the pioneer Arab settler to make his home in the seaboard town of Beruwela.
Due to his popularity, he was elected to the Beruwela Municipal Council and later became chairman of the council. As a Member of Parliament, Bakeer Markar was Deputy Speaker from 1977 to 1978 and Speaker from 1978 to 1983. He was held in high esteem by his political allies and rivals alike and he meticulously garnered incredible political support from a predominantly non-Muslim constituency. This held him in good stead throughout his political career.
In pursuance of his political career, he went on to excel in international relations and established close connections with the Iraqi Government. Through this connection, he built an entire village in Eravur in the Eastern Province. He was the founder president of the Iraq-Sri Lanka Friendship Association and remained in that position until his demise.
When a plane carrying the Indonesian Haj pilgrims on its return journey crashed in Sri Lanka, it was Speaker Bakeer Markar, who was first at the scene of the tragedy. Bakeer Markar took a personal interest in having the bodies dispatched to Indonesia. As a token of his appreciation, the then President of Indonesia, invited Bakeer Markar to visit Indonesia. Today, the Indonesian Haj Memorial building initiated by Bakeer Markar stands tall at Katunayake.
Bakeer Markar unerringly followed in the footsteps of his political guru, the late Dr. T.B. Jayah, and blossomed into one of Sri Lanka's most senior politicians. He even had the distinctive honour of acting as the country's Head of State while the President and Prime Minister were out of the country.
Honesty and sincerity were his raison d'etre; his singular vision at national and personal level was to serve his country and he fulfilled this with true commitment. He will be remembered always as one of the great statesmen of our time.
Ivan Kevittyagala
Correction
The appreciation of Subhadra Ratnatunga Amarasekera published in the Plus last Sunday referred to her as General Secretary and Treasurer; she was in fact Hony. General Secretary and Hony. Treasurer of the Lanka Mahila Samiti. The appreciation was written by Anoja Fernando, Hony. Life President of the Lanka Mahila Samiti whom we had referred to as Life President. The inadvertent omissions are regretted.
He was a simple gentleman
AL-HAJ RIFATH SALEEM
It is with much sadness I write this brief appreciation of my maternal uncle Marhoom Al-Haj Mohamed Rifath Saleem. Although he was born to an elite Colombo Muslim family he was a down to earth simple gentleman.  He lost his beloved mother, Kireefathul Faalila just three days after his birth. His mother's family refused to accept the infant. His father, Farook Saleem was desperate and handed over the baby Rifath to his mother, Zainab Saleem.
He grew up with his grandmother's great care and love and that of his grandfather, Al-Haj A. A. M. Saleem of former Rosmead House. His grandfather who was a Thomian, educated his grandson also at S. Thomas College, Mount Lavinia. 
After he completed his education, he worked at the Department of Rubber Control. He moved closely with his siblings, relatives and friends. He never differentiated between rich and poor but treated all alike.
He was a caring, loving and dutiful husband for 57 long years to my aunt Sithy Zuleiha and was devoted to his sons Rizmi and Rimaz. He was a loving grandfather to Faazil, Faahim and Raheeb. After his retirement he dedicated himself to community service along with his wife at the Moors Islamic Cultural Home (MICH) for more than 25 years.
He was keen on sports as well and hardly ever missed the Royal-Thomian big match. The proudest moment of his life was when his grandson Faahim Saleem scored a century in the Royal-Thomian big match; there was no limit to his happiness at that moment. 
His sudden and peaceful death is a great loss not only for his immediate family but the Muslim community who benefited at large with his services through MICH.
You led an exemplary and noble life. 
"May Almighty grant Jannathul Firdouse" – Aameen
As-Seyyed M. R. Quraish Moulana J. P.
comments powered by

Disqus