A young girl's dreams in convents of a bygone era
Namali Premawardhana speaks to Bernie Hay, the author of "Love, Learning and Laughter"
View(s):
She writes about growing up in convents in the hill country decades ago. She must be one of those delicately built, demure ladies in saree, graying hair pulled neatly into a bun at the back of her head.
Not so.
Bernie Hay launched her second book, "Love, Learning and Laughter" on Saturday, September 7. The title seems incongruous in a current context, but the book and the author both surprise, and a meaningful book launch seemed to say there is much hope for the future.
"Love, Learning and Laughter" traces Hay's experiences from childhood to her teenage and early adult years spent primarily at St. Agnes' Convent, Matale and Good Shepherd Convent, Kandy. It is in fact a collection of articles previously published in the Sunday Times and The Sunday Island, with some tweaking.
The book is organised as a series of brief images into the life and thinking of a shepherdess-in-the-making. Hay shows us a fresh seven-year-old boarder's sincere astonishment with the fact that nuns have toes and relates with disbelieving laughter, a nine-year-old girl's earnest prayer as regards feminine lingerie. She writes simply, earnestly, enticingly.
But a collection of this sort that is lucid and yet tongue-in-cheek does not come by easily. It is mostly the product of what Rev. Mary Gertrude, Principal of Good Shepherd Convent, Kandy (and guest of honour at the launch), called a "bygone era" when love and laughter did in fact encompass learning. As Hay demonstrates in her writing, the mischief of their childhood equipped her with a full knowledge of the range of suitable punishments. But the deeper understanding she is left with is that the sisters that punished her loved her, and were ever ready to laugh at her escapades.
As Chief Guest at the launch, Rev. Stephen Abraham, past principal of St. Anthony's College, Kandy pointed out, such a learning environment is rare in the current context. "Tutories" have replaced traditional schools, and our systems are producing "learned monsters" instead of educated human-beings, he said. "Teachers are potters… lamps to help illuminate the darkness of ignorance."
Hay is proof of the old-fashioned attitude to teaching as moulding life. She enjoyed her "convent days" and then went on to the University of Peradeniya, received a M. Phil in Education (Linguistics) from the University of Colombo, taught at prestigious institutions around the country and abroad, and has been published in the Asia Reader's Digest.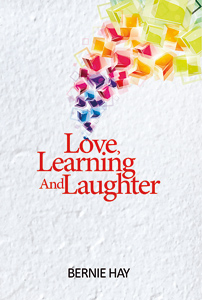 The sincerity and truth of Rev. Abraham's address echoed that of the book and the launching ceremony. "Love, Learning and Laughter" being about young shepherdesses, it was fitting that it was in fact young shepherdesses that ran the evening.
Thurumi Rathnayake, Shehani Wijewardena and Karen Tennakoon, students from the two convents, read and even sang excerpts from the two books with skill and enthusiasm that held the gathering enrapt. Their voices rang of a genuine relationship with the text which could only spring from an understanding of the experiences it related. And that spoke volumes of the school days they still have to grasp and make something of.
Principal of St. Agnes' Convent, Matale, Rev. Mary Dilrukshi expressed her hope that "Love, Learning and Laughter" would be an inspiration to current and future generations of shepherdesses. Hay is of the same mind.
Nothing of what we imagined, she wears a loose leopard-print blouse over black slacks and deep red lipstick, and sports a short crop of jet-black hair. The author and her book are as surprising to us, as life was to her. Standing at the podium at the Good Shepherd Convent Main Hall, Bernie Hay remembers the dreams she dreamt in that very place, many many years ago.
"Some of those dreams were realized, some sadly not. But amazingly, some things I never dreamt of happened. So go on dreaming, girls…"
*"Love, Learning and Laughter" and Bernie Hay's first book, "Lives that Touched My Own" are both available at Sarasavi bookstores.
comments powered by

Disqus