Victor Emmanuel: He toiled into the night
View(s):

Behind every media group or any such noble venture, there are men and women who though largely unknown and unsung and with no desire for fame or fortune, yet play a major role in bringing a good newspaper to your home every day. Today we reveal one such person – Antony Victor Emmanuel who passed away on Thursday at the age of 84 after almost half a century of hard work and deep commitment with the virtues of honesty and integrity in the backrooms of the media.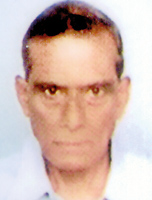 Educated at Jaffna's St. Patrick's College – widely respected for its highest standards of education and discipline – Victor Emmanuel brought most of those virtues to the media field. He joined Independent Newspapers Limited (INP) – publishers of the now defunct Davasa, Sun, Dinapathi, Riviresa, Weekend, Chinthamani and about ten other publications in the early 1960s.
Often he would report for work before noon and work until dawn the next day, not only supervising the work of about 600 employees, but also joining them in the then hot-metal process of Lino typesetting, page making, mangling, casting, block-making, printing and the dispatch of newspapers. He worked so hard and with such efficiency that he soon rose to be the works manager, but yet he was humble, caring and full of concern for the workers
.After working more than 25 years at the INP, Mr. Emmanuel in 1991 joined Wijeya Newspapers Ltd. A change of newspaper groups did not bring about any change of attitude or commitment and if at all it was for the better. Mr. Emmanuel rose to become the Editorial Coordinator of the Sunday Times while also working for the Daily Mirror. He was so dedicated that he would read and re-read the first printout, the second and sometimes even the third.
Starting work around 11a.m., he would quietly and with utmost responsibility carry out his duties till the final printout of the final edition was checked and approved around 1 a.m.. Often he would also wait until about 3 a.m., to approve the machine proof of the newspaper and ensure that what came to you, the reader, was the best and the latest.
Today, we dip our masthead in a final tribute to a colleague who could be categorised among those of whom Rudyard Kipling said "This was a man."
Thank you, farewell and thank you Mr. Emmanuel. May you rest in the peace of God.
comments powered by

Disqus