Politicians will come and go but people's hard life will continue
With three weeks more for elections in three Provinces, Chandani Kirinde and Chathuri Dissanayake report on the situation in the North Western Province
View(s):
M. N. Ranjith Premasiri (39), a carpenter from the village of Hulogedera in the Nikaweratiya electorate is among the more than 1. 7 million voters in the North Western Province (NWP), eligible to vote at the upcoming poll to elect members to the Provincial Council.
While candidates from all parties are leaving no stone unturned to attract voters, with high profile campaigns being carried out, for Premasiri and many others like him who live in impoverished conditions in the districts of Kurunegala and Puttalam that constitute the NWP, there is hardly any interest in the campaigns. Caught up in the daily struggle to make ends meet, he is cynical of politicians and their promises at election time.
"During the election times, politicians come and tell us that money has been allocated for various projects in our areas and work would get underway soon. Once elections are over, everything is forgotten," Premasiri said.
Election campaigning in the province has been subdued to some extent until now in response to the request by relevant authorities to refrain from using loudspeakers due to the ongoing Advanced Level examination and Grade Five scholarship examination.
Candidates have instead used pocket meetings to woo voters, while large scale election rallies have been put off for the final two weeks prior to the elections on September 21. In both districts, posters, cutouts, banners etc. promoting candidates have been kept to a minimum due to the strict guidelines issued by the Elections Commissioner. However, overall it is the candidates of the ruling United People Freedom Alliance (UPFA) who figure prominently with the heavy weights in the Kurunegala district being former UNP MP turned UPFA candidate Dayasiri Jayasekera, Johan Fernando, the son of Minister Johnston Fernando and former Chief Minister Atula Wijesinghe pitting against one another. In the Puttlam District, the campaign is low key but a prominent face seen in many posters is that of former UPFA PC member Ananda Sarath Kumara who gained notoriety for getting a school teacher in the Nawagathegama area to kneel for punishing his daughter. His son-in-law Nilantha is contesting the poll and posters have come up asking the people to vote for Nilantha on behalf of Ananda.
The ruling party still appears to enjoy the support of many in the Province even though the war victory on which many UPFA candidates are still banking on to win votes has lost much of its appeal. "It is true that they (the government) ended the war. We can now live without fear of bombs and death. But that is over now. What is important for us now are solutions to the economic hardships that we are facing," carpenter Premasiri said.
J. A. Sunil Jayarathne (53) of Siyabalawa, Diwulagoda who also works as a carpenter said his weekly earnings of Rs. 5000- Rs.6000 was just enough to get by and did not allow him to save. "We have many social obligations, funerals, weddings and other similar functions in the community which are unavoidable expenses," Jayarathne complained.
H. G. Karunarathne, an ice cream seller in the Bogollagama area in Kurunegala District pedals the dusty roads each day hoping to sell his ice cream cones. He is happy about the work done for the area by the provincial ministers and hopes to vote for the government.
"The provincial councils have benefited the local people and has helped the development in our areas," he said.
The election campaign in the NWP is taking place at a particularly hard time due to the prevailing drought. A majority of the people are farmers and the dried-up rivers, tanks and other water ways mean they have to find alternate ways to earn an income.
Indranai Kusumawathi (36) along with her husband D. H. Samantha and three children who live in the village of Muriyakulama in the Egodapitiya Grama Seveka division in Kaluwaragaswewa are now engaged in brick-making, which is the preferred work for many people in the area when the drought sets in.
Kusumawathi, assisted by her 18-year-old daughter, a grade nine school dropout and her 13-year old son brave the scorching heat and use their bare hands to turn out one mud brick after another. "I have been doing this for so many years now. We make around 1,500 bricks a day," says Kusumwathie barley looking up to talk to us as she fills the wooden mould with mud, slicing way the extra mud and pressing it down to release the brick. Her daughter and son collect each one and pile them one on top of the other.
"These days we can sell a brick for around Rs 3.50 as many people are engaged in this during the drought. During the rainy season, the price will go up to Rs. 5.50,' she said.
Her husband Samantha is unable to work after he injured his hand while making bricks a few days ago. He is frustrated with the false promises of politicians. "For the past 12 years we have been promised electricity to our village but it has not happened. Now we have been told that we will get the electricity supply before September 21.If that does not happen, I will not vote for these people," he said.The lack of electricity and water has also made life difficult for the 146 students who attend the village school – Muriyakulama Kanishta Vidyalaya which has classes from Grade One to Ordinary Level. Ranjith Premakumara Dissanayaka has served the school, since 1995 and was made Principal last year. Since taking over, he, along with the few staff members and parents have worked to improve school attendance and grades of the students.
"The majority of the parents are uneducated and do not see the value in educating their children. They would much rather have them working in the fields or making bricks so they can get an additional income," Principal Dissanayaka said. The poverty levels among villagers are so high that the annual facility fee of Rs. 60 students are required to pay cannot be charged from many.
The lack of electricity means that the much-needed computer education is unavailable to the students. "Last year the students who took English at the O/Ls failed. The lack of any form of exposure to computer education deprives the students of an opportunity to not only improve their English language knowledge but also other subjects," the principal said.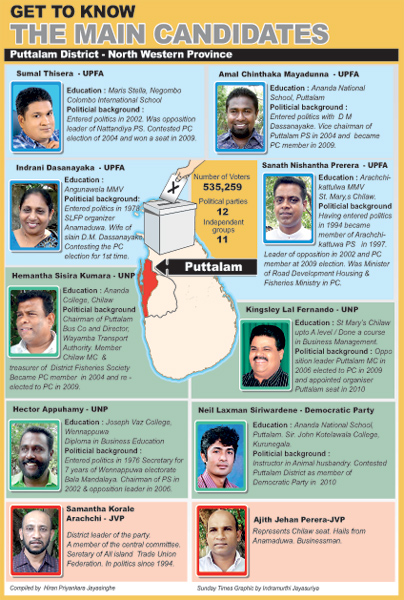 Principal Dissanayake said that even though most students now sit for the O/L, many drop out after that. "We need a vocational Training Centre for the Puttalam District so that the talents of the students can be enhanced and they can secure some form of employment. Otherwise the cycle of poverty they are caught in will continue," he said.
Lack of public transport is another dire need for people of this area. "We have well tarred roads but no public transport," Ven. Madampelle Sobitha thera of the Muriyakulama Vajirarama temple said. He has asked the villagers to hold politicians to their promises by not voting for those who have not fulfilled the promises made at previous elections. "I have told them not to be misled by politicians and their false promises. People must vote for those who have kept their word," he said.
While his words of advice may not be taken to heart by all the villagers in the area, they are also not optimistic that this election would ease the impoverished state they have lived in for so long. Nimal Jayasinghe (67) has worked as a lottery seller in the Bogollagama area for the past 12 years and he says he is yet to decide who to vote for. "I will wait till the last moment and decide who to vote for. It's true that there is a lot of development work going on but the lives of the people have not improved very much," he said.
More intra-party violence than inter-party, say polls monitors
By Mirudhula Thambiah
With postal voting to get underway on September 9 and 10 for the elections to three provincial councils intra- party violence, misuse of state property, unlawful propaganda activities and election law violations continue to be reported by monitoring groups.
According to statistical data a total number of 111,383 voters are eligible to cast their votes through the post–44,306 from Central Province, 52,656 from the North-Western Province and 14,421 from the Northern Province.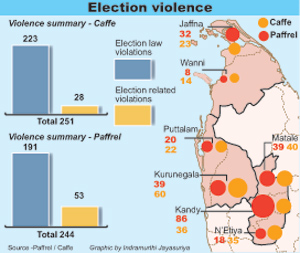 In addition to this, 4,328,263 voters are eligible to cast their votes on September 21 at 3708 polling stations and 53 polling divisions in all three provinces. People's Action For Free and Fair Elections (PAFFREL) and Campaign For Free and Fair Elections (CaFFE) have reported more than 200 incidence of election violations, with more than 50 being related to the misuse of government vehicles, government buildings and government offices.
The monitoring groups have voiced concern over reports from Kandy district that education officials were being used for campaigning purposes and over government development activities being carried out in other areas. PAFFREL said four intra party shooting incidents were reported from Jaffna, Kurunegala, Kandy and Nuwara Eliya districts.
In Chavakachcheri, Jaffna a clash between supporters of UPFA lead candidate Angajan Ramanadhan and Kumar Sarvanandan resulted in one person being hospitalised, while Mr. Ramanadan's father has been remanded until September 12 for his alleged involvement in the incident.
CaFFE also noted that the residence of UPFA candidate Thilina Bandara Tennakoon was fired upon on August 26. This was the first incident involving firearms to be reported from the Kandy district. Another clash between UPFA candidates was reported in Nawalapitiya when supporters of Jagath Wijenayake were assaulted.
CaFFE pointed out that one of the main features of the run up to the PC elections has been the minimal number of incidents between rival political parties and the increase of intra-party conflict especially between the ruling party candidates. Meanwhile, a mobile service jointly conducted by CaFFE, Centre for Human Rights (CHR) and the Department for Registration of Persons (DRP) has provided identification documents to 34,705 people in the Northern Province within 41 days.
comments powered by

Disqus