Breathtaking vehicle emissions choking the public to death
By Nadia Fazlulhaq
Motor Traffic Dept, Traffic police, CEA to clear the air of pollution with Rs 30m mobile monitoring unit
View(s):
Motor Traffic Department officials and Traffic Police officers will fan out to different parts of the City of Colombo from tomorrow to check vehicle emissions. The move follows the discovery that a large number of vehicles are still plying the roads with heavy emissions. This is notwithstanding the centres which have been issuing certificates confirming they are fit to run.
Some of these certificates, it has now come to light, are being obtained by allegedly bribing staff at these centres. The Motor Traffic Dept (MTD) will be deploying 10 technical officers along with Traffic Police officers, to test vehicle emissions, a senior official said.
MTD's Vehicle Emission Testing Programme Project Director A.W. Dissanayake said that the recruitment is completed and the technical officers deployed starting this month.
He said there are allegations that revenue licences could be obtained without the Emission Test Certificate (ETC).  "The Dept has made it compulsory to submit ETCs to obtain revenue licences, and to be in possession of it at all times. The Traffic Police has also been requested to check the ETC along with the driving licence," Mr Dissanayake said.
According to him, the Sri Lanka Transport Board (SLTB) buses are evidently contributing to air pollution.  Unlike private buses which are removed from service when in poor condition, SLTB buses continue to operate emitting heavy smoke.  "When complaints are received, the Dept. will summon the offenders and warn them. If the condition of the vehicle is bad, a prohibition notice will be issued. This will be the same with vehicles that emit hazardous smoke," he added.
The Dept requests the public to lodge their complaints via the hotline 011-3 100 152, if a belching vehicle is spotted.  The Central Environment Authority's (CEA) Deputy Director (Air Quality Division) R.M. Kulasena said the country had only one air quality monitoring station in Fort, whereas countries such as Thailand have about 300 monitoring stations. He said the station that operated from 1997 to 2008, broke down.
Last month, after a lapse of four years, the MTD gave the CEA a Rs. 30-million mobile ambient air quality monitoring unit. The funds were from the Vehicular Emission Test Fund. The unit is presently in Jaffna testing the air quality in the area.  "With air quality testing, the transport sector's 60% contribution to air pollution has come down to about 40%. But still it is a leading contributor. The transport sector is also leading in the emission of carbon monoxide (CO), nitrogen oxides (NOx) and particle matter (PM-10)," he added.
Mr Kulasena said that Colombo and Kandy have record transport related air pollution.
The National Institute of Health Sciences' Research Dept's Community physician Dr Sumal Nandasena said that there has been an increase in respiratory tract infections, especially among children between 1-15 years of age, in the cities and suburbs.  "Studies have shown an increase in emergency room visits for nebulisation, asthma, wheezing, lung infections and daily respiratory illnesses among children. These are also resulting in school absenteeism," he said, adding that, frequent phlegm and cold is also a result of exposure to vehicular emissions.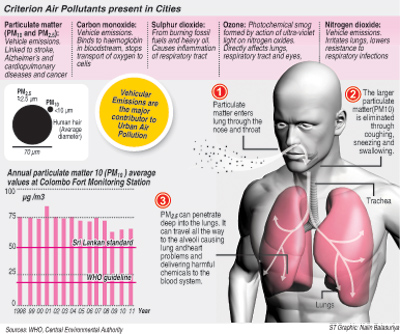 Dr Nandasena said that polluted air can aggravate non-communicable diseases such as of the heart and hypertension.
comments powered by

Disqus