Lifting up young designers
By Tharooshie Mahahewage
Showcasing the designs of graduates of the Lanka Institute of Fashion Technology, designer label Niro and Nelo have teamed up with Glitz to launch an office and semi-casual range
View(s):
Regular shoppers at Glitz have another reason to visit the popular retail store. Niro and Nelo, the designer label created under LIFT (Lanka Institute of Fashion Technology) has joined hands with Glitz to present their latest collections at the store. The first LIFT collection for Glitz was launched on Friday, August 16 at the store's Mount Lavinia showroom.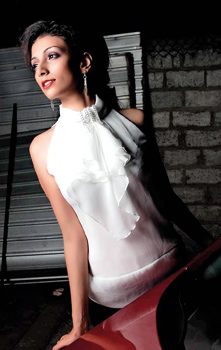 The designer label which has been enjoying a growing clientele over the past two years produces original creations in limited number.
"We have always had a name for evening wear but we found that clients were also reaching us for ready to wear semi-casual and office wear.
So when Glitz welcomed us, we decided to promote our office and semi-casual range through them," says the Managing Director of LIFT Designer Wear (Pvt.) Ltd., Niroshini Leanage.
The new range of Niro and Nelo available at Glitz island-wide includes a range of styles in vibrant shades and muted tones.
The basics in every modern woman's wardrobe- tight fitted shifts, flared dresses to variant hued blouses, the range covers outfits for work or evening.
"We hope to unveil 15-20 new designs each month. Our designs will be priced at a competitive rate and made of high quality fabric like chiffons, georgettes and corduroys imported from overseas," says LIFT's production, sales and PR director, Neloni Leanage.
The Niro and Nelo collection showcases the work of talented graduates of LIFT and thus provides an entry point into the fashion market for these young designers. Glitz showrooms are located on Mount Lavinia, Nugegoda, Hyde Park Corner, Negombo and Kandy City Centre.
comments powered by

Disqus