Controversy ridden 'Madras Café' at Liberty Lite
View(s):

Controversy ridden 'Madras Café', Indian political espionage thriller film set in the late 80s and early 90s in India and Sri Lanka will be released at Liberty Lite, Kollupitya soon.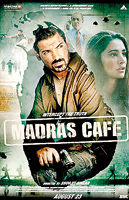 Directed by Shoojit Sircar, the film is a spy thriller which traces the political and military histories of the South Asian neighbours and covers the Research and Analysis Wing (RAW) and LTTE's activities through the eye of an agent, played by Abraham. The film is set in the late 80s and early 1990s during the time of Sri Lankan civil war and the assassination of Indian Prime Minister Rajiv Gandhi. The film was earlier titled Jaffna but the name changed later.
With strong demand by the South Indian pro-LTTE politicians to ban the film in Tamil Nadu and pressure imposed on Indian government to unearth the truth behind the charges leveled against the film, John Abraham's thriller won huge free publicity out of controversy itself. Tamil Nadu politician, MDMK leader Vaiko, Seeman, founder of Naaam Thamizhar Katchi (We Tamils Party) and other pro-Tamil outfits had sought a ban on the film alleging that it has portrayed LTTE in bad light.
On the other hand the 40-year-old actor was also accused by certain sections for creating a publicity stunt using the controversial political issue.
"I don't think we made this film to create controversies. That has never been our marketing tool," dispelling the allegation Abraham told media last week. "We want to make films with credible content. It is disturbing to see what is happening at present. We have full faith in the democracy, full faith in the government and we hope that people exercise their good will and come and see the film," the actor said.
Madras Cafe also stars Nargis Fakhri, who plays a war correspondent and will mark the debut of actress Rashi Khanna. An Indian Intelligence agent (John Abraham) journeys into a war torn coastal island, to break a resolute rebel group. He deftly manoeuvres his resources to make significant breakthroughs, amidst a scenario where the enemy has no face and the only counsel is 'Don't get caught.'
At various junctions, he meets a charismatic and passionate journalist (portrayed by Nargis Fakhri) who is following her will to reflect the truth behind the civil war. The story unfolds as their quest for the truth reveals a deeper conspiracy, by a faceless enemy, united to seize a common nemesis
comments powered by

Disqus