Cinnamon Bey Beruwala in community enhancement project
View(s):

Keeping up with the pledge 'I will care' a Personal and Professional Capacity Building program for beach operators of Beruwala was initiated by Cinnamon Bey Beruwala in partnership with the LINC (linking local communities and tourism) Project, the Western Provincial Tourist Board, The Travel Foundation UK and Responsible Tourism Partner of Sri Lanka.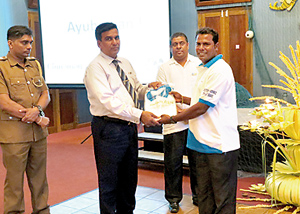 This certification ceremony was held to recognise the achievements of the Cinnamon Bey Beach Operators Association who have successfully completed a personal and professional capacity building programme delivered through the LINC Programme and Cinnamon Bey hotel, Beruwala.
Since 2007, the LINC Programme has been funded by the UK's Travel Foundation in partnership with Sri Lanka's Responsible Tourism Partnership. In Beruwala this programme was implemented in association with the Cinnamon Bey Beruwala, the Bentota-Beruwala Hotels Association, the Western Provincial Tourist Board and the Sri Lanka Tourism Development Authority.
The initiative encourages the hotels and the beach communities to work together to promote a conducive environment for tourism, and to enable the beach communities to earn a living from tourism. The LINC Programme aims to support the long term sustainability of tourism in Sri Lanka. It links the local community with tourism and delivers an integrated training, capacity and relationship building programme to destination stakeholders. It also encourages cultural exchange – providing opportunities for visitors to learn about local cultures and traditions and to share experiences, which would be difficult to find without local expertise.
Following a successful pilot project in Beruwala in 2008, the programme has been expanded to the resort areas of Bentota and Ahungalla with continuing success. Their work has delivered a number of positive outcomes and changed negative practices and perceptions that had prevailed before. Cinnnamon Hotels & Resorts is a passionate contributor to this programme and aims to assist in the expansion and continuity of this programme so that it can be replicated in other resort areas. "As a responsible brand, we have understood the necessity of working with communities' and stakeholders to develop their livelihood through tourism.
There is so much talent and creativity in some of the beach operators. A program of this nature will enable not only to build bonds with the community but also to enhance the overall customer experience"-said Mrs. Christine Chevalaz, General Manager, Cinnamon Bey Beruwala.
comments powered by

Disqus