Boat people to Australia: One man's odyssey
By Anthony David and Chris Kamalendran
View(s):
With Australia now taking a decision to send non-visa holders to Papua New Guinea, Virendran Ilangovan who made it to Australia, talks about his experience in a skype interview 
An employee of a Non Governmental Organisation, Virendran Ilangovan, 32, from Batticaloa decided to migrate to Australia last year. Several of his colleagues had taken the illicit boat ride to get there. He was asked to get in touch with a local agent in Batticaloa who disclosed his plans. He was told that the journey would cost over Rs. One million.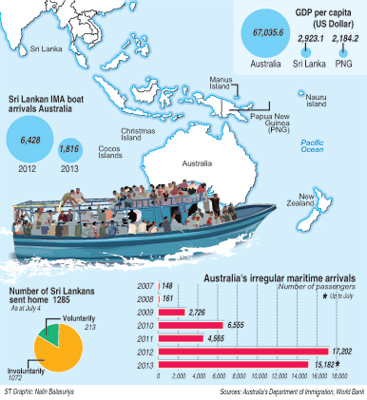 Illangovan was willing to spend that amount of money, he told the Sunday Times in a skype interview on Friday. He was told that he could get in touch with the main agent in Ahungalla, Galle.
"A week later I was told to come to a hotel in Batticaloa. I was introduced to the main agent. He told me that he wanted an advance of Rs. 300,000. There were others present with the agent, among them some policemen serving in the area," Ilangovan explained.
"'After I made the payment in November the agent gave us a date for the journey. The day arrived and about 100 were packed into vans and taken to Hambantota via Moneragala. We were kept under security in a house.
"The following day we were driven to the beach in Tangalle. It was after midnight and we were told to get into small boats and were taken to mid-sea. We were told to board a trawler that was waiting for us. "Another group of 19 joined us and we took off in the night. The trawler was packed with water, biscuits, chocolates and other dry rations.
"For two days until we reached international waters our boats were escorted by two high speed boats. Our It took us three weeks to reach our destination. Fortunately, we did not encounter any problems in mid-sea and the stocks were sufficient.
"We were detected on arrival as expected. We had been warned not to divulge information about our journey or the agents. The authorities then carried out security checks and thereafter put us through a series of medical check ups," Ilangovan recalled.
After a stay in a camp for six months in Christmas Island Illangovan was able reach the mainland on a 'conditional visa'.
But, life for Ilangovan is not easy, he admits.
"I have no permission to work or study. We are given 900 Australian dollars (Rs 109,000) a month and I have to find my own accommadation, food and pay the utility bills. It is difficult to survive with this money," he said.
"However, prior to the journey I was told that the earnings would be unlimited and that it would be easy for me to get citizenship. My application for asylum is pending and I am not sure whether I will succeed. "My visa too is temporary and I am not sure whether it will be renewed.
"I have been lucky so far, but some others who illegally migrated are still in camps. They don't have the freedom to move out'.
"My plea to others is not to attempt the boat journey as the conditions are very tough. I have just heard that those travelling without visas would be accommodated only in Papua New Guinea," he said.
Ilangovan's plea came as 68 Sri Lankans including women and children set sail from Mullaitivu late last month. Their destination– Australia.
The vessel reached Australia on Thursday where it was intercepted by the Australian Customs and Border Protection Service officers along with the Federal police. Arrangements were underway to transfer the boat people to Christmas Island. But, what the inmates of the vessel were unaware was that the Australian government has taken a tough decision not allow any persons without a visas to enter in their country.
If they are not sent back to Sri Lanka immediately, they will be taken to Papua New Guinea where their claims for asylum will be assessed.
Acting Australian High Commissioner Sonya Koppe said on Friday if the boat people were found to be genuine refugees, they would be permanently settled in Papua New Guinea – not Australia. They would be processed under the laws of Papua New Guinea.
Fresh campaign by Australia
The decision not to entertain any more persons in Australia without visa comes in the wake of an increase in the number of boat people over the past few years.  Last year alone 1,300 Sri Lankans who entered without visas were sent back to the country though 200 of them volunteered to come back.
Australia this week launched a fresh campaign in Sri Lanka to discourage people from illegally heading to their country. Jose Alvarez, Minister –Counsellor (Immigration) and Regional Director (South Asia) – Department of Immigration and Citizenship was present in Colombo this week for talks.
A Customs and Border Protection spokesperson from Australia commenting on two previous campaigns carried out to prevent illegal migration said that awareness was the key message and after its second campaign, fewer people were attempting to travel by boat to Australia.
"Our research and evaluation activities confirmed that a large number of people had been exposed to the communication campaigns. This exposure has increated awareness of Australia's irregular migration policies and the danger associated with maritime ventures to Australia. Research is beginning to show that this is positively affecting the behaviour of potential asylum seekers, with fewer choosing to travel to Australia on a people smuggler's boat," the spokesperson said.
Since June 1, last year there have been 19 maritime people smuggling ventures that have resulted in the loss of life including those of Sri Lankans. Over a short time, there had been an unprecedented expansion of irregular movements from Sri Lanka to Australia.
There were more than 3000 Sri Lankan illegal migration arrivals between August and October 2012 compared with a total of 16 across the same time frame in 2011. There have been 1816 Sri Lankan IMA boat arrivals for 2013 to date, while in 2012, there were 6428 Sri Lankan illegal migration boat arrivals.
As at July 4, the number of Sri Lankans sent home was 1285 – 1072 of them involuntarily since August last year. However, according to the spokesperson, the rate of Sri Lankan irregular maritime arrivals has reduced significantly, with recent figures showing a decline from 804 Sri Lankan IMAs in April to 110 in July to date.
Follow @timesonlinelk
comments powered by

Disqus