Dayasiri goes, who's to follow?
View(s):

"Machang, Dayasiri keeyatawath aanduwata yanney nehe (Dayasiri will not join the Government at any cost)," declared UPFA Parliamentarian Uditha Lokubandara when he met UNP's Harin Fernando at a temple in Haputale.  They both represent the Badulla District in Parliament.

"Athathata? Kawda umbata kiuvey (Is that so? Who told you)," asked Lokubandara. Fernando replied that it was none other than Dayasiri Jayasekera.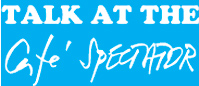 With a seemingly mischievous smile, Lokubandara told Fernando he was not correct and Jayasekera would cross over on Wednesday. A few days later, the duo met in the Parliament lobby. "Harin mang kiuwa dey hari neyda? api kiuwoth deyak hariyanwamai. (Harin, see what I have told you has become a reality today. If we tell something it will happen)," Lokubandara said minutes after Jayasekara's announcement in Parliament that he would join the Government.
Lokubandara did not stop there. He said he has something more to tell. "Eelanga parlimenthu mathiwarneta api dennatama poster gahanna wenne ekama paksen. Edataa umbath jandipathithuma langata awilla (By the next general election we both will have to put up posters together. By then you would have come close to the President)."
"Ammo machan umbata uththara denna bayai (I am so scared to respond to you)," Harin Fernando told Lokubandara.
Young UPFA politicos take to singing and dancing
Gone are the days when Parliamentarians styled themselves under different groups with different names to pursue their political ambitions.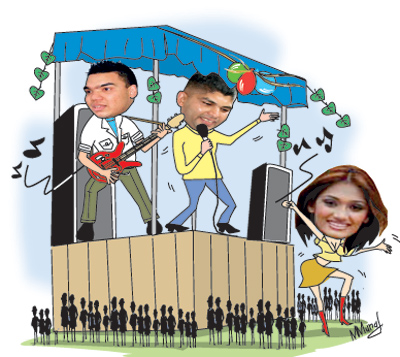 One that comes to mind is the so called 'Ginger Group' in the days of the United National Party (UNP). Headed by then Parliamentarians like the late Festus Perera, the vibrant group raised issues related to the public and more often had its way. They were back-benchers, without ministerial or deputy ministerial responsibilities. They would usually meet in an MP's private residence to discuss matters. Then Prime Minister, late Dudley Senanayake, became conditioned to seek the views of that group whenever UNP Parliamentarians met.
Nowadays there are varied groups. One of them is the batch of young Government MPs. They met at their regular meeting at the Grand Monarch reception hall in Pelawatte recently. It was organised by Thenuka Vidanagamage.
It was UPFA Parliamentarian Eric Prasanna Weerawardene who made a proposal that has little to do with politics. Of course, such an exercise is sought after by politicians to spice up their events. Since they have formed a musical group, Weerawardene said, it was now time to form a group of vocalists.
"Ow gayaka kandayamak wagema natum kandayamakuth hadanna puluwan. Upeksha manthreethumiya innawane (Yes we can form a group of singers as well as a group of dancers. We have MP Upeksha too, haven't we?)," quipped UPFA Parliamentarian Namal Rajapaksa.
Young Rajapaksa proposed Sports Minister Mahindananda Aluthgamage to head the group of vocalists. Kandy district UPFA MP Lohan Ratwatte said Dilum Amunugama also should be included.
Another said jokingly "Audience eke inna aya balala ape lokuth sinduwak kiyavi (Our Loku — refering to UPFA MP Udith Lokubandara- too would sing after assessing the audience)."
So it will not be a surprise when it comes to the next parliamentary elections, voters will have to decide which candidate sang the right song or danced the right dance rather than made the right speech. So, stages at rallies would soon be full of singers, dancers and players in a band. The first to be hit are the professional musical groups who may not get hired for political rallies any more.
UNP won't name CM candidates
The wedding of the youngest daughter of Prime Minister D.M. Jayaratne was held at the Colombo Hilton last week.  President Mahinda Rajapaksa, Opposition Leader Ranil Wickremesinghe and several Cabinet ministers were among those present.
The President, the Prime Minister, the Opposition Leader and UNP General Secretary Tissa Attanayake were seated at one table.
After a while, Wickremesinghe left for another wedding ceremony which was being held at the nearby Kingsbury Hotel.
President Rajapaksa asked Attanayake, whether the UNP was going to name its Chief Ministerial candidates for the upcoming provincial council elections.
"Ehema kaloth obathumala egollo athurudhan karanawane? Eya nisa nam karanne nehe (If we do so you would ensure they disappear. So we won't be naming them)," Attanayake told Rajapaksa, who took it in good humour.
Three ministers on DPL circuit
Three ministers have been entrusted with the task of deciding which diplomatic functions each one of them should attend representing the Government for August. They are Ministers P. Dayaratne, A.H.M. Fowzie and Mahinda Samarasinghe. Once the ministers decide, they have been directed to keep the Secretary to the Cabinet informed on which particular function they would attend.
Mervyn looking for model son
Public Relations Minister Mervyn Silva seems to have perfected the fine art of making nuanced speeches. At a Dambulla meeting chaired by Minister Janaka Bandara Tennekoon, Mr. Silva said he would like to raise a model son.
He should be someone like Parmitha Tennakoon, the Minister's son who is billed to contest the North Western Provincial Council election. Of course the controversial Minister did not say why he needed to bring up a model son at this stage of his political career.
Maheswaran brothers told no family feud over polls
Two brothers seeking UNP nomination to contest the Northern Provincial Council election set a poser to party leader Ranil Wickremesinghe.  They are both brothers of the late UNP Parliamentarian T. Maheswaran. He was succeeded by his wife Wijayakala who is now an MP from the Jaffna District.
Wickremesinghe noted that the two brothers contesting the same council could cause divisions in the family. He was alluding to preference votes where one candidate usually vied fiercely against the other to obtain the largest number.
Wickremesinghe settled the issue by saying that he would allow both to contest. It was on the express undertaking that they would not disturb the unity in the family. The duo agreed.
Follow @timesonlinelk
comments powered by

Disqus