Ships' cooks facing termination sans certificates, says seafarers' union
By Leon Berenger
Senior official at Merchant Shipping assures moves underway to provide them
View(s):
A group of 31 Sri Lankan seafarers employed as cooks on foreign vessels were yesterday facing termination of their services after the authorities in Colombo had failed to provide them with service certificates, an official with a maritime trade union said. Palitha Athukorale, President of National Union of Seafarers Sri Lanka (NUSS) told the Sunday Times that the foreign employers of the cooks had decided to sign them off midway in their respective job contracts because they could not provide the required service certificates.
He said that such service certificates are issued only after two years of work experience and although this group falls short of that particular period they have nonetheless passed out in the 'cook' category from reputed hotel schools.
"Furthermore there is also a maritime provision called the "Grand Father Clause" of the International Maritime Organisation (IMO) which provides provision to issue interim mid contract certificates to such seafarers," Mr. Athukorale said. "This practice is even carried out in India and several other countries that provide seafarers to international shipping companies," he said.
He added that the matter was taken up with office of the Director General for Merchant Shipping but so far there has been a zero positive response adding that one senior official had given a verbal assurance and the matter ended there. He said that the NUSS had also written to the Director/General MS Ajith Seneviratne but there has been no response as yet.
A senior official with the DG Shipping Office said that moves were underway to provide these men with the required certificates and that NUSS was making statements before finding out the facts. "There are certain elements out there who wish to tarnish the good work we are doing and towards this end they even go to the media with baseless allegations," the official who did not wish to be named said.
Mr. Seneviratne could not be reached for comment in this regard despite several attempts by this news paper.
Rs. 2m.compensation after fall from ship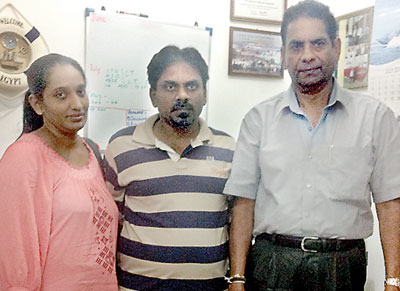 A Sri Lankan seafarer who was seriously injured after a fall from a foreign vessel was this week provided compensation of US$ 20,000 or Rs. two million-plus, a year after the incident.
Susantha Neomal Silva, a father of two and who was employed as a fitter on the Greek-flagged 'Fair Faethon' vessel continues to be in a semi-paralysed state and the grant would enable to better his life while he remains on medication, Ranjan Perera, Secretary of the National Union of Seafarers Sri Lanka (NUSS) told the Sunday Times.
"It was a tireless effort by the NUSS and International Transport workers Federation (ITF) to finally persuade the foreign shipping company- Federal Group Management to make the grant to the seafarer", Mr. Perera who is also the local ITF Inspector added.
The ITF is a London-based grouping that monitors the welfare of seafarers throughout the global shipping industry.
Follow @timesonlinelk
comments powered by

Disqus