Lankans say, 'our cops are corrupt'
By Noreyana Fernando
View(s):
Police Chief says will act on findings of Transparency International survey; 72 percent of Sri Lankans also say people can play role in fight against corruption
Mounting reports of corruption have prompted Police Chief N.K. Illangakoon to warn of stern action against his men. His remarks came after a Transparency International survey revealed that most Sri Lankans believed the police force was a corrupt public institution. They also came in the wake of the arrest of the Officer in Charge of Crimes in Trincomalee for allegedly accepting a bribe of Rs. 10,000 from a person involved in a vehicle dispute.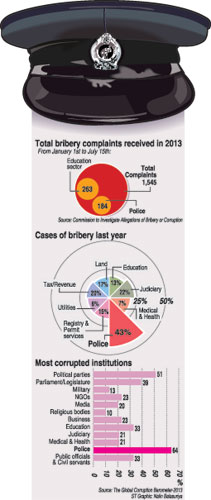 This incident is one of 184 complaints of police bribery recorded by the Commission to Investigate Allegations of Bribery or Corruption (CIABOC) this year— that is one complaint reported almost every day. Countless go unreported.  The Police Chief said police would take serious note of the Transparency International findings.
"We do not tolerate corruption within the police force. Stern action would be taken against any individual found violating the law of the country. However, it is important to keep in mind the there are 84,000 people in the police force of Sri Lanka. Among such a large group of persons, there are always a few who tend to deviate from the expected norm," IGP Illangakoon stated.
According to Transparency International's Global Corruption Barometer (GCB), 64 percent of respondents said the police was corrupt or extremely corrupt, while 51 percent said political parties were corrupt. Of the 1,001 respondents surveyed face-to-face, 35 percent said corruption in the country had increased over the past two years.
Furthermore, 43 percent reported paying or having a household member who paid a bribe to the police over the past year. Sri Lanka is among 36 of the 107 countries surveyed, where the police were found to be the most corrupt public institution Commission Chairman Justice Jagath Balapatabendi said they recorded several complaints against members of public institutions this year, including those in the education sector.
"We have received a lot of complaints of corruption and bribery among the police and and politicans attached to Pradeshiya Sabhas. There were also quite a few complaints of bribery against school principals during Grade 1 admission," he stated.  But going back to the police, an institution established to maintain law and order. J.C Weliamuna, chairman Transparency International Sri Lanka (TISL) said there was a question of integrity among law enforcement officials.
"Their environment is not conducive to a bribery and corruption-free functioning. Even the police do not operate independent of political parties. Furthermore, they do not undergo any integrity training," Mr. Weliamuna emphasised.  Section 70 of the Bribery Act defines a corrupt individual as a "public servant who, with intent, to cause wrongful or unlawful loss to the Government, or to confer a wrongful or unlawful benefit, favour or advantage on himself or any person…does, or forbears to do, any act, which he is empowered to do by virtue of his office as a public servant."
Mr. Weliamuna said he believed the Commission was not equipped to deal with corruption. "Corruption is the result of a systemic flaw. Even people with higher power in the state act without transparency. Furthermore, there is no freedom of information for the people. Regulatory institutes are politicised. Even the executive, the parliament and the judiciary are not sufficiently accountable to anyone. The Commission has no capacity to investigate things like share transactions and corruption at higher levels. They have no operational independence," Mr. Weliamuna said.
The Commission, which was defunct intermittently before resuming work in 2010, received 1,545 complaints so far this year. Commission director general Luckshmi Jayawickrama said the Commission currently had enough resources and manpower.
"We were just recently given a five-storey building for our use. There are also plans to hire more investigative officers to the Commission," Ms. Jayawickrama stated.
Addressing possible reasons behind bribery in the police, Ms. Jayawickrama cited the power vested in the police. "The police have power to determine the next step and whether or not an individual will be taken to court. What is needed is some kind of supervision of police constables and their decision to file action," she advised.
She added the lengthy procedure that followed any offence discouraged the public. "Bribing police officers is common among those who violate traffic rules. There are people who are willing to pay the government in fines, but the lengthy procedures that follow a police write-up are what really put people off. These procedures must be simplified," she said.
According to the police spokesperson, minor traffic offences such as speeding result in a spot fine. If the motorists refuse to pay these fines a case is filed. For more serious offenses, cases are filed without a spot fine.  Meanwhile, Ms Jayawickrama urged members of the public to contact the Commission on its hotline 1-9-5-4 to report any bribery and corruption.
Meanwhile Transparency International's GCB shows that 72 percent Sri Lankans believe ordinary people can make a difference in the fight against corruption.  Shan Wijetunga, senior manager of the Communication and Outreach Division at TISL concurred that the public had an important role to play in curbing bribery in the country.
"If one person can withhold offering or accepting a bribe, it will be an important first step," Mr. Wijetunga pointed out.
Follow @timesonlinelk
comments powered by

Disqus