Errant politicos continue to hold sway; say incidents aimed at tarnishing political careers!
By Aanya Wipulasena | Additional reporting by Mahesh Keerthirathne in Matale
Young boy injured in brawl between son of Laggala Pradeshiya Sabha chairman and another party
View(s):
More incidents involving local politicians, most of them ruling party members have been reported this week from various parts of the country ahead of the upcoming provincial elections. These were the latest additions to over 90 such incidents during the past 13 months where local politicians were hauled before courts for various offences.
On Tuesday, Yatawatta Pradeshiya Sabha chairman Lal Attanayake allegedly seized a jeep belonging to Higher Education Deputy Minister Nandimitthara Ekanayaka. Yatawatta police said, according to a complaint the chairman had caused damage to the vehicle.
However the chairman (UPFA) denied the allegations made against him. "I'm not involved in this incident. Such allegations were made against me before too. That is to disrupt my political journey," he said adding that he believed such allegations were being made against him because of his failure to help the deputy minister at the upcoming elections.
In an incident reported from the Laggala, Kiwulawadiya area in the Matale district on the same day an eight year old boy was injured in a brawl between the son of the Laggala Pradeshiya Sabha (UPFA) Chairman Dharmasiri Kannangara and another party. The son had used a pistol allegedly owned by the PS chairman.
The victim, Danuka Pradeep Rajapaksha, had been on his way to a boutique with a friend when he witnessed a fight between two parties . "On our way to the shop we saw some uncles fighting. They started shouting and something hit my leg. After that all I can remember is going and telling my mother what had happened," he said. Danuka was taken to the Matale hospital where he was treated and discharged.
According to the police the incident occurred during a heated argument between a group from Wilgamuwa and another group among whom was the PS chairman's son Leslie. During the brawl he had allegedly attempted to shoot at a person. However, he had hit a concrete post a piece of which flew off and injured the eight year old boy.
The PS chairman's son and another were arrested after the weapon that was used in the incident was found in Leslie Kannangara's house police said. They were remanded till July 26.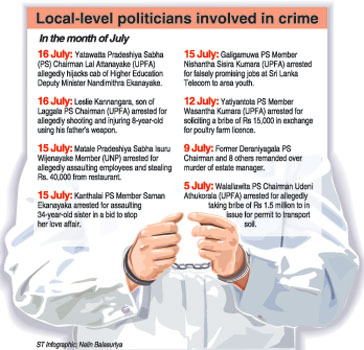 Commenting on the incident the PS Chairman said these accusations made against his son were targetted at destroying his political career. He added that if it was proved that the weapon used was his he would resign from his post. "My son is married and lives separately. People make such accusations to discourage us. If my son is at fault action should be taken against him but this is an attempt to make us appear as the wrong doers," he said adding that he would be contesting the upcoming elections regardless of the current situation.
In another incident also from the Matale district, UNP politician, Isuru Wijenayake allegedly caused damage to property and stole Rs. 40,000 from a hotel in Kirigalpotta. He was arrested by the police and produced in court where he was remanded till the 24th by Matale Magistrate and Additional District Judge, Sampath Gamage.
In two separate incidents two UPFA members were arrested on July 15. Saman Ekanayake councillor of the Kantale Pradeshiya Sabha was arrested for assaulting and threatening his 34-year-old sister over a love affair. The victim was admitted to the Kantale hospital.
In the other incident a PS member of Galigamuwa, Kegalle was arrested for allegedly luring youth with the promise of getting them jobs.
Certain politicos tarnishing party and president's image: Minister Sirisena
The behaviour of certain PS chairmen and members have brought much discredit to the government, SLFP General Secretary and Health Minister Maithripala Sirisena told a public meeting in Polonnaruwa recently.  Chief guest at an event to launch a Rs. 200,000 project to develop the weekly fair held under the auspices of the Pradesheuya sabha, the minister said these acts by politicos that included taking bribes, abusing women, killings, robberies and drug dealings have brought disgrace not only to the government but the president as well.
"I can't even provide answers to the questions that are directed at us when I go to meetings and press conferences ," Mr. Sirisena said adding that the president had called him for a discussion on the matter. He said these kinds of acts have been around before but now the incidents had increased and more and more politicians were becoming money oriented.
"They believe that if they have money then there is no problem. There's a competition to earn money," he said adding that they lack respect and discipline.
I will get nomination: Sarath Kumara
Controversial UPFA councillor Sarath Kumara, who forced a teacher to kneel last month, said he was confident that he would be given nomination for the upcoming North Western Provincial elections.
He told the Sunday Times he was actively involved in politics since 1991 and had no blemish in his political career for the past two decades.
"This incident was an unfortunate one and it came about over a political dispute. It was an act to destroy my political career," the councillor said, adding that he had explained this to the party interview board for nominations and asked them for an impartial inquiry.
Mass Media and Information Minister Keheliya Rambukwella commenting on this said anybody can send applications for nominations and all of them would be called for interviews. But this did not mean they would be selected.
"The interview board would look at the qualifications of the persons and select them," the minister said.
Follow @timesonlinelk
comments powered by

Disqus