Appreciations
View(s):

He came from Kandy, she from Jaffna and what a match they made

James Thiagarajah Arulanantham

James Thiagarajah Arulanantham, son of the late Rev. Gnanamuttu Rowlands Arulanantham and of the late Mary Ratnam Arulanantham passed away in California, on November 17 last year at the age of 85.  To say that he was a unique individual would be an understatement.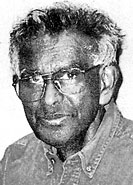 He came into our lives during his student days at the University of Ceylon in the mid forties and was known to us as Arul.
It was not too long after the Second World War ended that this young man from Kandy obtained admission to the University of Ceylon. His life was to change in ways he never could have imagined.
At the university, he studied science subjects that included Physics and Chemistry, in which he excelled. Attending some of his classes was a young female student from Jaffna whom he began to notice. She would arrive at the University in an old Baby Austin car that was the colour of tea with milk. It had a black canvas, top and sides, and proudly bore the number plate W 663. Anyone using it would fervently hope that it would not rain.
Students dubbed this motor car the "Flying half-rickshaw" and it was the subject of much mirth among them. The young lady must have been made of tough material to have withstood all the teasing with good humour, even the driver and owner of the vehicle, the lady's uncle, took it up well. In between flying in and out of the varsity and assignments, there was a blossoming romance taking place, between the young man from Kandy and the young lady from Jaffna. The next step was to contemplate marriage and they were married one December not too long after they completed their studies at the University. The lady changed her name from Miss Selvaluxmy Rasiah to Mrs. Selvaluxmy Arulanantham. Officially, but she was "Mani" to all her relatives and friends.
From then on, the twosome was known as Mani Akka and Mani Akka's "Uncle". Even the older generation latched on to the term "Uncle" because they found it so convenient. Some relatives did try to address him as "Arul" for a while but found it easier to join the crowd with "Uncle".
In spite of his job at the Meteorological Department and in spite of her teaching position at Visakha Vidyalaya, they were both ever willing when help was needed by the relatives. There were many times when they slaved over a meal for a crowd when the hosts could not handle it by themselves.
Not only did Uncle become a firm part of the family but he really "embraced" the whole group of relatives. He adopted the ways of the new relatives and quickly became one of them. Whatever needed to be done in connection with the extended family was done. Whoever needed help with school subjects was helped. Much trouble was taken to steer the minds of young nieces and nephews on the right path.
Uncle's hard work and dependability earned him the position of Director of the Meteorological Department, Sri Lanka. Apart from helping relatives and friends Uncle and Mani Akka became involved in social work. They were active in social networking groups both in Sri Lanka and later in California.
His philosophy of serving others was amply demonstrated when he took care of his ailing wife, in a most loving way for many years.
It was a sight to behold whenever she sat in the kitchen and supervised while he obeyed her instructions in cooking. It was indeed a big blow when he lost the love of his life a couple of years ago. No other ailing person had a more devoted or loving caregiver.
Uncle would have been a good traveller on many roads. He never craved for material wealth and believed in loving all and serving all.
A loving Cousin
Sis, you beat me in everything including death
NARGES NALLIAH
My darling sister Narges, the youngest in our family, was the apple of my father's eye, the late Julius Guneratnam. Both my late mother Devanesam and late brother Christy along with my brother Alagu would at all times adore you; which at weak moments of time, in the long distant past, would make me envious. Nay, you remained to the last my dearest and only companion. You were my kid sister, so many years younger than I and in the later years your only ambition was to take care of me.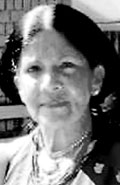 We grew up in Manipay, well known for beautiful girls as we would be often told in our time. You were not only the most beautiful girl at the Vembadi Girls' School but you were an outstanding athlete, famous high jumper and sprinter. You were the fastest sprinter at the Public Schools Sports Meet in Jaffna and I distinctly remember the boys shouting "a horse is coming" and how my father realising it was you, running like a horse and winning the race, turned to the boys behind and proudly proclaimed "the horse is my daughter". I remember he made you wear shorts, never seen in Manipay before, but then you looked so smart in shorts and I would hear the boys say "her legs need to be insured".
Like at the sprints in sports my beloved kid sister beat me to eternity as well. I still recall happy memories of our family reunion in Indonesia, where we all had a wonderful time in Jakarta, visiting Bali and many other places. I was busy as ever with my work, yet you and your two handsome sons, with my brother's family had a wonderful holiday, little knowing that life at best is very brief like the falling of a leaf.
Narges was the beloved wife of the late Dr. Ariam Nalliah and 'amma' of Dr. Arjan and Dr. Raj and Chloe. She passed away on that fateful day of July 13, 2011, leaving us in a state of shock and never-ending grief. She was too young to die, but fate decreed otherwise. She bid us farewell, having completed her course, the noble deeds that remain in our hearts, concealed but most esteemed. She was full of fighting spirit to the last, the greatest athlete Vembadi Girls School produced, full of faith and inner strength that came straight from Almighty God. In a touching moment before the casket was lifted by Arjan and Raj, the beautiful words of the famous song 'He ain't heavy, he is my brother' seemed to have filled the air with a little modification, most fitting for the moment: "She ain't heavy, she is our mother".
Dear sister, I know how happily all of you lived in Karawanella with Ariam the revered Medical Officer, loved by the rich and the poor alike for his philanthropy. Many a poor patient would be treated by Dr. Nalliah for no payment. All of a sudden life took a turn, a turn filled with adversity. Yet, I admired you, for that did not turn you from your faith. You remained cheerful to the last. You lost your home in Sri Lanka in 1983, were virtually left penniless and had to flee to Australia.
Life in Australia was not that rosy either. As fate would have it, your beloved husband fell ill and you had to nurse him till the end. The road ahead was once again full of holes and winding; yet you supported your sons Arjan and Raj, however difficult it was. They were your pride and joy and right through their university studies you continued to work at the surgery, however difficult, always with a smile. They say trouble comes never singly, in convoys. Your house was burgled and every valuable thing taken away. Then came the floods that destroyed what was left in 2011.
In spite of it all, your life has been an example of a true Christian. A true faithful servant of the living God who earned her rest in the arms of our Lord and Saviour Jesus Christ. I would like to revert to Sir Elton John's 'Candle in the wind' for that famous line in it keeps ringing in my ear – 'your candle burnt out long before, your legend never will'. Goodbye my loving Kunchu, till we meet again. "The Lord is my light and salvation".
  Nesie Nalliah
For the good times we shared in Nairobi and back home
Indrani Olga Fernando (Rani) 
Rani Fernando passed away peacefully on June 21 after a brief illness. Rani left us at the ripe old age of 79 years. Throughout her life she helped everyone who came under her vision and the people in need. As a lady of much character, she was able to maintain a friendly relationship with all her colleagues and associated with all of us in an amiable manner. I can remember how she loved my daughter Duruthu when she was small.
My friendship with the Fernando family goes back well over 30 years. I met them through Lukshman, their eldest son. I went to Nairobi, at the time when Rani's husband, Ivan was working at the Sri Lankan High Commission in Nairobi, Kenya.
After a short teaching assignment in Karachchi, Pakistan I went to Nairobi. From that day till I left Kenya I will never forget the wonderful way Rani and her husband looked after me. In Nairobi the school hours were from 8.30 a.m. to 3.30 p.m. and when I came home after school Rani was ready to serve me a nice cup of tea. At that time their home was in a building named "Church House". I still remember how she would wait near the front glass door until someone of the household arrived. She was a bit nervous because she thought someone might get stuck in the elevator. That fear was not unfounded because once in a while the lift went out of order.
Beside being a practical person Rani was a caring and loving person. When I was going down memory lane to pen a few words about her, the first thing that came to my mind was the delicious dishes she prepared–Sri Lankan, Western or African dishes. Before the Fernando's came to Nairobi they were in Prague Czechoslovakia. Rani was also a expert on Czech food as well. Their house in Nairobi was full of visitors during the weekends. Rani used to make hoppers to entertain some of the Sri Lankans who were living in Nairobi and she never complained nor grumbled as culinary art was her forte.
After I came back to Sri Lanka to get married, the Fernando family also came to Sri Lanka. The close relationship between our two families continued. Rani used to invite us every Christmas to enjoy a wonderful Christmas dinner. She used to make special dishes for us as we were vegetarians. My wife Anoma used to especially enjoy the carrot cake and the pumpkin cake very much. Whenever I visited their home, Rani never allowed me to leave without having a meal.
The trip we made to Talawakelle, sometime back is one I will never forget. My wife and daughter still talk about that trip, the stay at Habarana Lodge, World's End, Nuwara Eliya, and the beautiful bungalow at Talawakelle and the Tea Research Institute.
It is difficult to find such good people as Rani in this world. Being a Buddhist and a believer in rebirth, I hope and wish that I may meet her again and again in the journey of Sansara.
May this brief appreciation help to console Ivan and the four children, Lakshman, Lakshmi, Shirani and Lalith.
Your ever-loving friend Bandula Welaratne
A bright star that was taken away from us for a greater mission
Rashida Perera
My Dear Rashi putha,
If I were to recall your birth, it was a cold, windy night with a slight drizzle as if showers of blessings poured down from heaven, while the whole world was preparing to celebrate the birth of Jesus Christ, on December 23, 1999. You made Christmas celebrations double for us by becoming our only son. From day one you were a trouble-free infant and you filled our family and the entire neighbourhood with joy and happiness during Christmas time that year.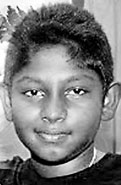 When you stepped into St. Joseph's College my only dream was that you should make our Alma Mater proud. But I never ever imagined that you would be a shining star and an all-rounder excelling in studies, sports and music. During your short period in school (2005-2013) you won prizes in studies, medals in sports and played many instruments in the college band and orchestra. Most importantly you were a favoured student winning the hearts of all the teachers and a caring friend to your mates.
Putha, I can proudly shout to the whole world saying that you lived in accordance with our Lord's "Parable of the Talents" (Mathew 25: 14-30). You made use of the talents which the Creator gave you for the betterment of yourself as well as for others' happiness. Your talent for music was extraordinary. How well you played the guitar, organ, piano, accordion and trumpet. Though I miss your amazing music, I'm sure you must be playing those instruments for other Angels to sing and dance.
Though Ammi really misses you, she is at peace knowing you are with Jesus, our best friend. I strongly think her teachings of God from your early childhood made solid roots for the growth of your faith and purity. Your prayerful life signifies a saintly character better suited to Heaven than this sinful world.
I cherish the moments you made us joyful with your charming smile and your caring attitude to others. The day of your sudden illness (April 15, 2013) we prayed hard for a miraculous cure, but in return I was left with only one question "Why did God take our only child?" You must have witnessed from above the agony we went through those days and how we grieved. Though it is hard to cope with your absence, within these three months I have realised how God has planned our lives according to His mighty will. You were given to us for a cause and when it was accomplished you were taken away for a greater mission in heaven.
Rashi, until I write again, may our bond of love continue and your heavenly radiance shine over us to overcome the obstacles that we face until we meet you again in heaven.
Everloving,
Thaththi
Malin Perera
Follow @timesonlinelk
comments powered by

Disqus