Doovili Ella of Kalthota
View(s):

Hidden amidst the Mulgama Forest Reserve in Kalthota is the Doovili Ella, so called for the cascade of water droplets shimmering in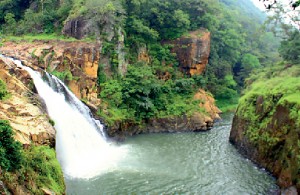 sunlight, conveying an impression of a shower of dust or doovili in Sinhala.
Created when the Walawe Ganga takes a leap of 40 meters down a broad rock creating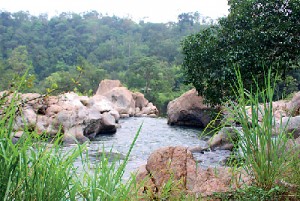 a veil of water spray, doovili ella is a scenic apex to a charming walk it takes to reach it. Although there is a more developed and easy route to reach the waterfall through Thanjanthenna many prefer the Kalthota route, which falls along the banks of Walawe Ganga as it winds through the Mulgama Forest Reserve, a catchment for the river.
Nearly 100 feet tall Muguna trees tower above the path to the water fall while many strong timber trees like ebony, satinwood, neem, milla and kone too are grown in abundance.
The forest reserve is also home to monkeys, spotted deer, wild boar, porcupine, mouse deer and the illusive rusty spotted cat,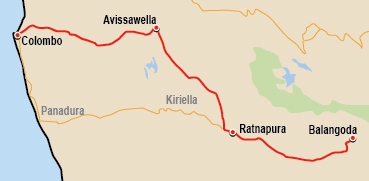 endemic to Sri Lanka and India while the Sri Lankan pea fowl, serpent eagles and Buttonquails roam the skies of Mulgama.
Although the waterfall had diminished in its size since the construction of the Samanala Wewa reservoir, it reaches its full strength in the rainy season while the Walawe River floods its banks making the roads impassable.
How To Get There: Colombo → Balangoda → Kalthota Rd → Pass Thenna(3Km) → Turn Right → 16th Mil post → 3km
Nearby attractions: Kooragala, Budugala
Follow @timesonlinelk
comments powered by

Disqus