Rogue bus operators face higher fines – but know whose palm to grease
By Damith Wickremasekara and Aanya Wipulasena
View(s):
Driver describes how police are paid off  
Buses operating without route permits are a major cause of bus accidents, and authorities are pressing the government to increase the fine for operating without permits to Rs 200,000 – but the Sunday Times heard how bus owners know they can get off scot-free by bribing police.
National Transport Commission (NTC) Chairman Roshan Gunawardena said a proposal has been made to increase the fine from Rs 10,000 as buses operating without route permits were a risk to the lives of the passengers. He said buses increasingly operated without permits because the fine for violating the law was Rs 10, 000, a sum the bus owners could pay without much loss and get back to "normal" practice.
This worked to the detriment of private buses with permits and state buses. "I have advised the bus drivers not to follow their bus owners' word and travel without bus permits," he said. "If they are caught, their NTC-issued licence will be blacklisted." Police spokesman SP Buddhika Siriwardena said traffic police had joined forces with the NTC to intercept these buses and take legal action against them.
"If there is a complaint that police officials are accepting bribes from bus drivers we encourage them to inform a senior police official or the Bribery Commission regarding this," SP Buddhika added. The police would take action against whoever that is found guilty, regardless of status.
Jagath Fernando, 45, from Moratuwa was a bus driver for 27 years before his licence was suspended for driving without a route permit told The Sunday Times how drivers bought off police when stopped for running buses illegally. "I drove a bus that was on the Colombo-Jaffna and Colombo-Trincomalee routes. Every day before we go out on the trip we were given a cache of about Rs 3000 to pay off traffic police who might catch us," he said. There were differing amounts for the various police. Those in police cars were paid Rs 500, city traffic police had to be paid Rs 300 and motorcycle police, Rs 200.
Mr Fernando said if they were lucky police officers would not ask for more than the drivers could give them. "There are times some officers ask for about Rs 1000 or more," he said. "When we are unable to pay that amount they fine us and take away our licence."
He explained that in Kurunegala, Ibbagamuwa, Galewala, Habarana and Gal-Oya drivers were certain to get caught by traffic police officers waiting to be bribed.
"This is very profitable to them because when they start work at night and go on till the morning they will get over Rs 3000 from bribes," he said. There had been instances where these officers called the bus driver or conductor and asked them to bring a bottle of alcohol as a bribe: "They say that they'll be in this particular place and make us take alcohol to them."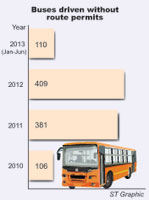 He was unlucky because after getting fined by traffic officers in eight different posts he lost his licence to drive. Fernando said some of them had assured him that they would cancel the fine and get his licence back if he paid them Rs 1000.
"I didn't want to continue driving the bus which did not have a route licence," Fernando said. "The bus owner used to say he would renew it every time I asked him about it." When his licence was cancelled and Fernando asked his employer to resolve the problem he was sacked.
A three-month bus permit costs about Rs 96,000 and private bus owners tried their best not to pay.  Mr Fernando said his employer had six buses without permits and that altogether there were some 25-30 buses operating that route without permits. "It's easy for them because the traffic police officials simply ask for bribes and some even threaten to take the drivers to court if they didn't give them money."
The number of buses that were caught without route permits in 2010 was 106 while in 2011 the number was 381 and last year 409.
So far this year, 110 cases were filed against buses operating without route permits. In 2011, 381 buses without permits were caught, and in 2010, 106 cases were filed.
Between the west and north-east of the country, many private buses plied the roads without permits, Inter Provincial Passenger Services Company (Matara) member H. Anura Krishan said. "Bus owners have no proper licence or insurance. Some of them have even forged these documents. The problem here is that a person who is in a bus accident won't be able to seek compensation as there is no insurance," he said. As these buses did not follow a time-table they competed with other bus drivers to get more passengers, and this resulted in fatal accidents.
"These bus drivers have adopted a new practice of putting up a board saying "Staff service" but collecting passengers. They use the Southern Expressway because it is faster," he said, adding that political interests protected the owners. Mr Anura said his organisation was also hoping to meet President Mahinda Rajapaksa next week to stop bus owners from operating without route permits.
"We are considering asking the President to increase the fine to Rs 200,000 when they are caught without route permits," he said.
He also alleged that police officials accepted bribes from bus drivers.
Follow @timesonlinelk
comments powered by

Disqus