Our queens through the ages get a place of their own
By Chandani Kirinde
View(s):
A museum dedicated to leading women in history with special emphasis on the women of the Kandyan era, to come up in Kandy
The Queen's Chamber or the Meda Wasala located behind the Dalada Maligawa in Kandy will soon be transformed into the country's first museum dedicated especially to the queens of Sri Lanka and women in general. Initial work on the project, undertaken by the Central Cultural Fund (CCF) is expected to be completed by December this year, officials said.
"This is a new concept for Sri Lanka. Through this project we will trace the history of Queens of Sri Lanka starting from Kuveni and end with the era of the last Queen of Kandy, Rangamma, the wife of King Sri Vikrama Rajasinha," Kelaniya University Archaeology Department head Prof. Malinga Amarasinghe said.
Women rulers such as Queen Anula and Queen Leelawathie as well as Vihara Maha Devi will be among the leading women who will be given foremost place. The lives of the queens of Sri Lanka and their contribution to Sri Lankan history will be depicted in panels while the lifestyles of local women in general through the ages would be portrayed through clay models, Prof. Amarasinghe said.
The models will be draped in different period costumes and the items displayed would include cosmetics used by them.  Visitors will also get an insight into the everyday life of a queen of the Kandyan era. "For example we will reconstruct an entire kitchen that was used by Queen Rangamma and display the utensils and pottery used at the time, the attire of those who assisted in the work etc.," Prof.Amarasinghe said, adding that Rs.16 million has been budgeted for the project for this year.
Prof. Amarasinghe said the venue of the museum was also significant as it was the place where women from the Kandyan Royal families were housed. The architecture with open spaces and verandahs along with an open courtyard are reminiscent of the period. "A visitor would enjoy the ambiance of a past era when they visit the museum. There will be no changes to the original structure of the building but the displays will be done in a manner which will enhance its appearance," he said.
The CCF has sought the assistance of the public to contribute to the museum project by donating or selling any items of jewellery, clothing, ornaments and appendages, linen and furniture that have a historic and antiquarian value to be displayed at the museum.
Since an advertisement calling for such contributions was published about a week ago, there have been many responses, a CCF official said. "There was a person who called saying he has a 150-year-old cloth used in the Kandyan era. Such items will be very valuable for us," the official said.
He added that the objective was to use original items from that era instead of replicating them.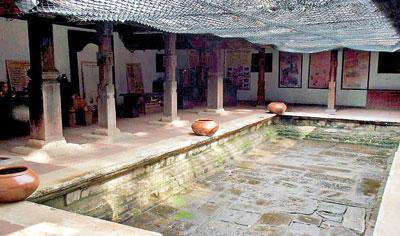 Follow @timesonlinelk
comments powered by

Disqus