Allegedly abused mistress turns killer
By Skandha Gunasekara
View(s):
Strangles businessman lover with bra he meant to use against her
Two years of alleged sexual and physical abuse have led to the killing of a businessman from Nugegoda, court was told in a confession by a woman. H.N. Indrajith Pradeep Narayana (40), of 805, High Level Road, Gangodawila was found strangled to death in his car in the early hours of July 7. The vehicle was found around 3.30 a.m. parked near the Salgado Bakery in Panadura on the Sri Maha Vihara Road.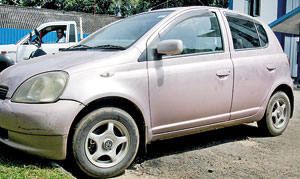 Indrajith Pradeep had been a resident of Italy and France until four years ago when he returned to the country. His wife was living in Israel at the time of the incident.  According to the police he was the owner of a job agency and had also been giving loans privately at high interest rates.
A magisterial inquiry was conducted on Monday morning by Panadura Magistrate Ruchira Weliwatte. IP Terrance de Silva of the Panadura police headed the investigation into the incident. During the investigation it was revealed that the victim's nose had been bleeding while a mud stain was found on the victim's shirt. An empty bottle of alcohol was also found in the vehicle.
The body was taken to the Panadura South Hospital for the post-mortem which was performed by Judicial Medical Officer P.B. Dassanayake.  Following the post-mortem it was discovered that death was caused by strangulation. Two days later a woman, Sajeevani Devika Silva (39) surrendered to the Panadura Magistrate's court through her lawyer.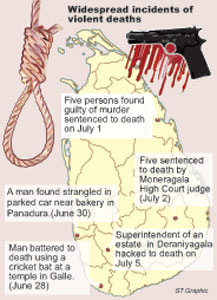 N.T. Weerakkody, the lawyer representing the suspect, informed the courts that she was prepared to make a confession in connection with the killing. Panadura Magistrate ordered the police to obtain a statement.  According to the statement given to the police the female suspect, had been a mistress of the victim for several years. However she claims that he had abused her throughout the relationship both sexually and physically.
In her confession it was revealed that the victim had picked her up from her residence around 9 p.m. on June 30 (Sunday) and parked his vehicle in an isolated place which was where the incident took place. Demanding sex from her he had asked her to remove her clothes. She reluctantly complied but refused to go any further, at which point he had begun assaulting her.
Panadura police OIC Crimes IP Indrajith told the Sunday Times that the victim had tried to use the woman's bra to throttle her at which point she had bitten him on the forehead in an attempt to get away, and then grabbed her bra to strangle the victim.
The funeral of the victim was held last Friday at the Udahamulla cemetery.
The suspect who is a resident of Alubomulla, Panadura is a divorced mother of one. Panadura Magistrate Ruchira Weliwatte remanded her till July 15.
Follow @timesonlinelk
comments powered by

Disqus