Rajans rejoice as the Lions bite the dust
View(s):

After a two-week standstill caused by the pull-out of the referees, the Singer Schools Under-20 Rugby League Championship resumed

this weekend. Table leaders of Division I 'A, Dharmaraja College's celebration time has been still put to hold as the winner of the competition is left to be determined for the coming weekend. But with the competition being held up for two weeks Dharmaraja may find it tough in their decisive match against Royal College which is to be played next Friday at the Royal Sports Complex as the showdown encounter of the competition.

Dharmaraja is closely followed by Trinity College, who initially led the table for over five weeks until they were dethroned by the current leaders. The outcome of their match against Isipathana College at Pallekele which was scheduled for yesterday will prove vital for Trinity, if hopes of winning the championship is to somewhat materialize. But Trinity will have to keep their fingers crossed for six more days and nights until the ultimate match of the tournament, between Royal and Dharmaraja, is played. If Royal, who at this point has nothing to lose, manages to beat Dharmaraja, Trinity may stand a chance to lift the title.

After their clash which was played at the Royal Sports Complex on Friday, St. Peter's College staged a fine second half burst to beat Wesley College by a whisker as they recorded a 30-29 win. As a result both sides swapped places from the week of where the sudden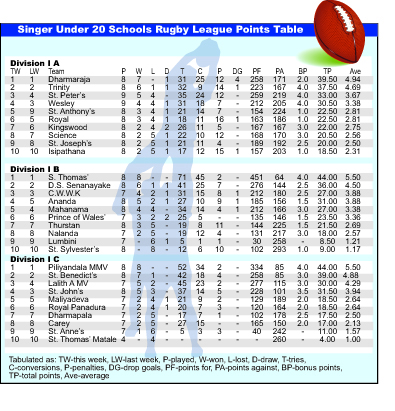 standstill occurred and the Peterites moved up to third with an average of 3.67 from nine games. Wesley from third, moved down to fourth after completing their quota of nine tournament games with an average of 3.38.
St. Anthony's College meanwhile beat Science College by 24-21 in a gruelling battle to race up to the fifth position. Their game against Science was rescheduled after the referees did not turn up for the match on June 2. The game was played last Sunday at Bogambara and gave St. Anthony's the consolation of gaining four slots after eight games.
In the bottom half Royal College is at sixth, as they lost a place after St. Anthony's rapid advance to the top. At seventh is Kingswood College, followed by Science and St. Joseph's colleges, as all three teams were moved down by a position with the Antonians' progress. Reigning league champs Isipathana College remains at the bottom.
In the Division I 'B' segment S. Thomas' Mt. Lavinia remain unbeaten after eight games and is just a step away from coming back to the top group. The Thomians are one of the two sides in the competition to have won all their games with bonus points besides Division I 'C' leaders Piliyandala Central. Next to S. Thomas' are D.S. Senanayake College, who also aim for a promotion, after recording six wins and a draw in eight games. In the Division I 'C' following Piliyandala Central are St. Benedict's College with seven wins in eight games. The Singer Schools Under-20 League Rugby Tournament will come to an end by next weekend where the respective winners of each segment could be officially announced. – NA
Follow @timesonlinelk
comments powered by

Disqus