Fag smuggling racket masterminded from behind bars: Customs
View(s):

By Chris Kamalendran

Customs officials claim that the mastermind behind the illegal cigarette smuggling racket that was busted last week is a gang leader who is serving time in jail after being convicted of murder. The officials said that the gang leader has been spearheading the operation for the past several months. The racket was busted last Monday when a massive consignment of illegally imported cigarettes from Dubai was detected.

The goods had been declared as furniture but soon after the ship was berthed at the Colombo harbour, Customs officials acting on a tip-off had opened the consignment and detected the cigarettes. Customs Revenue Task Force Chief Mali Piyasena said the operation had been carried out by a well-organized gang making false declarations and escaping detection.

The name and address of the consignee was that of a man in Nattandiya but it was found that he was not a party to the racket. However two other men were arrested, one from Colombo and another from Nattandiya and a fine of Rs.670 million imposed on them.
As the men were unable to pay the fine, they were produced in the Colombo Magistrate's Court and remanded till April 22.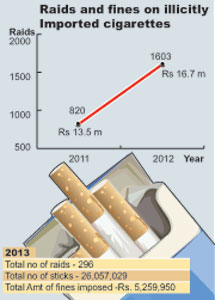 Investigations have revealed since January, 11 million cigarettes have been smuggled into the country thus depriving the State of taxes of more than Rs. 270 million. "Smuggling cigarettes is more profitable than smuggling drugs and the penalties are less. So now cigarette smuggling is becoming regular," the Customs official said.
In 2011, 820 raids had been carried out and more than 76 million cigarettes defected with fines of more than Rs. 13 million imposed. In 2012, 296 raids were carried out and more than 26 million cigarettes detected with fines of more than Rs 5.2 million imposed. So far this year, four raids have been carried out and more than 11 million cigarettes detected.
Cigarettes can be purchased in Dubai for two rupees per cigarette by wholesalers who then can sell it to dealers for Rs. 20 each who in turn can sell it to customers at Rs. 25 each. When cigarettes are imported by a Sri Lankan company, the importing company has to pay Rs. 23 per cigarette as taxes to the State.
Follow @timesonlinelk
comments powered by

Disqus