CFL bulbs: A household friend but a foe of the environment
View(s):

Govt. authorities to implement programme to stop improper disposal 

By Hansani Bandara

The threat of waterways being contaminated by mercury due to improper disposal of CFL bulbs has prompted government authorities to draw up a plan to buy back used CFL bulbs, a senior environment official said. The improper disposal of CFL bulbs is posing an environmental hazard with waterways at risk of mercury contamination, experts warn. This has prompted government authorities to draw up a plan to buy back used CFL blubs, a senior environment official said.

In Sri Lanka, nearly one million Compact Fluorescent Light (CFL) bulbs are used every month and disposed of improperly. The average mercury content of a CFL bulb is three to five milligrams which means that nearly five kilograms of Mercury is introduced into the environment a month, studies have revealed, Asia Recycling (pvt) Ltd Operation Manager B. G. Gunatilaka said.

The danger is that even one milligram of mercury is enough to contaminate 20 acres of lake or sea water resources, he said adding that Asia Recycling (pvt) Ltd is the only plant in South Asia that is involved in seeking a sustainable solution to the problem of mercury pollution.

Central Environmental Authority (CEA) Chairman Wimal Rubasinghe said the rapidly increasing usage of CFLs has prompted the authority to "impose controls" over their usage. He said the Authority, having identified the negative impacts of improper disposal of CFL bulbs and Fluorescent Tube bulbs, will initiate a programme on the proper disposal of these bulbs.

He said these measures could have been taken earlier if not for the war that distracted attention from such issues, curtailing funding in such areas and the lethargy of some policy-making officials.

During discussions held in early March with representatives from the 11 companies engaged in importing/ manufacturing and selling of CFLs locally, the CEA briefed them on the implementation of a proper CFL disposal system. The companies had extended their support to execute the project, Mr. Rubasinghe said.

"CFLs have the most flagrant negative effects due to the heavy metal content in them. With improper dumping, these contents could get mixed up with water resources contaminating the water. Heavy metals could enter the human body when they consume fish and water of that particular water resource," he said.

Mr. Rubasinghe also stressed on the importance of educating the public. He said a system would be put in place to enable the public to hand over used CFLs to authorised agents who will buy them at Rs. 10 a bulb as an incentive. The authorised sales agents too would be paid a certain amount for collecting the bulbs and giving them back to the companies to be recycled.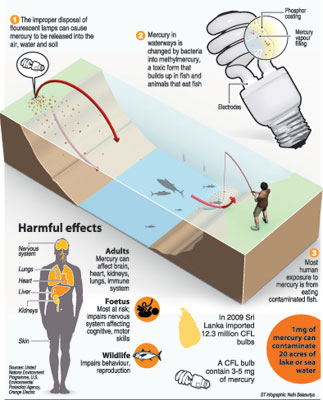 "We will issue public notices with details about the programme. As a first step we hope to educate the public on the hazardous impacts of improper CFL dumping. Then they will be made aware of the programme. The third step will be the execution of the programme," Mr. Rubasinghe said adding that they will carry out an awareness programme through the media beginning May, while the collection proper will start in June.
Sri Lanka Nature Group Chairman Thilak Kariyawasam said that the authorities need to concentrate more on educating the public on the proper usage of CFL bulbs. He believes a law should be passed to urge the manufacturers to carry information in "all the local languages" on the proper disposal of these products.
The use of CFL bulbs has increased rapidly over time given their energy efficiency. According to the Europe Lamp Companies Federation the global sale of CFL bulbs that stood at 3,000 million in 2012 has increased to 3,500 m this year and is expected to exceed 4,000 million by 2015.
Asia Recycling: Showing the way
Asia Recycling (Pvt) Ltd Operations Manager B. G. Gunatilaka said the company was established in 2011 after identifying the need for a sustainable solution to address the issue of mercury pollution, which is now a global threat.
He added that their facility has protected over 13,095 acres of local water resources from contamination through its programme of recycling bulbs. To date 710,000 bulbs have been recycled at the facility in Pitipana. He said about 1750 kg of Tri-phosphate, Phosphate and Mercury had been extracted via recycling.
"We have now embarked on the task of manufacturing recycling machines where we could facilitate the spread of this practice," he said.
Follow @timesonlinelk
comments powered by

Disqus