CoL likely to soar as fuel prices are increased
View(s):

Millions of people faced a further increase in the soaring cost of living after the Government yesterday revised fuel prices, citing financial losses of the Ceylon Petroleum Corporation, increase in world market prices and issues involving fuel storage. Accordingly, the price of diesel has been increased by Rs. 6 a litre and petrol by Rs. 3.
The petrol price is the second in three months after the increase of Rs. 9 in December. The CPC increased diesel prices in February last year, but the Lanka Indian Oil Company increased diesel prices late last year.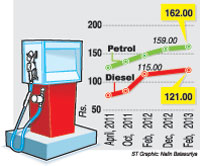 The price of furnace oil used for thermal power production also has been increased with effect from April.Petroleum Industries Minister Anura Priyadharshana Yapa told a news conference yesterday that the world market prices which shot up from US$ 95 to US$ 118 a barrel were one of the reasons for the increase. He said the CPC's loss which had now reached Rs. 89 billion was another reason for the increase.
The minister said the CPC was increasing the diesel price to bring it on par with the LIOC price, as it was the CPC's main competitor. Mr. Yapa said that due to the US sanctions on trading with Iran, Sri Lanka was forced to buy refined fuel and as a result the losses had increased.
He said the increase in the number of vehicles had forced the CPC to import large stocks in a short period, adding to the losses.Yesterday's increase in fuel prices sparked off a chain reaction with transport services and private buses planning to increase their rates. Prices of other items are also likely to go up.
Follow @timesonlinelk
comments powered by

Disqus