Biopiracy on the rise
View(s):

The country's rich biodiversity attracting a new kind of overseas visitor, writes Malaka Rodrigo 

In the space of a week, two attempts by overseas visitors to smuggle out local flora and fauna were foiled. A German national and four Russians were apprehended for collecting indigenous wild plants and animals without a permit. Environmentalists say Sri Lanka's rich and unique biodiversity has been attracting outside interest for some time.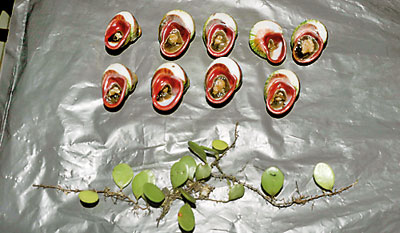 Some of the land snails that were confiscated and the group of Russians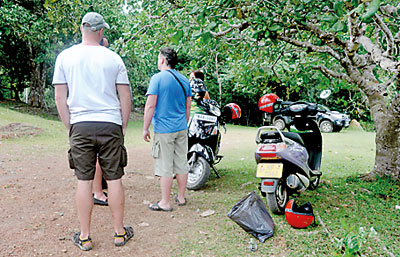 Last Saturday, February 9, members of the Wildlife Conservation Society of Galle (WCSG) spotted four foreigners behaving in a suspicious way in the jungle of Hiyare, in Galle. Hiyare is a nature reserve and a "hotspot" for biodiversity. The Galle nature lovers informed the Hikkaduwa office of the Department of Wildlife Conservation (DWC), which dispatched a team of wildlife officers. The Russians had in their possession an amphibian and a clutch of rare land snails. They were produced in court and fined Rs. 300,000.
The confiscated land snails belong to the Acavus species. Fluid extracted from this snail is used in medication for asthma-related problems, according to WCSG president Madhura de Silva. The Russians could have been collecting the snail species for pharmaceutical research, he said. Tropical countries are a popular target for bio-pirates, said Mr. de Silva, adding that this was not the first time Russians were detected prowling in Hiyare.
Last year, the Wildlife Conservation Society of Galle surprised another group of Russian visitors combing the jungle for biological treasures. By the time wildlife officers arrived on the scene, the Russians had disappeared. The Wildlife Conservation Society traced the Russians to their hotel, but the hotel management would not allow them to search the Russians. It was later revealed that the Russians were looking for Spray Beetles, which eject a toxic chemical to repel natural enemies. This chemical too, Mr. de Silva said, could be useful for pharmaceutical research.
The second case of bio-piracy was reported from Agalawatte, in the Kalutara disctrict. Forest officers accosted a German national collecting rare water plants in the jungle of Runakanda. Some of the plants are indigenous to Sri Lanka. Ingiriya Range Forest Officer H. M. A. B. Herath said the visitor, a scientist, was carrying information about a rare water plant, Cryptocoryne bogneri, or water trumpet. The visitor claimed to be a member of a scientific organisation called the "Cryptocoryne Society of Germany", and that he was collecting material for scientific purposes. It was found that the German had visited the same forest in 2008. He was carrying documents and instruments giving exact GPS locations, PH meters, maps and research papers. Cryptocoryne bogneri is a "critically endangered" plant species, and specimens have been rare in recent years.
Last November, Mr. Herath arrested a Russian couple who were collecting orchids in the Sinharaja rainforest. The visitors had amassed more than 300 orchid plants of 32 species from different parts of the country. The plants included one "critically endangered" species and 11 "endangered species."
The number of arrests of foreigners caught plundering local flora and fauna is on the rise. In addition to the above incidents, there have been other cases this year, including a group of Bangladeshis who were caught with the medicinal plant "walla patta", or Gyrinops walla, which produces an agarwood resin that is used in the manufacture of expensive perfumes, and a team of Hungarians who were chasing butterflies in Sigiriya.
Environmentalists say overseas visitors have different motives for collecting animals and plants. Some are genuine scientists with a passion for knowledge about exotic plants and animals; some are looking for commercial gain; some want to study the specimens and then release them back into the wild; and some hope to skip the trouble of getting permits from the Department of Wildlife Conservation (DWC). Fortunately, there are vigilant local environment lovers who have are bringing bio-pirates to book.
Not all foreigners scouring the countryside for flora and fauna species are bio-pirates. Last year, a group of foreigners was reported to be illegally collecting Horned Lizards in the Knuckles mountain range, but the Sunday Times found that the foreigners were scientists on legitimate research, and had the support of the University of Peradeniya.
Those arrested for wildlife crime usually say they were not aware that they were breaking the law.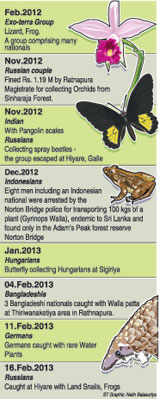 "Every tourist should know to respect a country's laws," says Vipula Wanigasekare of the Sri Lanka Conventions Bureau, a division of Sri Lanka Tourism. "Saying you didn't know the law is no excuse. Brochures to educate tourists on what is legal and not legal are readily available. In general, visitors are respectful of the country and happy to protect what is ours, including our biodiversity."
The Wildlife Department says it will be putting up information boards at the Bandaranaike International Airport spelling out wildlife and environment regulations for the benefit of tourists.
Follow @timesonlinelk
comments powered by

Disqus