Queen of the damned
View(s):

My Dear Sumedha,

I thought I must write to you after hearing that you are one of the most powerful people in the country. Although you are not very famous you are still a minister-in charge of Parliamentary Affairs- but I think your powers go far beyond that. In fact, you may be the most powerful person in the Cabinet, next to Mahinda maama. Why, who else would have the authority to call up the Inspector General of Police and ask him to release suspects who have been arrested on the orders of a Deputy Inspector General?
Not content with that, you have even gone to the extent of having that Deputy Inspector General transferred to another station. Although most people don't know about you and ask 'Sumedha who?' I think you deserve better.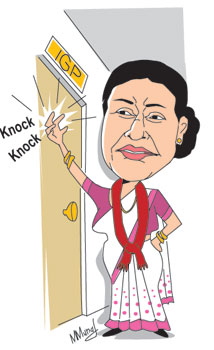 Why, I don't think even Uncle Gota will have the courage to call up the IGP and ask for suspects to be released and then have the DIG who arrested them transferred to a different station. At least, that is what we are told-that there is no political interference in Police work whatsoever! Anyway, Sumedha, what was most interesting about what you did was your explanation. You tell us that you called the IGP and asked for the release of these suspects because 'they did not know that what they were doing was illegal'.
Of course, it later comes to light that they have been convicted for the same offence before. It is also revealed that they were in fact working for you. But I suppose these are minor issues that can be ignored in the greater interests of justice and of course, your great compassion for the accused. Now, I heard some people suggesting that you should resign because of what you did, Sumedha. I totally disagree with that. Instead of resigning, I think we should appreciate the valuable contribution you have made in pointing out the weaknesses of our judicial system.
You have shown us that calling the IGP and asking him to release suspects who have been arrested for a serious offence is in fact not interfering with Police work. Instead, you have demonstrated so well that it is a way of expediting the judicial process. I think, Sumedha, Mahinda maama has not realised your talents which is why he has given you a relatively insignificant subject such as Parliamentary Affairs. Now, with your recent actions you have demonstrated that you deserve a much better position.
I think he should have made you the Minister in charge of the Police or even the Minister of Justice. That way, you could have administered justice in your own special way, and we could have done away with all these complicated legal proceedings.
Just imagine what it would be like if, whenever a suspect is apprehended by the Police, all we have to do is contact you-or any other minister, for that matter- who would request the IGP to release them because they "didn't know what they were doing." It would solve so many problems, wouldn't it? There would be no need for remand prisons, all these court hearings for bail need not take place and justice would be dispensed promptly and our country would become a law-abiding paradise!
And to think that there was all this fuss about removing Supreme Court judges and impeaching people. Who needs the Supreme Court-or any other court for that matter-when you can, in your wisdom decide who is innocent and who is not?
After all, that is now an accepted principle, isn't it? During all that fuss about the impeachment we all accepted that Parliament was supreme (or 'uththareethara', as you like to call it), so why not leave the rest of the judicial process in the hands of these 'uththareethara' people as well? Of course, then not only would you be releasing your own suspects, who were arrested for illegal sand mining, you would also have to release terrorists, armed robbers, drug dealers and even murderers. But then, if they didn't "know what they were doing", you can't blame them, can you?
I suppose, those who will benefit most from your system of justice will be your colleagues in Parliament. And, as a result, I am sure you will become enormously popular among your fellow ministers, because they will all need your help. Why, you can call the IGP and ask him to release Duminda from all his charges, you can also help Mervyn solve his many problems and there are many others like Rishaard, Nishantha, Sarana and even Athauda who will benefit from your intervention.
So, thank you, Sumedha, for showing us this enlightened path to efficient Police work and speedier justice. Come to think of it, maybe they should have appointed you the Chief Justice when that vacancy came up a few days ago!
Yours truly,
Punchi Putha
PS-Now that you have begun this new trend, Sumedha, can you use the same tactics to get all those who are accused of war crimes released from those charges as well? Another telephone call to Ban Ki Moon and Navi Pillay perhaps-and then we won't have to worry about all this nonsense in Geneva!
Follow @timesonlinelk
comments powered by

Disqus