Effective shot base- unseen weapon of Tennis
View(s):

'The most challenging thing in Tennis is to play the simple shots effectively and this is what a player will have to do 90% of the time, to win' – said Spaniard, Antonio Hernandez of the French Open fame. It is a tactical statement and a very tall order.

Winners end the rally and that is only 10% of the game. 90% of the time 'effective-shots' are needed to set-up the winners, but they go unnoticed. This is the biggest secret weapon of the game.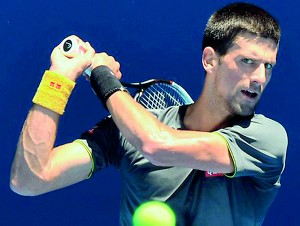 Effective-shots are often mistaken for 'consistency'. They are two different things. Consistency is keeping the ball on the court and to make the opponent play another shot. This is tactically good in the third hour of the match. Michael Chang winning French open title some years ago did this against Ivan Lendl in the finals.
'Effective-shots' What is it?
Effective shots are not the winners but those shots which restrict the opponent's shot-selection to a 'bare minimum'. This restriction placed on the opponent, makes the player's positioning and attacking easy. The use of 'court-geometry' and speed are the secrets behind effective-shots. It is somewhat the same in cricket, if the bowler can restrict the batsman, placing the fielders, is easy.
Novak Djokovic was 'consistent' with his effective-shots to win the last Australian-Open against Andy Murray. Effective-Shots enhanced all his tactics. This shut all openings of Murray in the third and the fourth sets. Murray came up with some effective-shots too. Djokovic's resilience over came those.
Ingredients of 'effective-shots'
The first need for effective-shots is physical capabilities. In a match there could be over 200 rallies and well over 2500 shots. Physical development is a player's responsibility. One cannot depend totally on a physical trainer. The '5-S' system is a good starting guide for physicals. That is addressing Stamina, Strength, Speed, Suppleness and Stability.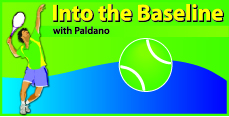 Reaction is the next 'big' challenge. Eyes must track the ball and the mind has to be free of anxieties, if not, reaction suffers. Good stroke making is a product of good reaction. Do not isolate the two. A clear state of mind is of utmost importance for good results. Reaction is a 'neuromuscular' activity and anxiety disturbs this connection. At one stage, during the Australian Open final, Djokovic agitated and 'choked' against Murray. It was anxiety. He managed to get over it well. Reaction begins with the shot selection and it is mental.
Next, is the use of court-geometry and inducing speed into the shots. Once again Djokovic sustained these better in the Australian open. If you are restricting opponent's shot selection, you are effective. Competition is all about this.
How to develop effective-shots
Learning has three stages; Introduction, comprehension and application. Application will show the competencies and this is the report card. When it comes to skill learning, a child or an adult can take maximum of 20 minutes of introduction and comprehension. Then, it is application time of over 40 minutes. Application to consolidate has vanished in our development methods.
20 sets of games a week is necessary to consolidate any aspect in Tennis.
The training base of effective-shots is 'Functional-shot-development work in rally format and match play. Regret to say these are also the missing entities in Sri Lankan and especially in academy training. Training in squads has eliminated this because it is not profitable. This means, effective-shot development methods are eliminated in our training for competition. What is the use of tournament exposure without effective-shots?
Charting' for effectiveness
TV Tennis statistics entertain and captivate. The manual form of this is paper 'charting'. Paper chart gives the players performance profile. If the right chart is used, it can be a good development tool. Chart only match play, nothing else. Charts can be engineered to track any aspect.
Who Charts and why?
The best person to chart would be a good player. However in the absence, any parent or a person with some knowledge of the game could do it. A good player's charting will have better accuracy. In the early stages parents could do it. Why charting? It is realistic and not an opinion. This should tell the reader how critical charting is.
Equipment
For Tennis players, equipment is a fascination. You will become a good player when equipment fascination fades and skills fascinate you. It is a hard truth. With every change of racquet, a player loses two years of build up work. It will take another 200 hours to come back. Good equipment is necessary in modern Tennis. Once you get it do not change. Selection of equipment to suit the player is a vast and vital area. Watch out, it is also a killer that sends many players out of the game. Skills can fascinate you all your life, Equipment not. Good players never change equipment. Then what do you see? Talk to me, I will tell you.
In the mean time, learn to play the game with effective-shots to have a future in Tennis.
georgepaldano@yahoo.com
Follow @timesonlinelk
comments powered by

Disqus