Can we outdo Singapore?
View(s):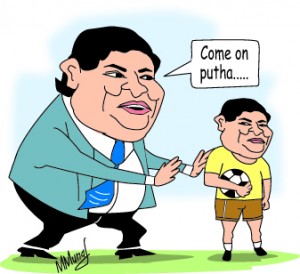 Can we outdo Singapore?
An impressionable young man is doing all the ordering for a major sports event to be held down South in the year 2017. In fact he does all the talking, ordering and planning for the event. Others have only to listen and nod their heads. Forty-five countries are to take part in this event, which is being held for the second time. The first event took place in Singapore in 2010 where Sri Lanka, led by Heshan Unamboowe, participated. A massive amount of money has been set aside for the event. Can we surpass Singapore in this venture?
The wrong gamble
An interesting inter-school cricket game took place in Panadura recently. The visiting team volunteered to bring in the balls for the game and the host team agreed readily. Whether there was a trick in this agreement is not known. However, the home team lost in the first innings, leaving them red faced. It has now been revealed that the home team wanted the visiting team to bring in the balls, which are normally provided by the home team, as the balls that they play with are of low quality and the home side hoped that the balls that the visitors would bring would help them to victory. Anyway it was a wrong gamble.
Not done
In sports it is always the right spirit that matters. A top lady official was beaten to a top spot by her rival. At the end of sessions another lady official ran to condole with the beaten official. Instead of taking the decision in the correct spirit she started lambasting the poor official who was only trying to show her sympathy. Not done! What will the players in the sport think if a top official behaves in this manner?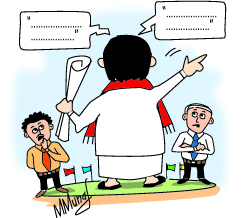 The Junior Boss
There is a Junior Boss who is trying to get into the boots of the Big Boss. The Big Boss of course is backing the issue wholeheartedly. The Big Boss has made a name for himself in the Asian as well as world scene and knows the power that can be wielded in the scenario. So why not let the youngster also enjoy the power and money that he enjoyed in this game.
Not done Sirs!
A top cricketer went with some friends to a well-known leisure spot in Dehiwela to spend some time with his friends. He parked his car in the parking lot provided by the hotel and went inside to enjoy himself with his friends. Late in the night when he returned to his vehicle he was shocked to see that his side window had been smashed and some valuables had been stolen. When he asked the security about it, they said that they knew nothing about it! Could this be the way that security personnel at this hotel behave? Not done Sirs!
Follow @timesonlinelk
comments powered by

Disqus