People and events
View(s):

Kumar Sangakkara lends his signature support

By Tharooshie Mahahewage

Kumar Sangakkara signed copies of the book, "Happy? – Expressions of Mental Well-Being", at the Crescat Mall recently, lending his support to the mental health effort.
The book is a livelihood project between Halfway Home Mulleriyawa and Amba Tea Estate. The fundraiser event was organised by the National Institute of Mental Health and the volunteers of Voluntary Services Overseas (VSO).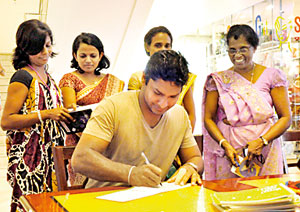 "The project began when two volunteers of VSO wanted to launch a fund raising project," says Shaun Humphries, a VSO volunteer. "As one of them is the owner of a tea factory, Amba Tea Estate, they came up with the idea of selling tea bags. The tea bags are made by the inmates of the Mulleriyawa Institute. Then last year, these patients of the institute met the women of the factory. Though they were anxious at first, they became best of friends."
All proceeds from the sale of the book will be reinvested into further livelihood/income generation projects for the residents of Mulleriyawa.  Mr. Sangakkara has been involved with mental health projects for the past five years and has been a part of this project since its inception one and a half years ago. He is also the brand ambassador for the Courage Compassion and Commitment Foundation (CCC) which provides counselling support.
"Not enough attention is given to mental wellbeing in Sri Lanka, especially amongst children in the post-conflict and tsunami areas," he said. "We have a dedicated staff but we could still use more. We need more financial or any other support. Mental wellbeing is a crucial aspect that needs more attention from society. They need not only care but also support. We have to take away the social stigma attached to mental health as that itself is the biggest obstacle we face," he added.
Ballet and modern dance at "Salamba 2"
The Salamba Performing Arts Centre presents "Salamba 2", a dance and ballet show on February 23 and 24 at the Lionel Wendt Theatre Colombo from 6.30 p.m. "Salamba-1″ was held successfully in 2007 and this year the show sees the participation of about 40 students.
Directed by Isuru Weerasinghe and Geethani Warnapura, a variety of dance items and the children's ballet "Pinocchio" will be performed by the students of their dancing school on February 23.
February 24 will be a day of cultural and modern performances by the couple together with other talented artists who will stage their award winning ballet "Swetha Hansa". "Swetha Hansa" their entry for the adult short ballet competition in the National Ballet Festival 2011, at Janakala Kendraya won several awards – Best Ballet of the Year, Best choreography, Best stage sets, Best female ballet artist as well as a merit award for lighting.
Another item "Maha Deva" sees many veteran dancers joining Isuru and Geethani in this ballet of God Shiva.  Isuru was a student and an instructor at the Chitrasena School of Dance for ten years. His wife, Geethani gained invaluable experience as a student, dancer and an instructor under the guidance of Mrs. Visha De Silva.
"We were fortunate to have been guided by Guru Piyasara Shilpadipathi during our university years and later on to be students and artists of the dance ensemble led by Guru Ravibandu Vidayapthi. At present, both of us are teachers at National Schools in Colombo," said Isuru.  Tickets are priced at Rs. 200, 300, 500 and 800 will be available at the theatre from February 18.
Jamboree marks 100 years of scouting at Dharmaraja
The 1st Kandy Dharmaraja Scout Group and Old Rajans Scout Association of Dharmaraja College, Kandy will hold the 'RISGO-2013', Rajans International Scout Gathering of Centennial 2013, on February 18-22 at the Lakeview Park International Scout Centre.
This largest ever scout jamboree in Sri Lanka to commemorate the 100 years of Scouting at Dharmaraja College, Kandy will be held with the assistance of the Sri Lanka Scout Association and the Kandy District Branch Scout Association.
Tamil translation of Martin Wickramasinghe's novel
The ceremonial launching of the book titled "Engal Kiramam", a Martin Wickramasinghe novel translated from Sinhala to Tamil by Ira Shadagopan, Chief Editor, Sugavalvu and Attorney-at-law, will take place at 4.30 p.m. today, February 17, at the Colombo Tamil Sangam Hall, No. 7, 57th Lane, off Rudra Mawatha, Colombo 6.
The chief guest will be Prof. S. Sandrasegaran and the guest speakers Thimbiriyagama Bandara, K. Shanmugalingam and Prof. Saba Jeyerasa.
Inaugural Prof. H.V.J. Fernando Memorial Oration
The inaugural Prof. H.V.J. Fernando Memorial Oration will be delivered by Prof. Ravindra Fernando at the 11th Annual Academic Sessions of the College of Forensic Pathologists of Sri Lanka on February 23 at the Lionel Memorial Auditorium of the Sri Lanka Medical Association, No.6, Wijerama Mawatha, Colombo 7.
Prof. Fernando who is Head and Senior Professor of Forensic Medicine and Toxicology, University of Colombo, will speak on 'The Concept of Grievous Hurt in the Penal Code of Sri Lanka'.  The Chief Guest will be former Attorney General C.R. de Silva P.C. and the Guest-of-Honour Health Ministry Secretary Dr. Nihal Jayathilaka.
AGM of St. Anne's College, Kurunegala Colombo Union
The 30th annual general meeting of St. Anne's College, Kurunegala Colombo Union will be held on Saturday, February 23 at 7 p.m. at the Taj Samudra hotel, Colombo 3. For reservations, please call Bandula Weerasekera on 0777356840, R. Marasinghe on 0777592285 or Kalinga de Silva on 0771068275.
Appeal for student with Multiple Sclerosis
A.H.G Chamica, 21, who is a student of the Sri Jayewardenepura University's Management Studies Faculty is suffering from Relapsing/Remitting Multiple Sclerosis.
This disease has to be treated with Beta Interferon Therapy over two years and would cost around Rs. 3 million.
Chamica's father is a SWIFT machine operator at the MCB bank while her mother is unemployed. The money for the first year of treatment has been procured with great difficulty with help from the bank as well as her colleagues at university. The family however lacks the wherewithal to collect the balance Rs. 1 million and appeals to generous donors.
Donations may be sent to Account No. 001101007120 at the Main Branch of the MCB Bank Ltd., in the name of A. Nimal and A.H.G Chamica.
Applications open for MDP at University of Peradeniya
Applications are being called for the two-year Master of Development Practice (MDP) offered by the University of Peradeniya and should be submitted to reach the Assistant Registrar, Faculty of Arts, University of Peradeniya, Peradeniya 20400 by February 28.
Instructions for obtaining and completing application forms are available on the MDP website www.pdn.ac.lk/arts/econ/mdp
This two-year graduate-level global multi-disciplinary programme is geared toward equipping development professionals with the knowledge, skills and attitudes necessary to address today's complex development challenges. The global MDP programme which began in 2009 at Columbia University in New York with 23 students now reaches out to over 1200 participants from 24 universities in 17 countries. The University of Peradeniya is the only university in Sri Lanka and one of only five in Asia selected to offer the MDP programme.
The MDP begins in May 2013 with a 12-week pre-MDP programme which includes language skills courses in English, Sinhala and Tamil as well as introductory/refresher courses in Statistics, Mathematics, Economics and Natural Sciences.
The core programme features a four-semester long cross-disciplinary curriculum designed and taught by Ph.D. qualified lecturers from across the Faculties of Arts, Agriculture, Engineering, Science and Medicine of the University of Peradeniya and other universities and institutions in Sri Lanka and overseas. All lectures are held on weekends. After a full academic year students follow a three-month "field training" internship at a public, private or non-governmental organisation.
The eligibility requirement is a basic degree or equivalent in Social Sciences/Natural Sciences/Health Sciences/Agriculture/Management/Engineering or Law or a Diploma with five years' experience. International students with similar qualifications are also encouraged to apply.
Lanka Alzheimer's Foundation scrabble bash 
'Scrabble Bash 2013' on Saturday, February 23, one of the many annual fund raisers organised by the Lanka Alzheimer's Foundation gives seniors and those interested in playing Scrabble. a fun day out.
The competition commences at 9 a.m. and ends at 4 p.m. with the prize giving. Generous donors sponsor teams and individuals who compete for the Winners and Runner-up trophies. Lunch, sponsored by Flower Drum and refreshments sponsored by Cargills PLC and the Cake Factory are provided for the participants and volunteers.
Last year for the first time, the tournament was held at the Lanka Alzheimer's Foundation, where a record number of enthusiastic players participated in two categories – Veterans and Amateurs. This year, a trophy in each category donated courtesy of Kent Gallery is theirs to keep, while the names of the winners and runners up are engraved on the main trophy that is displayed at the Foundation! Many other prizes are also up for grabs.
Moderator Shaila Amalean, a long standing friend of the Foundation and a National Scrabble player for Sri Lanka plays a key role in facilitating the tournament, ably assisted by Anushika Kuruppu. This year too, the Scrabble Tournament is being held at the Foundation's Service Centre at 110, Ketawalamulla Lane in Maradana.
Those interested, could call 2667080 for registration. The Foundation is happy to sponsor any interested player, so call soon.
Follow @timesonlinelk
comments powered by

Disqus