Does it still hold pride of place?
View(s):

25 years after her first read of Jane Austen's Pride and Prejudice, Chandani Kirinde picks up the book again in this the 200th year of its publication

"It is a truth universally acknowledged that a single man in possession of a good fortune must be in want of a wife." Can anyone who has had the pleasure of reading one of Jane Austen's best loved novels, Pride and Prejudice, forget those memorable opening lines? There is something about the first lines of a book that fascinates me. It often makes the difference between whether I decide to dissect every sentence written or settle for a quick read through the pages. But readers of Austen's novels will know that there is so much of wit, humour, tradition, culture and romance woven into her tales that settling for anything less than a close scrutiny of each sentence would be most unfulfilling.

Millions of copies of Pride and Prejudice have been sold worldwide. It has been translated into a multitude of languages and stage plays, television serials and movies have given a human face to its much loved characters. Two centuries later, the overkill has not made the story lose any of its appeal.

I decided to re-read Pride and Prejudice recently after a friend alerted me via SMS (Yes Ms. Austen, that is how word gets around these days) that the 200th year of publication of her novel was being celebrated this year. I first read Pride and Prejudice more than 25 years ago but between then and now, while life has taken a toll on my nerves and I've mellowed somewhat, Jane Austen's characters continue to sparkle.

This time around I took a more critical view of the book and by the end of it realised that I have somewhat outgrown my belief in undying romance and 'happily ever after' but human emotions, weaknesses and prejudices that are so well illustrated by Austen through her characters are very real and contemporary and these I understand much better now.

Jane Austen had begun writing Pride and Prejudice around 1796. It was titled "First Impressions" and once completed it was sent to a publisher around 1797 but was rejected. It was nearly 16 years later that the book was accepted for publication when it was re-submitted under the name, 'Pride and Prejudice'. Its publication came two years after Austen achieved literary success with Sense and Sensibility, published in October 1811.

The first edition cover of Pride and Prejudice does not contain the author's name. It states, "Pride and Prejudice, a Novel, in three volumes by the author of Sense and Sensibility". In fact none of her books had been published under her name while she was alive. The identity of the author was revealed in her two novels published posthumously, namely Northanger Abbey and Persuasion in which her brother Henry Austen formally acknowledged her authorship.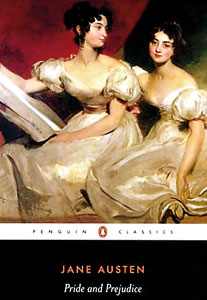 Pride and Prejudice follows the fortunes of the Bennet family. It is Elizabeth Bennet and her arduous path to finding love with the proud and handsome Mr. (Fitzwilliam) Darcy that is the cornerstone of the book but it is also a journey into what life was in 18th Century England where formalities, manners, morality and class differences were a pronounced feature in society. The matriarch of the family Mrs.Bennet has only one ambition in life- that of finding rich husbands for her five daughters. But making headway is not easy with her indifferent husband Mr. Bennet who'd rather spend time reading in his library than look for eligible suitors for their daughters.
It's Austen's wit that comes into play through her characters where she turns conversation between them into the most memorable lines. Starting with the first chapter when Mrs. Bennet tries to persuade her husband to pay a courtesy call on an eligible young man who has moved into the neighbourhood, a reader is treated to the most delightful coining of words. "You have no compassion for my poor nerves," Mrs. Bennett laments. Not so, says Mr. Bennet. "I have a high respect for your nerves. They are my old friends. I have heard you mention them with consideration these twenty years at least.'
Marriage plays an important role in the book with most young girls eager to settle down before they turn twenty, where courting is an intricate exercise, where emotions have to be expressed subtlty and where acceptance by society matters a great deal.
By the end of the book, three of the Bennet girls are well settled. Pride and Prejudice ends on a happy note with Elizabeth and Mr. Darcy overcoming their pride and prejudices to unite in marriage and her sister Jane finding happiness with the affable Mr. Bingley. The younger girl Lydia does things the unconventional way by eloping with the handsome but somewhat deceitful Wickham. All this leaves Mrs. Bennet content by the end of the book but not any wiser than when it began.
Elizabeth Bennet stands out as the real star of the book because of her refusal to be the simple minded country girl, instead emerging as a strong-willed and intelligent young woman, the favourite of her father and also of the author. Paula Byrne who authored a recent book titled The Real Jane Austen reveals how fascinated Austen was by Elizabeth's character. "I must confess that I think her as delightful a creature as ever appeared in print, and how I shall be able to tolerate those who do not like her at least, I do not know," Austen had told her family members soon after Pride and Prejudice appeared in print. Re- reading Pride and Prejudice, I could not help comparing it to a fairy tale that ends with "and they lived happily ever after."
But saying that would-be oversimplifying the work of one of the most widely read and loved authors the world has known. On the official website of Jane Austen's House Museum, 2013 is being celebrated in honour of the "book the nation can't live without." I'd like to go a step further and say, "it is a truth universally acknowledged "that Pride and Prejudice has become the book that the world can't live without."
Follow @timesonlinelk
comments powered by

Disqus