Appreciations
View(s):

Gifted, modest teacher who brought out the music in us

Seetha Hallock

God gave me a wonderful gift at birth – and then guided my parents to Mrs. Hallock to nurture it. Few would know that Mrs. Hallock was not my first piano teacher. Being only 5 years, I was sent to a lady down the road, although my older sister was taking lessons under Mrs Hallock. I passed my first piano exam by just one mark, and was promptly hauled away and enrolled under Mrs. Hallock the very next day. That is why it is clear to me, as to who nurtured my talent.

Piano lessons under Mrs. Hallock were different- exam pieces were learnt and put away for months, while a new piece or movement had to be learnt for every lesson, and perfected over several weeks to increase our repertoire and to appreciate different styles of music. She would scour old magazines of The Music Teacher to get a snippet about any piece we were playing. When exam results came, she was more pleased by the comments written by the examiner, than by the mark obtained.

There were two Seethas down Lauries Road Bambalapitiya – the first lane on the right had Seetha Joseph, and the second lane on the right had Seetha Hallock. When I showed an increasing talent in music, there was a lot of pressure on my parents to change teachers- to get a performer to teach me and not simply a piano teacher. I am glad my parents stuck to Mrs. Hallock, because in retrospect, I feel it is the values and personality of one's mentor that are more important than the results they can produce. In any case, Mrs. Hallock herself was so humble that she always used to take me to play to Seetha Joseph and get some feedback from her, before an examination or public performance. It's rare for people to accept their limitations and openly consult someone else for the good of the person they are teaching.

I admired her commitment as an organist at the Kollupitiya Methodist Church (KMC). Together with Mala Chellappa, they would be rostered to play at all the weddings, including a rehearsal as well. Even though piano lessons were her source of income, she would reschedule the last lesson to attend the rehearsal on time. KMC was also the setting in which the love of singing brought a Tenor and Alto voice in the church choir to harmonize together 59 years ago; something that Mr. and Mrs. Hallock continued for many decades, both in the church choir and as members of the Philharmonic choir.

I thank God for her life and I thank God for the music she made, and left in me as a legacy.

Shanthi Dias (nee Thambar)

Virtues of a rare and exemplary police officer

Clement Alles

Little did I realise when I went for Uncle Clement's 100th Birthday on December 6 that he would pass away two months later. I remember Uncle Clement from the late 1930s. During the Christmases of that period, we were duty bound to visit all our close relatives. Aunty Lavine was first on our list. "Laurentum" Ward Place was a mansion remembered with awe. Uncles Reggie, Stannie, Christie, Clement, Mike and Aunty Celia all come to mind. I recollect their Bandarawela House and the enjoyable visits made, when my father was the District Medical Officer.

Uncle Clement was a great friend of my father. He was also his first cousin. They served in rural areas with basic amenities. Uncle Clement till his demise was the oldest living old boy of St. Aloysius, Galle and I am certain of St. Joseph's College, Colombo as well. He was an all round sportsman, excelling in soccer, athletics, cricket and tennis. After a creditable pass in the London Matriculation, he joined the police force in 1937. He served with distinction and honour till his retirement in 1972. He won the Gallantry, Defence and Coronation Medals. After 20 years of service with unblemished record, he was awarded a rare medal which only a few Police Officers received. It was also difficult to find a police officer of the calibre of Uncle Clement. He was modest and never ran after honours or promotions. Suffice to say, he was an officer and a gentleman, with those rare qualities of integrity and compassion.

He was also the last surviving grandson of Chevalier William Abeyesundere of Galle and is a product of two renowned families, the Abeyesunderes and the Alleses.
Uncle Clement was a family man. He and his wife Janette were a loving couple. His children Marie, an internationally renowned painter and Freddie, an accountant, successful businessman and car enthusiast are famous in their own right. Uncle Clement had seven grandchildren and seven great-grandchildren. Needless to say they were and are all devoted to him.

His historical anecdotes included incidents that occurred in World War 11; days leading to our Independence in 1948 and thereafter. He was modest about his achievements and bravery during the riots and emergencies of 1958 and 1971. Reading between the lines, it was easy to visualise his leadership and bravery when he and his forces were confronted.

What further amazed me about Uncle Clement was his phenomenal memory. His letters of appreciation were written so well, interspersed with appropriate Latin quotations. What a beautiful fist he had! He was a devout Christian. He said he owed all that he was to the Almighty.

What an example he was to his family, friends, his co-workers and past superiors. I am sure Uncle Clement was received at the Heavenly Gate with due pomp and ceremony.

Nihal Abeyesundere

No whirlwind romance but a learning journey together

E. G .K. De Silva

He was my husband and I lost him a year ago. We were married for 53 years and he was my best friend. I feel his loss with the keenness of a biting wind. In this tribute to him, I am not going to say how good he was or how kind he was; but how we built up a happy marriage out of almost nothing.

Ours was an arranged marriage. When I first met him I only saw a personable young man with a guileless face. My parents saw to the rest. The horoscopes matched, he was a teetotaller and a non smoker, he had a job, (he was a teacher) and the means to run a family, and he came from a so called "good family". What made me agree to this marriage I still don't know. This was the first man who came to "see" me; and I remember telling my mother that I would not parade for anyone again. If they wanted to "see" me, they could do so at a public place like a post office.

I was one of those incorrigible romantics who believed that love should come like a whirlwind twisting and winding everything to its will. Nothing of the sort happened to me; but we were married three months after we saw each other. When I married him I hardly knew him. It was certainly a leap in the dark, but the darkness itself was like a comfortable blanket wrapping itself around me. I was not afraid of the dark.

We began our lives together. We discovered that there were many things we agreed upon, and many more that we did not see eye to eye. We compromised. After marriage we went to live with his parents. Another leap in the dark. If I knew very little about my husband, I knew even less about his family. I met my mother-in-law for the first time when I was taken to my husband's home after marriage; for the southern custom of that day was that the mother didn't come to her son's wedding. She stayed at home to welcome his bride as she entered her home. So that was the first time she and I saw each other. I never had a cross word with her while I lived in her house. She knew the gentle art of restraining my exuberances. I think she passed on this wisdom to her son, my husband.

Having grown up on the banks of the Bolgoda Lake, I loved to swim. Symbolically, the transition from Panadura to Hikkaduwa was like being thrown out of the river and into the sea. In reality, here was the ocean in all its glory just behind my husband's home. My first thought was to jump into the ocean soon after the formalities were over for I felt so cramped and cribbed in all my bridal finery and fancy hair style. I told my husband, "let's go for a swim."

He was horrified. Respectable southern women did not go swimming in the sea, certainly not after two days of marriage! He told me that I would have the whole village gaping at me if I tried it. I gave up the wish, and never swam in the sea until we left Hikkaduwa two years later. Instead I took sedate walks along that beautiful beach. I enjoyed it just as much, with the ocean tickling my feet, the breeze soothing my senses and the sunsets blazing into my eyes. Fifty four years ago Hikkaduwa was not the tourist paradise it is today.

I think this was the success of our marriage of 53 years. My husband and I were different in many ways, but we learnt to respect each other's views. Love came to us like a gentle breeze, which circled around us enclosing us in its warm embrace. We learnt to live and let live. He never tried to curb my enthusiasms. We were close, but we also had space to develop our own personalities. I never even took his name, for very special reasons, but that did not mean I was any less his wife and close companion.

Today I miss him very much. There is an emptiness that may be difficult to understand, unless you've been through it yourself. I gave up all my activities to be with him during the last three years of his life, when he needed me most. This is what marriage is all about; to be there for each other during the good times and bad. He became so feeble that I called him my baby. I'm so glad that I was able to care for him just as much as I cared for the five babies we had together.

May his journey in sansara be peaceful and happy. Who knows, maybe we'll meet again as we did in this life time- out of the blues.

Usula P. Wijesuriya

Gedara Budun Amma, what sacrifices you made for us

GEETHA NIMAL DE SILVA

To my very precious Gedara Budun Amma:

It is with great sadness that I pen these words in memory of our dear Mother. Your death on November 10, 2012 has left a big void in our hearts. You were such a dear Mother in every sense. You sacrificed your entire life to bringing up three young children, due the untimely death of Thaaththa. Coincidentally, you passed away on the same day Thaatha died, 31 years ago. I never quite understood what really happened until a few years had passed, that Thaaththa was never going to return. That was how young I was.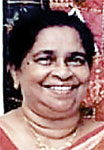 If I were to pen down the sacrifices you made to bring up the three of us and make us who we are today, this appreciation would go on and on.  To all who knew you, you were a much respected, sincere, well-educated and cultured personality, somebody to look up to. And you were loved by all. Your knowledge and practice of Buddhism was immense, and your generosity towards the less privileged extended beyond boundaries.
To the three of us, Amma, you were and always will be Gedara Budun. We were blessed to spend quality time with you. You taught us to make honesty, sincerity and simplicity our core values. The three of us are so blessed to have been nurtured by you.
Until we meet in Sansara, we will continue to do good to society in your memory. May you attain the Supreme Bliss of Nibbana. - Dilrukshi
Mindful of the needy and a perfectionist in whatever she undertook
NIRMALA DE SILVA
We never dreamt we would be writing these words about you. You were too young to leave us.  The fourth of five children born to a Christian family, Nirmala studied at the Holy Family Convent, Bambalapitiya. She joined Nestlé in 1989 and was a Senior Manager, attached to Finance and Control, when Jesus called her to her eternal rest on October 20, 2012. Her Nestlé friends and colleagues knew her as Nirmala, while her schoolmates and others called her Sudharshini.
Nirmala, you considered Nestlé your 2nd home. You were not only a dear friend to us, but an asset to Nestlé. Your life reflected the principle that whatever one does should be done well. You were completely trustworthy. It was amazing how you did not allow friendship to affect your professional life. We greatly miss your inspiration and your resonant laughter.
You were mindful of the needy and never stopped doing what you could to make a difference in their lives. Our lives are measured by our good deeds. You achieved your mission and vision with courage and determination in your 48 years in this world. You battled for 21 months with your mother's sickness, neglecting your own. You texted us at 5.47 in the morning, "My Ammi went to be with Jesus just a while ago." We will remember you as a true friend and a daughter who looked after her mother tirelessly and with great love.
Quoted below is a part of your e-mail, sent a month before you departed, to prove your unshaken faith:
"I truly believe that Jesus has already healed me in the spiritual realms and it's a matter of time for it to manifest in the earthly (in my body), and so I take just one day at a time, trusting Him with everything. I know the learning and the experience I gained in taking care of Ammi, Jesus will use for His glory as I submit myself to Him to do as He wills.".
We know you are with Jesus.
Sam Jeyaselvan, Chandrika Warnasooriya, Niloofer Samarawickrama
A relentless fighter, strategist and humanist
Lionel Karunasena
At times on foot or cycling he emerged in Kandakudichchi Aru followed by several cyclists. It was none other than DIG Lionel Karunasena, the commandant of the STF. He traversed through the thick jungles tirelessly when the heinous LTTE roamed the area. The DIG entered the camp with ease. It was unbelievable but it happened during the peak of the fighting.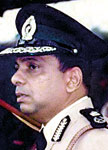 DIG Rahubadda Kankanamalage Lionel Karunasena's untimely death occurred 13 years ago while in active service. He was born in the gem city of Ratnapura. His parents Mr. R.K. Babysingho and Mrs. W.V. Warusavithana may have never thought he would aspire to be such a gallant fighter in years to come. Lionel was their youngest son born on January 2,1945.
As a child he entered the Seevali Vidyalaya in Ratnapura and was a bright student who excelled in sports. His favourite event was hop step and jump and he became first on many occasions. Lionel Karunasena established a new Ceylon record in long jump on in 1964 and it remained unbroken till 1989. He was the national champion in long jump from 1965 to 1968. He represented Sri Lanka at the Asian Games in Bangkok in 1966.
From his very young days Lionel's ambition was to join the police service and to do his utmost for the motherland. He realised his ambition when he joined the police as a sub inspector on June 26, 1967. He shone in his service and was promoted to the rank of Inspector In 1973. Amidst his duties he continued his sports.
Lionel married Chitra Wijesuriya and was blessed with a daughter and son. Though he was a devoted husband and father he stayed away from home even during the New Year festival time. He planned his strategies and guided his fellow men in the battle field, was mindful of the wellbeing of his subordinates and always encouraged them. He was loved by everybody.
He was promoted to the rank of ASP in 1982 and joined the STF as a member of its first batch. In salutation to his tireless service Lionel Karunasena was made a SP, SSP and finally a DIG in 1993. He was a keen reader and read on guerilla warfare to fight the LTTE and planned his strategies in advance. He served the STF with an unblemished record for over 13 years as its commandant and returned to the police service in 1996 causing an irreparable loss to the STF. He was then called to serve in the Wanni region. His main task was to work in corroboration with the army.
DIG Karunasena led his fellow men with vigour to achieve the set targets. The welfare of those with whom he worked was always in his heart. He suffered a heart attack which caused his sudden death on 21.01. 2000, while in service. His untimely death was a great loss to his wife and two children. A relentless fighter, strategist and humanist of high order was lost to the nation with his demise.
S. N. Gunaratne
Follow @timesonlinelk
comments powered by

Disqus