Of meteors and mosquito killers
View(s):

"All things bright and beautiful, all creatures great and small." This couplet from a rather naïve and sentimental hymn has been echoing in my head since the other night. On that occasion, your scribe and his spouse of some thirteen summers were spending a trite enough Sabbath evening, pleasantly exchanging ruminations about the week that was and swatting mosquitoes as a pastime.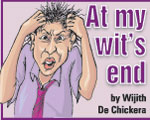 As flies to wanton boys were these vicious wingéd menaces to us – we potted them for sport, our health, and everyone else's general well-being. While we idly speculated that a heaven for mozzies and a hell for human beings could be nicely combined by a judicious deity, a strange thing happened. An unspecified insect looking remarkably like a moz in drag alighted on the periphery of our happy hunting grounds and invited us to make it a sharp, short, swift part of our killing spree.
My able-bodied helpmeet had a purposeful glint in her eye as she saw the creature perch itself for the duration of our pleasantries. It was a moment's work for this tough-minded philosopher to bring down her arm with a firm thwack and an exultant gotcha. And the battery-operated meshed-racket that passes for a mosquito-terminator in our domestic setup would have made short shrift of the impudent trespasser. But being a more tender-minded monster I paused briefly as the execution equipment hovered over the hapless fiend. (The insect, not my wife.) I am glad I did. A closer inspection revealed that this was neither Anopheles nor Aedes aegyptii. In fact it was not a member of the family of small midge-like flies (Spanish: mosca, 'fly'; and ito, 'little') that pass by the uncommon moniker Culicidae. It was some unidentified flying object that had wandered innocently into the battleground against dengue and malaria.
Need I reassure you that we did not terminate it? On the contrary, the near miss ruined our assassination attempts on Anopheles, et al. We were quite put out by the possibility that we may well have mistakenly consigned this masquerader into outer darkness. There, we know, are much weeping and wailing, and eke gnashing of dentures. Having lived to regret our rashness, we called our vendetta a night; and turned in – to troubled dreams of Sheols filled with mosquitoes wielding giant guillotines over agonised specimens of Homo sapiens who looked disconcertingly like my s. of a d. summers and self…
Trust you would have made it this far (congratulations!) and realise by now that my piece has a point (careful?). It is this. Like that intruder, we are all alone in the night. Surrounded by swarms of planets, meteors, asteroids, and other space debris (much of it in the atmosphere, man-made), we are under threat of extinction every other moment in which some careless comet swoops down towards the sun from the far icy reaches of the solar system. Some of these visitors, like Comet Pan-STARRS, due in March, will lighten the night sky no end with its blooming tail. Later, in the winter of 2013, Comet Ison will blaze a more incandescent trail across the December nightscape, reminding star-gazers of another heavenly herald over a little town, over two millennia ago.
These are harbingers of hope to humanity and happiness to human beings who see their destiny writ large across earth's night skies. But doom and sudden death are often only a celestial hairsbreadth away. As it will be, in mid February, when Asteroid 2012-DA14 brushes past our planet in a breathtakingly near miss of 27,000 kilometres! Combine that spine-tingling proximity with our rocky interloper's velocity of 29,000 kilometres per hour and you have a cosmic cataclysm that's just waiting to happen. Plus this is hardly the first near miss this or last year, or even past decade. An apocalyptic kiss with a passing comet or meteor is a consummation of humanity's romance with the stars that's hardly to be desired. Is it now, dears?
I think the dangers of this particular space projectile causing a Deep Impact or Armageddon-like end to life on the third rock from the sun are highly exaggerated. No American mining company would be planning to prospect rare minerals on this passing rock, as they mind-bogglingly are, if there was the remotest threat to Planet Earth. Point is, though, that life here is precious, fragile, and transient. We need not wait for a spot-on, ineluctable Deus-ex-machina from the Oort Cloud or Kuiper Belt to threaten to pulverise us into eternity before we learn to be human; make the most and best of life; and leave a trail of joy, love, and peace rather than hate or destruction in humanity's wake…
Some say the world will end in fire,
Some say in ice.
From what I've tasted of desire
I hold with those who favour fire.
But if it had to perish twice,
I think I know enough of hate
To say that for destruction ice
Is also great
And would suffice!
– Robert Frost
So, in the spirit of the poet, seize the day to change your own and someone else's destiny. (And if the Public Health Inspectors change their minds about going ahead with National Mosquito Eradication Week after all, despite their many demands not being met, it might make my day and yours, dears!)
Follow @timesonlinelk
comments powered by

Disqus