Master of Batik goes abstract in 99th exhibition
View(s):

By Duvindi Illankoon

Eric Suriyasena was in Batik long before it became fashionable in the island. His brand Eric Suriyasena Batiks was created in 1964 and his batik journey is one that has been documented by many. As he unveils his newest exhibition 'Melted Expressions of Colour' on February 15, he has many stories to share about his long career.

This is Suriyasena's 99th batik exhibition. Out of these, a staggering 93 have been international ones but nothing is sweeter than being on home turf with what he loves best. "As a senior citizen," he laughs. "I want to do everything I can to keep this industry afloat. Batik can do wonders-even if you produce a 1000 pieces of the same design no two pieces would ever be the same. It's a one of a kind art form and that's why I've been hooked for almost 50 years!"

The young Suriyasena however, was more interested in capturing the world from behind a lens. After schooldays at St. Benedict's College and St. Sebastian's College he attended the School of Fine Arts in London, and returned to Sri Lanka as a photographer with Studio Times. The foray into batik was 'sort of accidental'.

"I had many friends from all over the world," he smiles. "I wanted to send them personalised gifts. I thought why not learn something while I'm at it and I travelled to Indonesia to learn the art of batik, which I had always been curious about." That visit proved to be a literal eye-opener for Suriyasena, who was entranced by the intricate working behind the creation of a batik garment.

Back home he rented a cottage in his hometown of Marawila and set up his batik business, initially with five girls. "What I soon realised was that batik was not something many knew about. There was no market for it in Sri Lanka." Luckily, tourism boomed and with it batik too, and Suriyasena became the darling of the country's art circles, jetting to Rome, Paris and Scandinavia for exhibitions and business deals. "I was travelling the world more days of the year than I was at home!" he laughs. Starting from 1968, he held four consecutive batik exhibitions at the Lionel Wendt.

Before he knew it, he was employing over 300 people in two factories. "I was asked to design a saree for Prime Minister Sirimavo Bandaranaike for the Non-Aligned Movement Summit in 1976," he recalls. "She wore it for the conference and the next thing I knew the Heads of State had travelled down to Marawila to buy gifts for their wives and families."

In the 80's, however, things changed. With the war tourism sank, leaving Suriyasena and his staff with very little to do. "My one thought was to keep the industry going." Easier said than done, however, and Suriyasena found himself turning to horticulture to keep his people employed. However by the late 90's he was back on track again.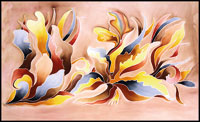 This new exhibition is an effort to introduce batik as something more than a sarong or a cushion cover. "Batik is so stale in Sri Lanka," he laments. "It doesn't evolve. People don't see it as something that can be beautiful for beauty's sake. It's an art form, and with this exhibition I hope to instil in our mindsets that you can also make art with batik."
'Melted Expressions of Colour' is abstract and modern art, he enthuses, adding that the techniques used in producing the batik pieces for this exhibition are more of an experiment and very eco-friendly.
'Melted Expressions of Colour', an exhibition of Batik art by Eric Suriyasena will be held on February 16 and 17 from 10.30 a.m.- 7 p.m. at the Harold Pieris Gallery of the Lionel Wendt.
Follow @timesonlinelk
comments powered by

Disqus