"Dear Family Fernando…"
View(s):

Dr. Carmeline Fernando recalls a bond that grew from letter writing between two families across the seas

"Look at all these letters from Sweden !"

It was 1970. I was a teenager attending school at Kalutara. My name had been published in a Swedish newspaper requesting pen pals, and I received several letters. Browsing through these, I chose two pen pals of my own age. Meanwhile, Mother, who had no scruples whatsoever about reading her daughter's letters, glanced through them all and picked one up.

"Why don't you write to these people?" she asked.
It was from Gunilla and Hans Johansson, a Swedish couple who planned to visit Sri Lanka soon.
"Mother! They're ancient!" I replied.

To me, a teenager, they did seem ancient – in their late twenties and married. But Mother would have none of it. She is Sri Lankan hospitality personified, and ignoring this letter was just not done.
"I'll write to them" she said, and she did, inviting them to visit us in our home.
Back came their reply – the first in a series of letters that would continue through the years, starting "Dear Family Fernando,…"

In halting English, Gunilla wrote of their scheduled arrival in November.
Very soon it was November. A telegram informed us that they were in a hotel nearby, and would visit us the very next day.
Mother rushed around, tidying up the house – which was never very tidy, considering the fact that there were four school-going children in the house, not to mention friends who dropped in almost every day.
"These settee covers look so shabby!" she moaned.
My sister, Marina, quick to act in emergencies such as these, grabbed a saree of Mother's and artistically draped it over the settee.
Mother's next problem was; "What shall we cook for lunch?" What did Swedes eat? We had no idea. "Well, if they are coming to experience this country they should experience our cuisine" said Mother. We finally decided on noodles, chicken curry and vegetables and wattalappan.
It struck us suddenly that we would need cutlery. A hasty delve into Mother's store cupboards unearthed knives, forks and spoons – a miscellany, true, but cutlery nevertheless. Crockery too was unmatched; Mother's treasured pyrex dishes clashed with china plates.
"Never mind," said Mother, "it can't be helped."
Father was to meet their train at 11.30 the next morning.
A typical Sri Lankan day dawned, with blue skies and bright sunshine. At 10 o'clock , the boy next door burst in shouting "They're coming!"
"They must have come by an earlier train!" exclaimed Mother. She hastily dressed up in a new saree and ran to the gate.
A crowd of street urchins accompanied them. White skinned people were a rarity in those days. The neighbours peeped over the wall to catch a glimpse of these visitors.
"Welcome!" said Mother gesturing towards the saree-covered settee. Conversation was stilted as Gunilla spoke very little English and Hans none at all, but they had come prepared with an English – Swedish dictionary. With frequent references to this dictionary, conversation gathered momentum.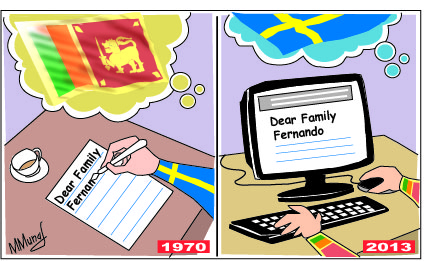 They gave us gifts which we accepted, and kept aside, as custom was to open them only after visitors leave. They looked expectantly at us, and finally Gunilla explained "In Sweden we open them now!" We did so. One of the gifts was a book about Sweden and the other ..
"It's beautiful!" exclaimed Marina."It is Orrefors crystal – what you call it – uh, cigarette uh, uh …" said Gunilla, fumbling for words and mimicking the action of flicking ash off the end of a cigarette. Light dawned finally. It was an ash tray.
Lunch was served.
They had two helpings of wattalappan, which pleased Marina – it was her effort. (Years later, Gunilla confessed that the chicken curry was too hot and spicy for them and that this was the reason for the second helping of the dessert!).
Our kitchen with the open hearth, mortar and pestle and coconut scraper interested them immensely, and everything was recorded on 'video tape', a novelty in Sri Lanka then, which in turn interested us. We made surreptitious visits to the bedroom to powder our noses to look our best on 'film'. Coconuts fascinated them. Father husked a coconut and slit it; I scraped the kernel and showed them how coconut milk was extracted. They also asked Mother to show them how the saree was draped which she did. The bullock cart which transported us to school was also a novelty to them.
All too soon it was time for their train. In spite of difficulties in communication, we had become friends and it was a sad leave taking. Gunilla pressed a wad of notes into Mother's hand.
Mother protested "We can't take money for entertaining you!"
"But we want to give it!" said Gunilla.
"When we come to Sweden , we'll have lunch at your house." said Mother, never really meaning it. Going abroad was only a dream then. Little did she know that it would come true one day.
That was the first of many visits. They next came with their first born, Cecilia; then, with another addition – Margareta. In between visits came letters, addressed as always to "Dear Family Fernando…."
There came some lean years in Sri Lanka with scarcities of food and clothing. Ever concerned, they sent gifts of clothing and money through Swedish friends who visited our island, which helped tide us over those difficult times.
Things improved later. I became a doctor and left for England for further studies. My sister Charmaine and I met them in London; then went to Sweden with them. It delighted them that they could, at last, entertain us in their own home. The next year Mother and Father visited them, thus fulfilling Mother's promise made all those years ago.
Life changed for all of us. Gunilla and Hans are now proud grandparents and so is Mother. Father died in 1992 and when they came next, they visited his grave and placed flowers there. They come every year now, and when they came in 2010 we celebrated forty years of friendship. Instead of a hotel, they stay in our house – which has changed with the times. No more saree draped settees – there is modern furniture. The kitchen is also modernised; the table set with matching crockery and cutlery. Bullock carts have disappeared from our roads; I now drive them around in my car. Instead of writing letters by hand we now communicate via e mail.
But two things remained constant in our 43-year-old friendship.
The Orrefors crystal ash tray still holds pride of place in our drawing room not as an ash tray but as an ornament.
Letters (now e mails) are still addressed to "Dear Family Fernando…"
Follow @timesonlinelk
comments powered by

Disqus